University of Miami Athletics
J.D. Arteaga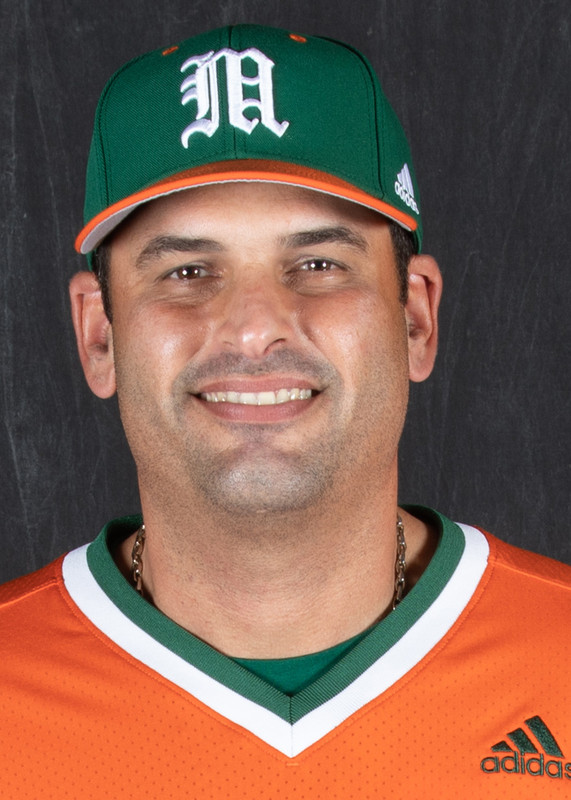 J.D. Arteaga serves as Miami's pitching coach. 2023 will mark Arteaga's 21st year on the coaching staff in Coral Gables, where he has served as Miami's pitching coach since 2003.
For the third straight year, the Hurricanes' longtime pitching guru groomed an All-American hurler in 2022. Right-hander Andrew Walters emerged as one of the most dominant closers in the country, earning a spot as a finalist for the prestigious NCBWA Stopper of the Year Award. The unanimous All-America honoree headlined a Miami staff which featured four draft picks in the Major League Baseball First-Year Player Draft.
Southpaw Carson Palmquist led the class as a third-round choice by the Colorado Rockies, while righty Alex McFarlane followed shortly as a fourth-round selection by the Philadelphia Phillies. 
Arteaga developed another All-American in 2021, as Palmquist was a consensus All-America pick and earned first-team honors by the NCBWA and Perfect Game. The lefty headlined Miami's four All-ACC selections with a first-team nod while also earning a place on the ACC All-Freshman Team.
Palmquist and right-hander Alejandro Rosario each were named Freshman All-Americans, while right-hander Jake Smith was selected in the sixth round of the MLB Draft by the Los Angeles Angels and right-hander Daniel Federman signed a free agent contract with the Baltimore Orioles.
The 2020 Hurricanes featured a pair of All-Americans, as standout right-handed pitchers Brian Van Belle and Chris McMahon were both selected to Collegiate Baseball's All-America Second Team.
After the season, sophomore right-hander Slade Cecconi was taken by the Arizona Diamondbacks with the 33rd overall pick in the 2020 MLB Draft, becoming the 29th Hurricane to be selected in the first round of an MLB Draft.
McMahon, a junior right-hander, went in the second round of the MLB Draft to the Colorado Rockies. Van Belle and fellow right-hander Tyler Keysor signed free agent contracts following the shortened five-round MLB Draft, joining the Red Sox and Reds organizations, respectively, and giving Miami four pitchers joining the professional ranks.
The 2019 season featured the emergence of redshirt junior Brian Van Belle as a standout starter for the Canes. The right-hander earned All-ACC Second Team honors and was named to the All-Starkville Regional team to cap a season in which Van Belle led the Hurricanes in wins (10), innings pitched (95.1) and had the lowest ERA among starting pitchers (3.30). Right-hander Slade Cecconi earned Freshman All-America honors, while Evan McKendry (9th round, Rays) and Gregory Veliz (15th round, Angels) headlined four pitchers selected in the MLB draft.
In 2018, Arteaga guided right-hander Evan McKendry to a breakout season on the mound, where he led the Hurricanes staff in wins (seven) and strikeouts (114), as well as compiled a 3.52 ERA – second-best among weekend starters – while earning Third-Team All-ACC honors. Fellow right-hander Daniel Federman earned Freshman All-America honors, while four Miami pitchers were selected in the MLB Draft.
Jeb Bargfeldt, Miami's ace in 2017, was named to the All-ACC Second Team in his first season working under Arteaga. The left-hander finished the season 7-3 with a 2.28 ERA over 87 innings.
Arteaga, a standout southpaw during his own four years in the Miami rotation, helped guide the Hurricanes to their second straight College World Series berth and 25th in program history in 2016. Under his direction as pitching coach in 2016, closer Bryan Garcia set the all-time saves record at Miami and became the first Hurricane to win NCBWA Stopper of the Year honors as the nation's top relief pitcher.
Garcia (sixth round, Detroit) and lefthander Danny Garcia (14th round, Seattle) were both selected in the 2016 Major League Baseball First-Year Player Draft. At least one Hurricane pitcher has been selected in the MLB Draft each year since 2004.
Arteaga recently coached lefthander Chris Diaz to ACC Co-Pitcher of the Year honors in 2014. Under his guidance, all four of Miami's starting pitchers in 2014 – Diaz, Bryan Radziewski, Javi Salas and Andy Suarez – were all drafted in the top 10 rounds of the 2014 MLB Draft.
Suarez, who elected to return to school and served as the staff ace on a 2015 team that qualified for the College World Series, was drafted in the second round (No. 67) overall by San Francisco in the 2015 MLB Draft.
Arteaga helped lead Radziewski to Rawlings All-America honors in 2013 – the first for a UM player since 2010. Two of the team's weekend starters, Radziewski and Diaz, ranked among the top three in ERA for all Atlantic Coast Conference pitchers in 2013.
Arteaga has tutored three recent first-round draft picks in the Major League Baseball Amateur Draft – Carlos Gutierrez in 2008, Chris Perez in 2006 and Cesar Carrillo in 2005. Gutierrez was the 27th overall pick in the 2008 draft by the Minnesota Twins after earning second team All-ACC honors. Perez, who came to Miami as a starting prospect, was aided by Arteaga in his transition to becoming one of the country's top closers. Carrillo started his career 24-0 as a Hurricane.
In addition to his work in converting Perez from a starter to a closer, he helped Kyle Bellamy in his transition from a traditional over-the-top throwing motion to a sidewinding delivery. The move had great rewards, as Bellamy recorded 16 saves and finished the 2009 season with a 0.97 ERA en route to numerous first team All-America honors.
Arteaga's 2008 staff boasted National Freshman Pitcher of the Year and Roger Clemens Award finalist Chris Hernandez, who finished 11-0 with a 2.72 ERA while opponents hit just .223 against him. All three starters in 2008, Hernandez, sophomore lefty Eric Erickson and senior right-hander Enrique Garcia combined to go 27-4 while the entire pitching staff combined for the fewest walks (187) in school history and eighth-most strikeouts (554).
His 2006 staff, composed almost entirely of first-time starters, recorded five shutouts, the most by a UM staff since the 1998 season. Miami also recorded the team's first postseason shutout on the road since 1976 with a 7-0 win against Ole Miss in the 2006 Oxford Super Regional.
Four pitchers from Arteaga's 2005 pitching staff signed pro contracts following the season, including the school's first pitcher drafted in the first round since the 1991 season, Carrillo. Arteaga also played a major role in Carrillo's career development and run at the NCAA record books. Carrillo, who was the 18th overall pick in the 2005 draft, ended with a career record of 25-3, was an All-American and a finalist for the Dick Howser Trophy and the Roger Clemens Award as college baseball's best pitcher in 2005.
The 2004 Miami pitching staff produced the best team ERA in (3.73) since the 2000 season (3.72).
Head coach Jim Morris named Arteaga the Hurricanes' next pitching coach on March 4, 2003, nine games deep into the season. Arteaga's style and approach to pitching was vital in J.D. Cockroft's development into the ace on Miami's 2003 club. Cockroft, a crafty left-hander, went 11-3 with a 2.72 ERA in a team-high 119 innings, including three complete games and one shutout.
Arteaga played for the Hurricanes from 1994-1997, helping UM reach the College World Series four straight seasons. He left Miami as the program's all-time wins leader with 43 and the all-time starts leader with 72. Arteaga ranks second for innings pitched in a career with 458.1. He is also fifth on the all-time strikeouts chart with 343 career Ks.
Arteaga threw three complete games at UM and struck out career-high 11 batters on two different occasions (FSU, 4/16/95 and George Washington, 2/16/96). He posted an 11-3 record as a sophomore in 1995 and a 9-1 mark as a freshman.
Miami retired Arteaga's No. 33 on Feb. 5, 2003, prior to the season opener with Florida International. A 26th round draft choice by the New York Mets, Arteaga spent six seasons in the Mets' and Houston Astros' organizations. He had signed on with the Texas Rangers' organization in the spring of 2003, prior to accepting his post with the Hurricanes. He spent his last professional season with the Astros' Triple-A franchise New Orleans Zephyrs, compiling a 9-10 record with a 4.29 ERA in 15 starts and 42 appearances.
The left-hander came to the Hurricanes out of Westminster Christian in Miami. He won a career-best 12 games as a junior in 1996 (12-1) and came back to go 11-4 as a senior in 1997.
After six seasons in professional baseball, Arteaga earned his bachelor's degree in criminal justice from the University of Miami. He is married to the former Ysha Schettini and the couple has a daughter, Ariana. The Arteagas' son, Ari, passed away in 2018 at the age of 16. The Ari Arteaga Foundation was founded shortly afterward to honor and memorialize Ari. Its mission is to spread Ari's spirit by helping children and families overcome obstacles they may face due to unforeseen hardships. The goal is to shine Ari's light on their path of need.