University of Miami Athletics
Yolimar Ogando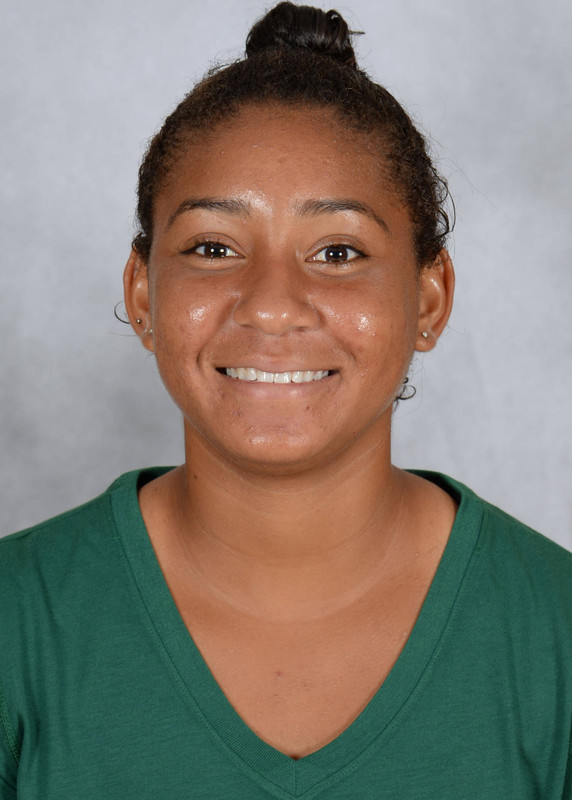 As a Redshirt Sophomore (2016-17): Tallied an overall record of 10-5 in singles and 4-8 in doubles … Twice ranked in doubles, with Silvia Fuentes, during the spring, peaking at No. 54 … Suffered a season-ending injury on the second day of the spring campaign … Finished second on the team in overall singles winning percentage (.667), as well as third in ranked singles victories (two) and ranked singles winning percentage (.400) … Lone Hurricane to record a ranked doubles victory without a loss … Defeated No. 74 Akvile Parazinskaite of No. 20 Kentucky, 7-6 (7-2), 6-1, in the Miami Spring Invite to begin 2017 … Led, 2-0, in the first set against No. 81 Felicity Maltby of No. 13 Texas Tech, before retiring due to injury … In spring doubles, went 1-1, all with Fuentes … Earned a 7-6 (7-3) triumph over Katelyn Jackson/Alex Valenstein of No. 13 Texas Tech on the first day of the Miami Spring Invite … While ranked No. 32 nationally, posted a 9-4 mark in fall singles action … Went 2-1 and won her flight consolation title at the Duke Bonk Invitational, defeating TCU's Caroline Wegner, 6-3, 6-1, and Furman's Katarina Weymouth, 6-3, 6-4 … Won both her matches at the Miami Fall Invite, beating No. 122 Audrey Ann Blakely of Pittsburgh, 6-1, 6-4, on the final day … Participated in the qualifying draw of the Riviera/ITA Women's All-American Championships, falling to a pair of top-80 opponents … Finished 3-0 at the Wolverine Invitational, including posting a 6-2, 6-1 triumph against Michigan's Chiara Lommer … Reached the ITA Southeast Regional Championships Round of 16 after tallying a 2-1 mark … Recorded a 3-7 ledger in fall doubles competition, partnering with three different teammates, and won her lone match versus a ranked pair … Went 2-1, with Fuentes, at the Duke Bonk Invitational and advanced to her flight championship after posting an 8-5 win against No. 19 Josie Kuhlman/Belinda Woolcock of Florida, that served as her first-career ranked doubles triumph … Finished 1-2 at the Miami Spring Invite.
As a Sophomore (2015-16): ITA Scholar-Athlete
Went 14-1 in singles and 7-2 in doubles, all in the fall … Was 6-1 versus ranked singles opponents, winning the first six such matches of her career …Missed the entire spring due to injury … Ranked in the top 50 in singles all spring despite not playing, peaking at No. 21 and finishing at No. 50 … Ended the year at No. 12 in the ITA Southeast Region singles rankings … Tied for the No. 94 ranking in singles in the fall … Won her first 14 singles matches of the fall before suffering an injury and retiring in her final match … Paced the team in fall singles victories and fall singles winning percentage (.933), plus tied for the lead in ranked fall singles wins … Won the Orange Singles Main Draw of the Miami Fall Invite … In the event, beat Lolade Ogungbesan of Pittsburgh, 6-4, 6-1, No. 49 Frances Altick of Vanderbilt, an eventual ITA singles All-American, 2-6, 6-3, 6-3, No. 77 Alizee Michaud of Auburn, 6-2, 7-5, and No. 47 Pleun Burgmans of Auburn, 7-6 (7-5), 7-5 … Went 3-0 in a return to her home country in the Puerto Rico College Challenge, including posting a 6-4, 6-3 triumph versus No. 88 Mariana Gould of Georgia … Won the Bedford Cup A Draw by logging a quartet of victories, including topping teammate Ana Madcur, 6-3, 6-3, in the final … Reached the quarterfinals in the USTA/ITA Southeast Regionals by topping FGCU's Elizabeth Means, 6-0, 6-0, No. 55 Hannah King of Georgia, 4-6, 6-4, 6-2, and No. 24 Brianna Morgan of Florida, 6-2, 6-3, for her first top-25 win … Played with two partners in fall doubles, going 4-0 with Wendy Zhang and 3-2 with Silvia Fuentes … With Fuentes, won the Green Doubles Consolation Draw at the Miami Fall Invite … Won lone match at the Puerto Rico College Challenge, with Fuentes … With Zhang, took home the title in the Bedford Cup A Draw by posting wins in two days, including defeating FIU's Nina Nagode/Mayrna Veksler, 6-1, in the tournament finale.
As a Freshman (2014-15): Posted an overall record of 5-3 in singles and 2-1 in doubles, with all results coming in the spring … Tallied a 3-1 mark in ACC matches … At the Miami Spring Invite, defeated Utah's Elena Najera-Salas, 7-6, 6-3, and won 7-5, 6-3 over Astra Sharma, who went on to win NCAA Team Championship MVP and SEC Tournament MVP for eventual 2015 national champion Vanderbilt … Beat Kasey Gardiner of No. 53 Wake Forest, 6-3, 6-1 … Defeated Komal Safdar of No. 67 Syracuse, 6-1, 6-1 … Won 7-5, 7-6 (7-2) over Alexis Prokopuik of No. 51 Georgia Tech … Went 2-1 in doubles play with partner Silvia Fuentes … Both wins came over Victoria Robertson and Alexia Petrovic in the Miami Spring Invite, the first 6-3 and the second 6-1.
Prior to Miami: Reached an ITF Juniors ranking of No. 84 … Ranked as high as No. 2 in the class of 2014 on the Tennis Recruiting Network's Babolat recruiting list … Ranked as the No. 2 senior player in Puerto Rico by the Puerto Rico Tennis Association … Played in the Fed Cup for Puerto Rico three years in a row and played in the Junior Fed Cup from age 13 through 16 … Played in Junior Wimbeldon and Junior French Open in the summer of 2014 … Qualified for the Wimbledon Main Draw … Won the National Tournament in Puerto Rico as a singles player in 2012 and 2013, also winning in doubles both of those years, as well as 2011.
Personal: Full name is Yolimar Ogando Velez … Nickname is Yoli … Born Aug. 9, 1996 … Parents are Alexander Ogando and Yolanda Velez … Has an older sister, Alexandra … Both of her parents are chemical engineers … Arts and sciences major … Favorite athlete is Novak Djokovic … Chose Miami in part because of the school's academic program.
 SINGLES
YEAR
TOTAL
FALL
SPRING
DUAL
ACC
*RNK
2014-15
5-3
0-0
5-3
3-3
3-1
0-0
2015-16
14-1
14-1
0-0
0-0
0-0
6-1
2016-17
10-5
9-4
1-1
0-0
0-0
2-3
CAREER
29-9
23-5
6-4
3-3
3-1
8-4
DOUBLES
YEAR
TOTAL
FALL
SPRING
DUAL
ACC
*RNK
2014-15
2-1
0-0
2-1
0-0
0-0
0-0
2015-16
7-2
7-2
0-0
0-0
0-0
0-1
2016-17
4-8
3-7
1-1
0-0
0-0
1-0
CAREER
13-12
10-9
3-2
0-0
0-0
1-1
*RNK = record vs. ranked opponents