University of Miami Athletics
Waylon Chin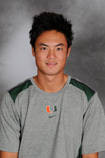 2011 (Senior):
Fall: 5-6 singles, 4-3 doubles. Spring: 5-14 singles, 6-11 doubles. 
Closed his final season of collegiate play with a 10-20 mark in singles competition and a 10-14 record in doubles… Competed at the top-three singles positions, earning a pair of wins at both No. 1 and No. 3, while playing predominantly at No. 1 and 2 doubles with Keith Crowley… In singles, defeated three ACC opponents in straight sets, including the 6-4, 6-2 win over No. 50 ranked Juan Spir of 16th-ranked Georgia Tech at No. 2… At No. 3, knocked off No. 36 Virginia Tech's Pedro Graber, 6-2, 6-4, and Boston College's Erik Kreutzer, 6-3, 6-3… In non-conference play, downed Andres Carrasco of No. 32 Arizona 5-7, 6-2, 6-3 to help Miami to the win at ITA Kick-Off Weekend… Routed Branko Weber of No. 65 Troy, 6-1, 6-1 at No. 1… Won five of eight doubles matches in the midst of dual match play, including three of his first four matches with Crowley at No. 1… The tandem defeated USF's Lucas Jovita and Jamal Adderly, 8-5, No. 16 Georgia Tech's Eliot Potvin and Ryan Smith, 9-8 (7-1) and No. 57 Clemson's Yannick Maden and Zachary Rigsby, 9-8 (7-4)… In the fall, on two of his last three matches to go 5-6 in singles and 4-3 in doubles play with newcomer Eduardo Pavia… Opened the fall with the 7-5, 6-1 win over South Carolina's Alexander Kostanov at the Southern Intercollegiate Championships to extend his win streak from last season to seven straight… Defeated Florida's Andrew Butz, 6-7, 6-2, 6-2, and Minnesota's Sebastian Gallego, 6-1, 2-6, 7-5, to advance to the quarterfinals of the Lakewood Ranch Clay Court Classic… Won three-straight doubles matches with Pavia at the UM Invitational, cruising past USF's Romain Deridder and Juan Acuna, 8-3, Arkansas' Gregoire Lehman and Nikolas Zogaj, 8-3, and rallying to defeat Florida State's Blake Davis and Andres Bucaro, 9-8 (7-3).
2009-10 (Junior):
Fall: 5-4 singles, 1-5 doubles. Spring: 8-8 singles, 1-2 doubles. 
Compiled a 14-10 overall record, including a 9-7 mark in dual match play and a 6-4 record in his first season versus ACC opponents… Played at the No. 3, 4 and 5 positions, going 2-1 at No. 3 and 7-2 at No. 5… Won six-straight singles matches at No. 5 to close the regular season – including three in straight sets… Knocked off Chris Freeman of No. 30 Wisconsin, 4-6, 6-2, 6-4, to start the streak and went on to down opponents from No. 24 Wake Forest, No. 40 NC State, Maryland, Boston College and No. 14 Duke – with the 6-2, 4-6, 6-2 victory over Luke Marchese… Teamed with Keith Crowley to split a pair of doubles matches in the spring, defeating FAU's Daniel Vardag and Joshua Scholl, 9-8… In the fall, posted a 5-3 singles record in a successful debut for the Hurricanes…Knocked off a pair of opponents in straight sets at the ITA Southeast Regional Championships, before falling to Georgia's 38th-ranked Javier Garrapiz, 2-6, 4-6, in the Round of 16… Also went 2-5 in doubles play, picking up the pair of wins with Keith Crowley.
Prior to Miami:
Played collegiate tennis for Illinois prior to transferring to Miami… As a sophomore in 2008-09, recorded an 18-10 overall singles record, going 8-3 in dual matches and 5-1 versus Big Ten opponents… Posted a 10-7 record in tournament play, reaching the consolation final of the Crimson Tide Invitational… Saw action at the No. 3-6 singles positions, with his best results at No. 5 (3-0) and No. 6 (3-0) singles… Compiled an 8-9 overall doubles record with six different partners, teaming primarily with Brian Livingston to go 3-3… As a freshman for the Illini in 2007-08, finished the spring season 16-9 in singles play and 8-2 in Big Ten matches… Saw action at No. 5 and 6 singles… Went 15-6 in doubles play with two different teammates, including a 5-1 mark versus conference competition with Brandon Davis at No. 3… Posted a nine-match doubles win streak with Davis.
Prep:
Played one year of tennis at American Heritage High School, going undefeated as a sophomore to lead the team to the 2004 state championship… Grabbed both the singles and doubles titles individually at state… In juniors, ranked No. 1 in both 14s and 16s in the state of Florida and in the top 10 nationally in those respective age groups as well… Played USA World Junior Tennis… Top performances on the USTA national level include a second-place outing at the National Clay Court Championships in singles… Also tabbed a second-place finish in doubles in Boys 16s and third-place finishes at the Easter Bowl in singles and at Kalamazoo in doubles… Coached by David DiLucia and Mark Merklein, who are USTA National Coaches, and Stephen Koon and Fernando Samayoa… Trained at the Nick Saviano Tennis Academy and the International Tennis Academy.
Personal:
Son of Jessica and Willie Chin… Has one sister, Ashley… Biggest thrill is playing big points and hitting shots that look impossible… Favorite athletes include Michael Jordan, Pete Sampras and Lance Armstrong.