University of Miami Athletics
Vivek Subramanian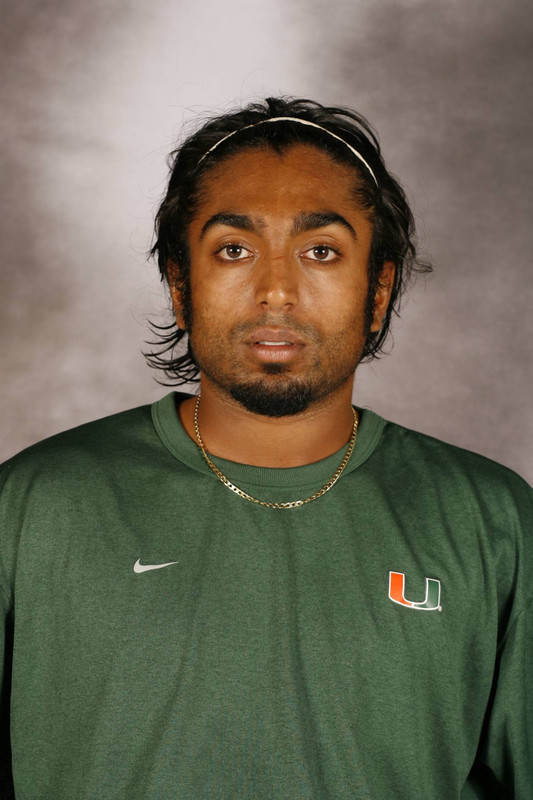 2005-06 (Sophomore):
Compiled a 15-3 overall singles record… Went a perfect 8-0 in the No. 6 position during dual match play, including defeating four opponents from ranked teams… Five of his spring wins came in straight sets, including a 6-0, 6-1 defeat of Akin Akman of Florida Atlantic and a 6-1, 6-2 victory over Arlen Domoney of No. 45 Louisiana-Lafayette… Went 18-12 in doubles competition, including a 3-2 ACC record at No. 3 doubles with P.J. Passalacqua… Paired with Tim Krebs to go 2-4 in ACC play at the No. 2 position… Won five straight doubles matches at No. 2 to open the spring dual season, including pairing with Luigi D'Agord for the season-opening 8-1 victory over J. P. Bounassar and Gianfranco Dossena of Florida Atlantic… With Passalacqua, opened NCAA Tournament play with a 6-4 No.3 doubles win over Manhattan's Diego Alvarado and K-Ming Lee.
2004-05 (Freshman):
Played at the No. 4, 5 and 6 spots as a true freshman… Compiled a dual match record of 10-9 while going 5-6 in the ACC… Defeated Alexei Sergeev 6-3, 5-7, 6-2 in a win over No. 52 Virginia Tech in the first round of the ACC Champion-ships… Downed Josh Brauser 6-3, 6-3 in a victory against Maryland… Defeated Mark Gee 75, 6-3 of No. 36 Clemson… Downed Liron Strauss of No. 23 Wake Forest… Won five straight matches against Florida A&M, Central Florida, Stetson, Jacksonville and Georgia Southern… With Tim Krebs had a 12-match doubles streak, including wins over doubles teams from No. 53 North Carolina, No. 51 Georgia Tech, No. 36 Clemson, No. 23 Wake Forest and No. 68 Virginia Tech… In the fall, posted a 2-5 record… Finished with an overall record of 12-14… Paired with Krebs in the fall, finishing with a 4-1 doubles record — including a victory at the Crimson Tide Championships… Among the team leaders in doubles victories with 17.
Prep:
Went 30-0 in singles play as a senior at East Brunswick High and won the state title… Team captain and team MVP for a team that finished 24-2 overall and second in the state… Four-time all-state selection, and was ranked as high as seventh nationally as a senior season… Finished with a 32-1 record as a junior, falling in the state championship final… That same year was the Florida Open champion.
Subramanian's Career Stats
SinglesYear	Dual	ACC	Overall2004-05	10-9	4-5	12-142005-06	8-0	3-1	15-3Total	18-9	7-6	27-17
Doubles Year Dual ACC Overall 2004-05 12-6 5-4 17-10 2005-06 12-10 5-6 18-12 Total 24-16 10-10 35-22