University of Miami Athletics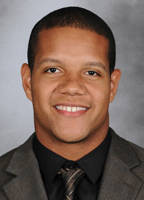 2013 ALLSTATE AFCA GOOD WORKS TEAM
2013 ALL-ACC, THIRD TEAM (ACSMA, coaches)
2013 COMMUNITY SERVICE MAN OF THE YEAR
2013 CAPTAIN'S AWARD
2013 PLUMER AWARD FOR LEADERSHIP, MOTIVATION & SPIRIT
2013 (Senior): Started all 13 games under center … Started 25 straight games at QB to conclude career … Threw for 3,028 yards and 21 TDs, while completing 57.6 percent of passes … Only second QB in program history with multiple 3,000-yard seasons … Third-team All-ACC selection by ACSMA and league's head coaches …  Named to 2013 Allstate AFCA Good Works Team … Only QB this season to complete 50+ pass in nine different games … One of three Hurricanes invited to Senior Bowl … Final career rankings: passing yards (3rd – 7,896), passing TDs (3rd – 49) pass attempts (4th – 955), completions (4th – 551), completion percentage (9th – 57.7) … Threw for 160 yards and TD in season-opening win over FAU … Threw for 162 yards and two TDs in upset win over No. 12/9 Florida … Passed for 82 yards and TD before leaving with injury in rout of Savannah State … Completed 11-of-16 passes for 222 yards and two TDs in road win at USF … Posted first 300-yard game of season vs. Georgia Tech, completing 17-of-22 passes for 324 passing yards and three TDs … Followed with 322 yards on 19-of-35 passes in comeback road win at UNC … Threw career-high four interceptions against Tar Heels … Completed 17-of-28 passes for 191 yards and TD in comeback win vs. Wake Forest … Completed 16-of-28 passes for 192 yards and two TDs in road loss at No. 3 Florida State … Third 300-yard game of season came in home loss vs. Virginia Tech … Threw for 324 yards and two TDs on 16-of-29 passing … Fourth 300-yard game was season-high 379 yards and two TDs in road loss at Duke … Eclipsed 7,000-yard mark at Duke, joining Ken Dorsey, Jacory Harris and Gino Torretta as only 7,000-yard passers in Miami history … Threw for 214 yards and two TDs in Senior Day win over Virginia … Fell four yards shy of ninth career 300-yard game, throwing for 296 yards and three TDs at Pitt … Threw for 160 yards vs. Louisville in Russell Athletic Bowl … Recipient of Community Service Man of the Year Award; Captain's Award; and Plumer Award for Leadership, Motivation & Spirit at end-of-season team awards show … Earned letter.
2012 (Junior): Started all 12 games under center … Showed no adverse signs from offseason back surgery, throwing for career-best 3,345 yards and 21 touchdowns, while completing 58.2 percent of passes (245-of-421) … 3,345 yards are fifth-most in single season in UM history … 245 completions are second-most in UM history, while 421 attempts set single-season school mark … Set UM single-season total offense mark with 3,415 yards, eclipsing previous mark by three set by Bernie Kosar (3,412) in 1984 … Second QB in Miami history to amass three 400-yard passing games in career and first to throw for multiple 400-yard games in season … Threw for 207 yards and TD on 28-of-45 in season-opening road win at Boston College … Tossed then-career-high 436 yards and 2 TD on 31-of-52 passing in OT road win at Georgia Tech … Followed with another electrifying performance, throwing for Miami- and ACC-record 566 yards and UM record-tying 5 TDs in Canes' last-second victory over NC State … Threw game-winning 62-yard TD pass to Phillip Dorsett with 19 seconds remaining to upend Wolfpack … Named ACC Offensive Back of the Week for Oct. 1 … Threw 2 TD passes and 170 yards in Thursday win over Virginia Tech … Tossed 3 TDs in heartbreaking road loss at Virginia … Posted third 400-yard game of season with 413 yards and 3 TDs in home rout of USF … Threw for 369 yards and 3 scores in ACC Coastal Division-clinching win at Duke … Over final four games of season, completed 60 percent of passes (66-of-110) for 1,131 yards and 11 TDs … Recipient of Captain's Award and Offensive Most Valuable Player honors at team's end-of-season banquet … Earned letter.
2011 (Sophomore): Saw action in five games, with one start … Finished season 26-for-37 with 283 yards and two interceptions … Threw for season-high 195 yards in start against Maryland … Threw for 34 yards against Bethune-Cookman … Passed for 36 yards against Virginia … Did not participate in spring drills after undergoing off-season back surgery … Earned letter.
2010 (True Freshman): Played in six games, starting four … Started final four regular-season games … Threw for 1,240 yards on 82-of-153 passing … Had team-high 125.01 quarterback efficiency rating … 206.7 yards per game average was highest on team … Named ACC Rookie of the Week after orchestrating comeback win over Maryland … Threw for team season-high 286 yards against Terrapins, completing touchdown pass with 37 seconds remaining to seal Miami victory … Threw for 162 yards in second half against Virginia and was responsible for team's three touchdowns in second stanza and almost leading dramatic comeback … Earned letter.
High School: Three-star athlete was 26th-rated dual-threat QB nationally by Rivals.com … Completed 96 of 179 pass attempts for 1,531 yards, 22 touchdowns and only six interceptions and also ran for 125 yards and one touchdown as senior … Finished junior year completing 64 percent of passes with 2,005 passing yards, 19 touchdowns and nine interceptions … In career, had 98 carries for 162 yards and four touchdowns and completed 240-of-404 passes for 3,536 yards … Named second-team All-Miami-Dade by Miami Herald as junior.
 MORRIS CAREER STATISTICS
SEASON
G-GS
COMP
ATT
YDS
PCT
TD
INT
LG
2010
6-4
82
153
1,240
53.6
7
9
79
2011
5-1
26
37
283
70.3
0
2
39
2012
12-12
245
421
3,345
58.2
21
7
87
2013
13-13
198
344
3,028
57.6
21
12
84
CAREER
36-30
551
955
7,896
57.7
49
30
87