University of Miami Athletics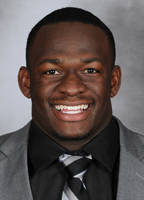 2013 CAPTAIN'S AWARD
2013 MELCHING LEADERSHIP AWARD
2013 (Senior): Started all 13 games along defensive line … Concluded career with 25 consecutive starts at defensive end … Recorded 68 tackles, team-leading 10.5 tackles-for-loss and 3.0 sacks … Had four tackles against both FAU and Florida … In road win at USF, recorded three tackles, two TFLs and strip sack that resulted in Miami touchdown … Was career-first sack … Tallied nine tackles and his second sack of season in win over Georgia Tech … Third sack of season came in win over Wake Forest … Had seven tackles and 2.0 TFLs in road loss at No. 3 Florida State … Notched nine tackles vs. Virginia Tech … Season-high 10 tackles in road loss at Duke … Registered QB hurry in each of last four games … Added five tackles vs. Louisville in Russell Athletic Bowl … Presented with Captain's Award and Melching Leadership Award at end-of-season team awards show … Earned letter.
2012 (Junior): Started all 12 games along defensive line … Named ACC's 2012 Brian Piccolo Award Co-Winner … Led team with 67 tackles … In career-first start, recorded seven tackles and 0.5 TFL at Boston College … Added eight tackles and 1.0 TFL at Kansas State, while tying career high with eight stops against Bethune-Cookman … Had seven tackles vs. NC State … Tallied eight tackles vs. Florida State … Followed with seven tackles vs. Virginia Tech … Notched 0.5 TFL at Duke … Named Defensive Most Valuable Player at team's end-of-season banquet … Earned letter.
2011 (Sophomore): Saw action in four games, battling injuries throughout year … Finished season with seven tackles (four solo, three assists) … Earned Scout Team Player of the Week honors heading into team's game against Kansas State … Named Training Room Comeback Player of the Year at team's end-of-season banquet … Earned letter.
2010 (Redshirt Freshman): Played in first two games of season for Hurricanes … Started at middle linebacker during spring practice.
2009 (True Freshman): Sat out first season at Miami with knee injury, redshirted to retain eligibility.
High School: Rated No. 65 weakside defensive end prospect in nation by Rivals.com … Tallied 125 tackles, two sacks and five forced fumbles at linebacker as senior … As junior, played defensive end and had 60 tackles, eight sacks and one interception … All-Class All-State honorable mention … Earned honorable mention Class 5A all-state by Atlanta Journal-Constitution … As junior, had 58 tackles with 4.5 sacks, two caused fumbles, one interception and one blocked punt … Rated No. 102 defensive end nationally by ESPN.com and No. 112 by Scout.com … Coached by Jay Walls.
 GREEN CAREER STATISTICS
SEASON
G-GS
UT
AT
TT
TFL
YDS
SACK
YDS
FF
FR
PBU
INT
YDS
2010
2-0
1
0
1
0.0
0
0.0
0
0
0
0
0
0
2011
4-0
4
3
7
0.5
1
0.0
0
0
0
0
0
0
2012
12-12
38
29
67
2.0
21
0.0
0
0
1
1
0
0
2013
13-13
40
28
68
10.5
30
3.0
12
1
0
2
0
0
CAREER
31-25
83
60
143
13.0
52
3.0
12
1
1
3
0
0