University of Miami Athletics
Mike Rodrigue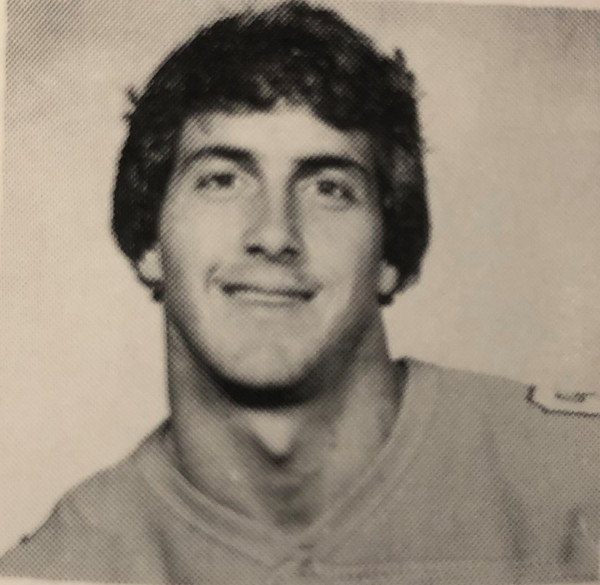 Senior (1981): Made successful transition from quarterback to receiver…Ranked second on team with 29 receptions totaling 478 yards…Had three touchdown receptions…Hauled in four passes for 94 yards in win over Florida…Caught first touchdown of season on 16-yard pass from Jim Kelly in win over Vanderbilt…Had 14-yard touchdown catch in win over Virginia Tech…Scored two touchdowns in romp of Notre Dame, one on 4-yard run and another on 18-yard touchdown reception…Selected in 12th round of 1982 NFL Draft by Miami Dolphins (No. 331 overall).
Junior (1980): Completed 24 of 61 passes for 265 yards with one touchdown…Totaled 66 rushing yards…Lined up in receiver or halfback position to give 'Canes a double pass-threat called the "Rifle Formation"…At QB, engineered winning drives in two games and got starting call in East Carolina win…Took entire second unit on 80-yard touchdown drive in what proved to be winning edge in big Houston upset.
Sophomore (1979): Completed 94 of 201 passes for 1,197 yards…Opened year as UM's No. 1 quarterback and battered Louisville with 19 of 32 passes for 313 yards (fourth-best single game total in UM history) and one TD…Named Associated Press Southeastern Back of the Week and ABC-TV Player of the Game…Was starting signal caller until late in season against Penn State…Besides single-game standards, Rodrigue's name appears in numerous places in the Miami record book – seventh best seasonal passing (1,197 yards), tied for No. 7 in season completions (94), seventh in most passes attempted (201) and eighth in career passing yards (1,511)…Holds second position in all-time consecutive pass completions (nine against Tulane in 1978).
True Freshman (1978): Started first game of college career and two others in gaining solid experience…Completed 30 of 66 passes for 314 yards…Made quantum strides down the stretch, completing over 50 percent of his passes in the final four games, including a second-best UM all-time performance of nine consecutive completions against Tulane…Completed 9 of 12 passes for 106 yards against Wave…Remaining two starts produced strong efforts – 10 of 22 for 112 yards against San Diego State, 5 of 6 for 88 yards versus Syracuse…Became Miami's first quarterback ever to bench press 300 pounds and has good speed (4.75).
High School: "Mr Everything" on Choctawhatchee High's 1977 state championship Class AAAA runner-up team…Played four different positions (QB, DB, RB and FLK) – besides holding for place kicks…Wound up making first-team all-state defensive back…Big prep game at quarterback found him completing 11 of 13 passes for 219 yards and three TDs against Pensacola Gonzalez Tate High…Made first-team All-Area and All-Region…Named Player of the Year in Florida panhandle and Big 5 Conference Player of the Year…Dad was former FSU player and coach, and once played against Hurricanes.