University of Miami Athletics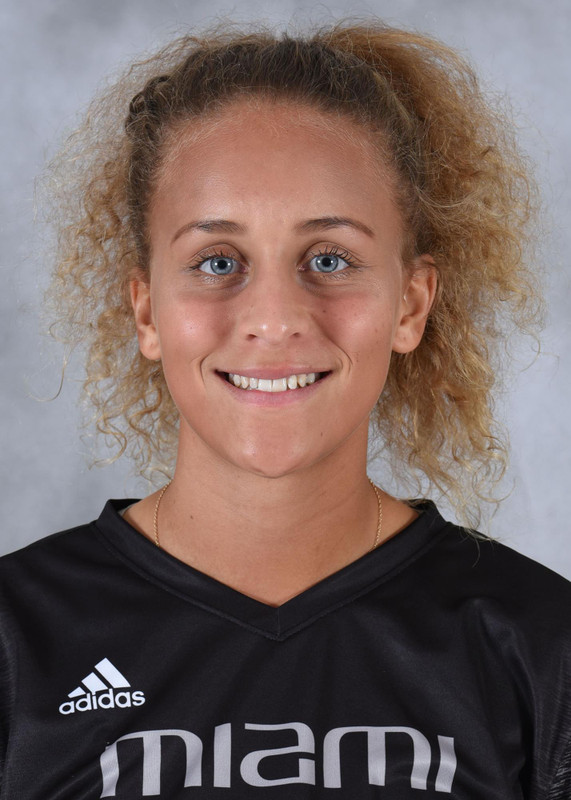 2018 (Senior): Made 14 consecutive starts to close out the season … Amassed 1,318 minutes of playing time at center back … Recorded a trio of shots … Played over 50 minutes in all sixteen matches after sitting out the first two games, and went the distance in seven matches … Guided the Canes to a shutout victory over Lipscomb (8/26) … Notched her first start of the season against UTRGV (8/30), posting a season-high two shots … Played a complete game, 110 minutes, against Jacksonville (9/6) … Playing the full 90 minutes, aided Miami to a shutout victory over Syracuse (9/29) … Part of a backline to hold Pittsburgh (10/4) scoreless through the second half, leading to a 3-2 comeback victory … Went the distance in a double-overtime draw against eighth-ranked Boston College (10/13), holding the high-powered Eagles offense to just one goal … Guided Miami to a shutout victory over Florida State (10/25) on senior night.
2017 (Junior): Among the nine Hurricanes who started all 16 matches … Posted four shot attempts, including one on goal … One of four Miami players on the field for all 1,440 minutes throughout the season … Aided Miami to a shutout in the season opener against St. Francis (PA) (8/18) … Posted two shot attempts, including one on goal, in the clean sheet at FIU (8/20) … Logged a shot attempt and aided the team to a third consecutive shutout at Miami (OH) (8/25) … Helped the Hurricanes to a win at Quinnipiac (9/3) … Part of a Miami back line that allowed just one goal at No. 11 Virginia (9/21) … Recorded one shot attempt versus Clemson (9/29) … Aided the Hurricanes to a shutout win over Pittsburgh (10/19) … Played all 90 minutes in the season finale at No. 21 Wake Forest (10/26), going the distance for the 31st straight match.
2016 (Sophomore): One of eight Hurricanes to start all 19 matches … Notched one shot attempt … Ranked second on the team with 1,742 minutes of playing time, leaving the field for a total of 14 minutes all season … Went the distance in 17 matches, including each of the last 15 … Helped Miami to seven shutout wins, playing the full 90 minutes in five of them … Earned 100-plus minutes of playing time on three occasions … Aided the Hurricanes to program records for fewest goals allowed (16) and lowest goals against average (0.82) … One of three Miami players to go all 90 minutes in the season opener at North Florida (8/19), helping the team to a shutout … Aided the Hurricanes to their third consecutive shutout by playing the whole 90 minutes versus Florida Atlantic (9/4) … Played the full 90 minutes and recorded one shot attempt at third-ranked Florida State (9/18) … Played the whole 90 minutes in the victory over second-ranked Virginia (9/22) … Played all 101 minutes in the win against No. 25 Virginia Tech (10/23) … On the field for all 110 minutes in the ACC Championship quarterfinals at No. 14 Clemson (10/30).
2015 (Freshman): Played in 14 matches and started the first 13 contests of the season … Logged two shot attempts … Earned 1,145 minutes of playing time, good for fifth-most on the team and tops among freshmen … Played the full match 11 times, including each of the first eight tilts of the year … Lone player to go the distance in the first eight matches and was on the field for the first 811 minutes of her career … Only true freshman to start in the season opener against Texas (8/23) … Recorded her first-career shot attempt at Wake Forest (9/18).
High School: Graduated from St. Benedict's … Did not play high school soccer.
Club: Began playing for Aston Villa's youth program at age 11 in 2008 … Became a member of Aston Villa's full ladies side in 2014 and played into 2015 … Helped the club to a fourth-place finish in Super League 2 in 2014.
International: Selected to the roster for a pair of matches for the England U-19 National Team in 2015, facing Norway in February and France in May.
Personal: Full name is Maisie Ann Baker … First name is pronounced MAY-Zee … Born Aug. 19, 1996 … Parents are Simon Baker and Susan Sadler-Baker … Father is an electrician and mother is a homeless prevention officer … Has a younger brother, Eden Sadler-Baker … Majoring in marketing … Favorite athlete is British track and field star Jessica Ennis … Decided to attend Miami in part because of the quality of the ACC and the school's location … Committed to Miami over FGCU.