University of Miami Athletics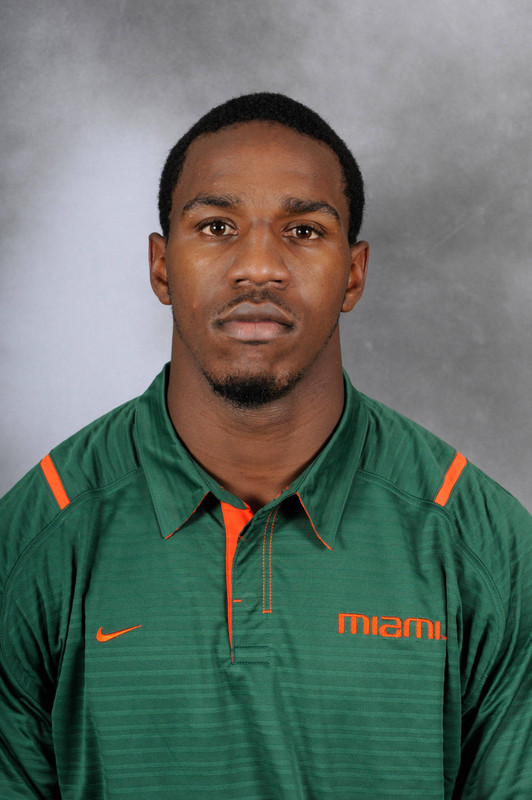 Class:
Freshman
Hometown:
Miami, Fla.
High School:
Killian

Event:
Sprints
2010 Outdoor: His season-best time of 10.75 in the 100m dash camein the prelims of the ACCChampionships… Ran the anchor leg of the 4×100 relay that finished fifth atthe Penn Relays with a timeof 40.35 seconds.
2010 Indoor: Ran a time of 6.84 seconds on two occasions in the 60m dash, in the prelims of the ACC Championships and again the next day in the finals, where he placed sixth… His season-best effort in the 60m dash came at the National Open at 6.83 seconds.
HIGH SCHOOL: Ranked the No. 80 prospect in the nation, regardless of position, by Rivals.com, No. 10 ranked running back by Rivals.com, No. 12 running back by ESPN.com and No. 7 RB by Scout.com … Parade All-American … No. 119 best player among the ESPNU Top 150 … Named first team all-state by the Florida Sportswriters Association … Led Dade County in rushing as senior rushing 217 times for 1,749 yards and 22 touchdowns … As a junior, rushed 154 times for 1,126 yards with 12 scores … Named Orlando Sentinel All-Southern (Fla.) and Mobile Press Register Super Southeast 120 … Coached by Steve Smith.