University of Miami Athletics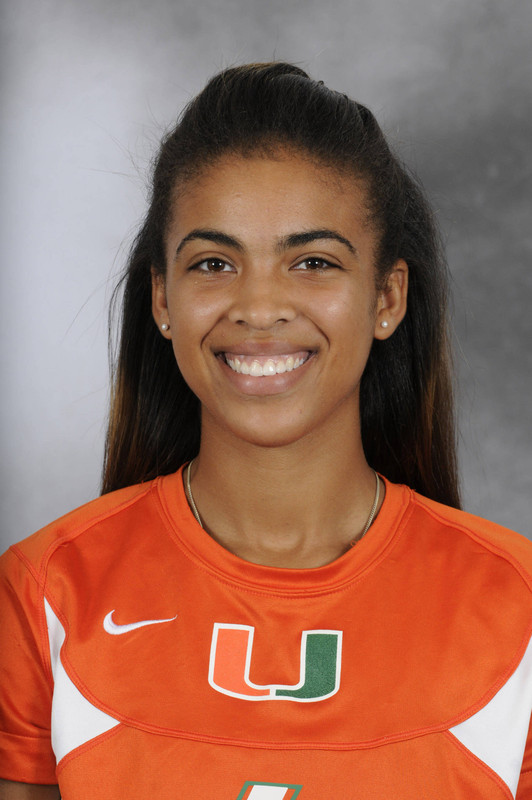 2012 (SENIOR): Playedin 18 games on season, including 13 starts … Finished with one goal and oneassist … Scored overtime winner on road at No. 9 Maryland, helping guide Miamito key 1-0 win (Oct. 18) … Credited by head coach Tom Anagnost with "Man of theMatch"-level performance in team's 2-0 road victory at Clemson (Oct. 7) … Played98 of possible 110 minutes from position in midfield in team's NCAAChampionship road game at No. 18 UCF (Nov. 10).
2011 (JUNIOR): Started all 19 games for the Hurricanes for the first time in her career…Finished with one goal and one assist on the season…Scored her lone goal of the year at a pivotal time, the third and final tally in a 3-2 win over then-No. 4 Boston College in the 75th minute (10/11)…Registered an assist in the team's 3-0 win over Monmouth (8/21).
2010 (SOPHOMORE): Played 17 games with 12 starts… Finished the year tied for second on the team in points with eight, tied for third in goals with three and tied for second in assists with two… Roseboro also scored a game-winning goal against Florida Gulf Coast (8/31).
2009 (FRESHMAN): Played in 12 matches, starting 10… Her lone goal of the season was the game winner against Maryland (9/27)… Recorded nine shots on the year, with a season-high three coming at Wake Forest (10/18)… Played a season-high 102 minutes against NC State (10/22).
CLUB: Has played for the Mclean Freedom since 2006, the Michigan Hawks in 2005-06, the Michigan Gators from 2004-05 and FC Milwaukee from 1999-04… Member of the 2008 Virginia State Cup Champion team… Member of the 2007 U-16 National Champions as well as the Region 1, Region 1 Premier League and Disney Showcase Champions… Won the 2004 Region II and Wisconsin State Championships…Has competed with the Region II team 2004-05 and the Region I team from 2007-08… Invited to the U-14 national development camp in 2004.
HIGH SCHOOL: Was a two-time letter winner in soccer and track at Lake Michigan High School her freshman and sophomore seasons before attending Atlee High School where she lettered in soccer and basketball from 2006-2008… Member of 2007 and 2008 district champions and the 2007 regional championship team… Named first-team all-district, all-region, all-district academic, all-region academic and all-state honorable mention in 2006 and 2007… Second-team all-district in 2008… Scored 69 goals through her sophomore and senior seasons.
Personal: Chose Miami because of the classroom size, academic support, weather and location… Chose UM over Connecticut, Virginia, Virginia Tech, West Virginia, Maryland, Purdue, Ohio State, Santa Clara, Illinois, Boston University and Georgetown… Intends to major in Physical Therapy or Athletic Training.