University of Miami Athletics
Hector Nieto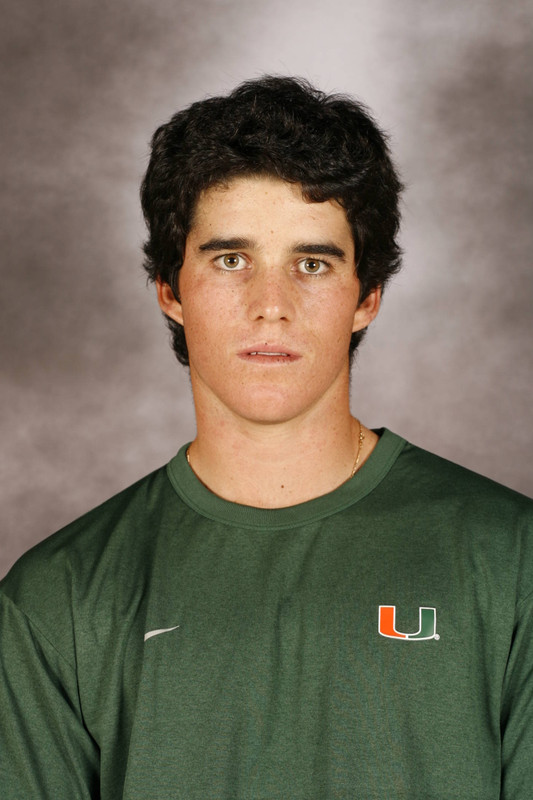 2009-10 (Senior): 
Fall: 3-6 singles, 5-2 doubles. Spring: 0-1 singles, 10-7 doubles. 
Fall: Posted a 3-6 singles mark and a 5-2 record in doubles competition during tournament play… Registered back-to-back wins to open the fall at the Olympia Fields Fighting Illini Invitational, defeating Notre Dame's Takashi Yoshii, 7-6, 6-3, and his teammate Spencer Talmadge, 6-7, 6-3, 6-4… Went 1-0 in doubles play with David Simon, Christian Blöcker and Barnabas Carega, while going 2-2 with Carl Sundberg… With Sundberg, advanced to the Round of 16 of the ITA Southeast Regional Championships after edging Georgia Tech's Ryan Smith and Juan Spir, 9-8.
2008-09 (Junior): 
Fall: 4-4 singles, 6-2 doubles. Spring: 2-0 singles, 1-1 doubles. 
Put together a 6-3 singles record, including a 2-0 mark at No. 6 in dual match play… Also went 7-3 for the year in doubles competition… During the fall, went 4-3 in singles play and a team-best 6-2 in doubles… All six singles victories during his junior campaign came in straight sets, including a pair of wins at the Brotman Invitational… Paired with J.C. Whitner for a 4-1 mark in doubles play, including two victories at the season-opening Wolverine Invitational… The duo knocked off opponents from Temple and Florida A&M en route to claiming the doubles title at the Brotman Invitational… Also put together a 2-2 doubles record with Carl Sundberg and a 1-0 showing with Ignacio Taboada.
2007-08 (Sophomore): 
Went 6-8 in singles play and 10-16 in doubles competition in his second campaign for the Hurricanes… Competed in singles competition predominantly during the fall tournament season, posting straight sets wins over players from strong programs such as Illinois and Alabama… Knocked off Florida State's Bobby Deye, 7-6 (7), 1-6, 7-5 at the Seminole Invitational… Picked up four doubles wins with both Barnabas Carrega and Keith Crowley… Paired with Crowley and J.C. Whitner at the No. 3 position in dual match play… Defeated No. 11 North Carolina's David Stone and Tristan Heinrich, 8-5, to help clinch doubles point in the second round of the ACC Tournament.
2006-07 (Freshman): 
Picked up 10 wins in singles competition, including three in ACC action… Played at the No. 4, 5 and 6 positions… Defeated No. 24 Clemson's Kevin Fleck, 4-6, 7-5, 1-0 (10-8) and Scott Blackmon of No. 42 Georgia Tech, 6-4, 3-6, 1-0 (10-8) at No. 6… Used straight sets to knock off Brian Garber of Boston College in the No. 5 spot, 6-2, 6-1… Played at both the No. 2 and 3 positions in doubles competition… Went 5-3 with Daniel Vallverdu, including a 2-1 mark at No. 2… Won four doubles matches in ACC play, pairing with J.C. Whitner at No. 3 to handily defeat No. 42 Georgia Tech's duo of Jordan DeLass and George Gvelesiani, 8-1, and No. 45 Maryland's Nicolas Frayssinoix and Nickolai Nielsen, 8-4… Along with Whitner, won three of their last four doubles matches of the season versus ranked teams, including going 2-0 in the ACC Tournament at No. 3, defeating No. 45 Georgia Tech's Scott Blackmon and Zach Roth, 8-4, and No. 2 Virginia's Lee Singer and Ted Angelinos, 8-6… Defeated Boston College's tandem of Soma Kesthely and Brian Garber, 8-4, at No. 2 with Vivek Subramanian.
Prep: 
Earned 2006 Florida Dairy Farmer's and Miami Herald Player of the Year accolades after capturing both the 2006 Florida singles and doubles championships… Posted an overall record of 11-3 in singles play and a 9-0 record in doubles competition during his senior season at Coral Gables High School.
Personal: 
Son of Hector Nieto and Miriam Ruiz… Has one brother, Santiago, who also plays tennis for UM and one sister, Maria… A business major… Enjoys playing the guitar and listening to music outside of tennis… Lists Roger Federer as one of his favorite athletes.