University of Miami Athletics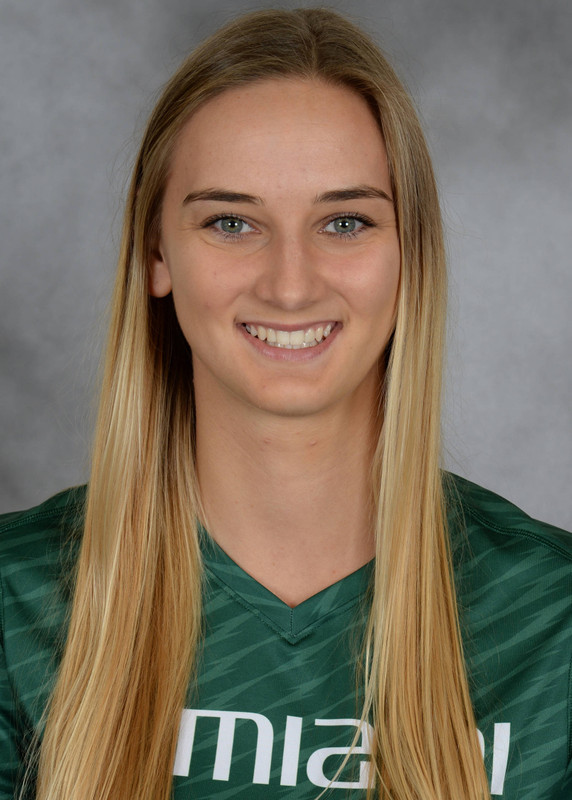 2016 (Senior): Team co-captain … Made the move to midfield, part-time … One of eight Hurricanes to start all 19 matches … Recorded one goal, four assists and six points … Tied for third on the team in assists and placed seventh in points … Saw 1,688 minutes of action on the season to rank fourth among Hurricanes, leaving the field for a total of 68 minutes … Went the distance 17 times, including each of the final 11 contests … Played over 100 minutes three times … Aided Miami to seven shutouts, playing all 90 minutes in six of them … Helped the Hurricanes set program records for fewest goals allowed (16) and lowest goals against average (0.82) … Logged an assist in the first match of the season at North Florida (8/19) …Played all 90 minutes and recorded an assist at Stetson (8/21) … Went the distance and notched one shot on goal in the home opener versus Ohio State (8/26) … Played the full 90 minutes, posting one shot on goal and helping the team record a shutout, against Jacksonville (8/28) … Against Miami (OH) (9/2), went the whole 90 minutes, logged two shots and aided Miami to a shutout … Played all 90 minutes versus Florida Atlantic (9/4) and had one shot attempt in the Hurricanes' third consecutive shutout … Went the full 90 minutes and notched one shot on goal against FGCU (9/8) … Posted two shot attempts versus FIU (9/11) before leaving in the final minute of the first half due to injury … Went the whole 90 minutes in the win versus second-ranked Virginia (9/22) … Notched first-career two-assist outing against Syracuse (9/25), playing all 90 minutes and logging one shot attempt … Tallied one shot attempt and played the full 90 minutes in the win versus Wake Forest (10/2) … Recorded two shots, including one on goal, while playing all 105 minutes at Pittsburgh (10/9) … Played all 90 minutes versus Louisville (10/20) to help the team to its seventh shutout … Played the entire 101 minutes in the victory against No. 25 Virginia Tech (10/23) … In the ACC Championship quarterfinals at No. 14 Clemson (10/30), played all 110 minutes, scored the tying goal, notched two shot attempts and made her penalty kick in the shootout.
2015 (Junior): Team co-captain … One of four Hurricanes to start all 17 matches … Logged one assist and three shot attempts, with two on goal … Led the team with 1,603 minutes played, leaving the field for just three minutes the entire season … Went the distance in 16 matches, including each of the final 10 … Tallied her lone assist of the year against UCF (8/30) and played all 103 minutes … Recorded her first shot on goal of the season at Florida Atlantic (9/4) … Went the distance in Miami's back-to-back shutouts at Jacksonville (9/6) and FGCU (9/11) … On the field for all 106 minutes in the Hurricanes' double overtime win over No. 14/4 Notre Dame (10/2) and the full 109 minutes in the double overtime victory against NC State (10/11).
2014 (Sophomore): Started all 18 games of season on defensive back line … Finished season with one goal and two assists for four points … Played every minute of season, totaling 1,640 minutes … Helped lead Miami defense to back-to-back shutouts against Jacksonville (Sept. 2) and Stetson (9/5) … Had an assist against the Dolphins … Recorded second point on assist at Portland (9/12) … Recorded season-high two shots against Syracuse (9/25) … Scored first goal of career on free kick strike from 20 yards out in regular season finale against Wake Forest (10/2).
2013 (Freshman): Served as one of team's consistent defenders, playing in all 18 games and starting final 17 … Credited with career-first point on assist against Cleveland State (9/6) … Recorded career-high two shots against FAU (9/8) … Played 90-plus minutes in 15 of 18 games … Went full 110 minutes in double-overtime draw with Boston College (10/20).

High School: Ranked No. 83 senior nationwide by Top Drawer Soccer … Netted 15 goals with seven assists in final season, captaining team to a 16-4-1 record … Earned IHSSA All-State and UEC All-Valley recognition for impressive campaign … Guided the Wildcats to 75-13-5 overall record in four seasons as all-conference selection … Scored 15 goals with eight assists as a junior in 2012 … Totaled 135 points on 55 goals and 25 assists during four seasons  … Named to Naperville Sun and Daily Herald All-Area Teams senior year.
Club: Played with Team Chicago from 2010-13 after four years with Sockers FC (2007-10) … Won Midwest Regional League with Team Chicago in 2011 and 2012 … Helped guide Team Chicago to Disney Showcase Championship in 2012 after back-to-back trips as finalists (2010-11) … Co-captain of Sockers FC (2009-10) and Team Chicago (2011-13).
ODP: Played with ODP Region II from 2009-12 … Participated in U.S. Youth Soccer Thanksgiving Interregional for four straight years (2009-12) … Traveled to Holland and Belgium with Region II 95's in 2011 … Selected to U.S. U-14 Girls National Team Camp in 2009 and to U.S. Girls National Team Pool in 2010.
Personal: Name is pronounced Jee-AH-Nuh Dal PAH-Zo … Parents are Darrell and Susan … Brother, Vincenzo, played soccer and ran track at Augustana College … Majoring in accounting.
 STATS
YEAR
GP
GS
G
A
PTS
SH
SH%
GW
PK
2013
18
17
0
1
1
7
.000
0
0-0
2014
18
18
1
2
4
4
.250
1
0-0
2015
17
17
0
1
1
3
.000
0
0-0
2016
19
19
1
4
6
15
.067
0
0-0
 CAREER
72
71
2
8
12
29
.069
1
0-0