University of Miami Athletics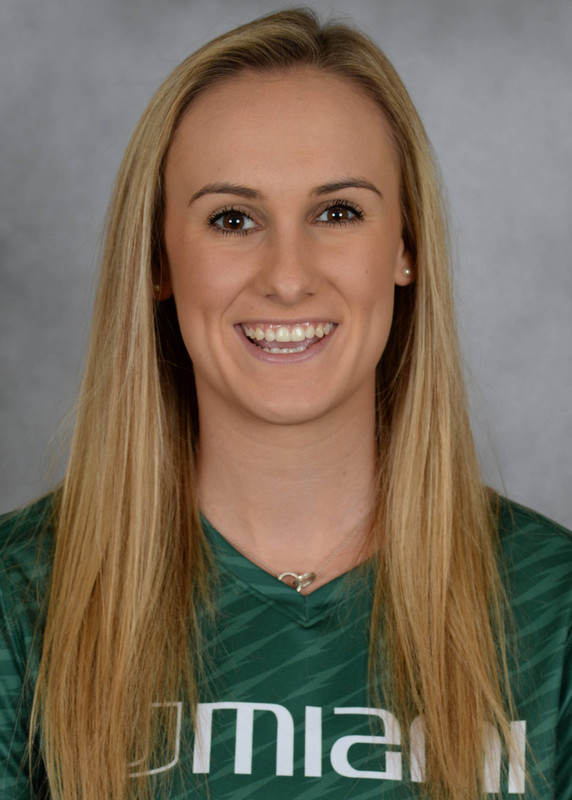 2016 (Senior): CoSIDA Academic All-District 4 Team
Made the move to defense … Played in and started 18 of 19 matches, missing one due to injury … Registered two assists on the season … Ranked fifth on the team with 1,525 minutes of action … Went the distance in 11 matches … Played 90-plus minutes 13 times, including nine matches in a row … On the field for 75-plus minutes 15 times, including each of the last 14 outings of the year … Helped Miami to seven shutouts, as well as program records for fewest goals allowed (16) and lowest goals against average (0.82) … Started and helped the team to a shutout in the season opener at North Florida (8/19) … Missed the Miami (OH) (9/2) match due to injury … Went the whole 90 minutes versus Florida Atlantic (9/4) to help the team to its third shutout in a row … Played all 90 minutes in the win over second-ranked Virginia (9/22) … Played the full 90 minutes in the shutout versus Syracuse (9/25) … Went the whole 90 minutes in the win over Wake Forest (10/2) … Played all 90 minutes at No. 15 North Carolina (10/6) and notched her first point of the season on an assist on the match's opening goal … Played the full 90 minutes against Louisville (10/20) to aid the Hurricanes to their seventh shutout of the year … Played 90 minutes versus No. 25 Virginia Tech (10/23) and recorded an assist on Miami's golden goal in the 102nd minute, helping the team clinch a berth in the ACC Championship … Went all 110 minutes in the ACC Championship quarterfinals at No. 14 Clemson (10/30).
2015 (Junior): Played in all 17 matches, one of six Hurricanes to do so, and made nine starts … Logged one goal, one assist and three points … Posted 12 shot attempts, with five on goal … Recorded 979 minutes of playing time … Played at least 55 minutes 11 times … Went the distance twice, including in the season opener against Texas (8/23) … Started the first four matches of the year and the final two … Tallied her first shot on goal of the season while playing a career-high 95 minutes against UCF (8/30) … Scored the lone goal of the match in the win over FGCU (9/11) … Posted one assist in the Hurricanes' victory against North Florida (9/13) … Attempted four shots, including two on goal, at Boston College (10/25).
2014 (Sophomore): Saw action in 16 games with 13 starts … Tied for second on team with two goals … Ranked third on team with four points … Scored first goal of career against Florida Atlantic (9/7) … Added goal against Portland (9/12) … Finished with seven shots, including five on goal … Started final seven games of season … Delivered 90-minute performances in eight of 13 starts.
2013 (Freshman): Saw action in 14 games … Recorded season-high two shots against Cleveland State (9/6) … Recorded four shots with three on target … Played season-high 66 minutes in double-overtime draw with Boston College (10/20) … Saw action in 11 of 12 conference games … Totaled 560 minutes.
Club: Competed at the Birmingham City Centre of Excellence for three seasons (2008-11) … Spent one sesaon at Arsenal Ladies Centre of Excellence (2011-12) before joining Arsenal Ladies Reserves for her final season (2012-13).
International: Competed for England on multiple levels, including U-17 and U-19 national teams … Competed at the U-17 European Champinoship with England in 2012.
Personal: Parents are Helen and Brian … Has one other brother, Alex, and two older sisters, Ellie and Hannah … Majoring in accounting.
 STATS
YEAR
GP
GS
G
A
PTS
SH
SH%
GW
PK
2013
14
0
0
0
0
4
.000
0
0-0
2014
16
13
2
0
4
7
.286
0
0-0
2015
17
9
1
1
3
12
.083
1
0-0
2016
18
18
0
2
2
0
.000
0
0-0
 CAREER
65
40
3
3
9
23
.130
1
0-0