University of Miami Athletics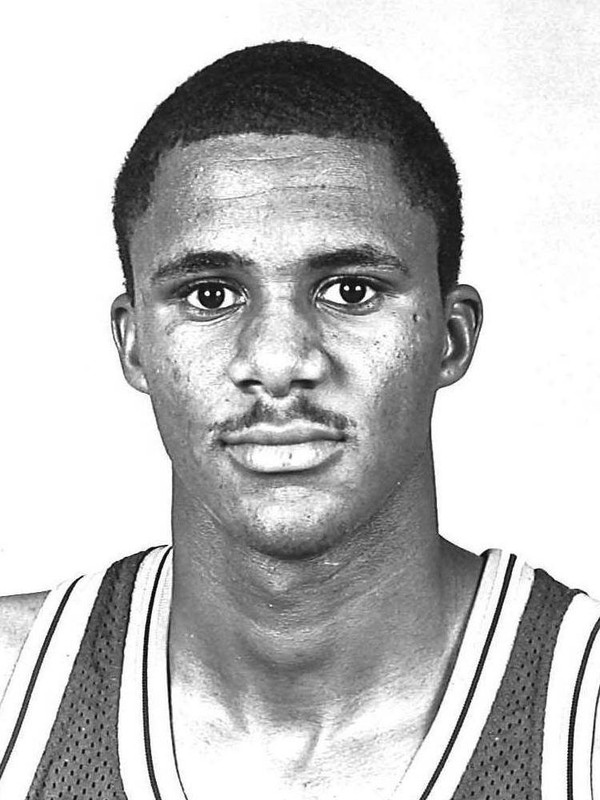 At Miami: Fifth-year senior who has emerged as Miami's most exciting offensive player and top dunk specialist…is the best natural athlete on the team with outstanding leaping ability and acrobatic style of play…has made steady improvement in each of his first three seasons and is considered a serious candidate for post season awards this year…will be looked to heavily, along with Eric Brown, to lead the Hurricanes in '88-'89…led South Florida's new Goya Summer Basketball League in scoring this past summer with a 33.6 ppg average…has the versatility to play either guard or forward…made the switch from small forward to off-guard in his sophomore season…has scored in double figures in 55 of his 88 collegiate games with 14 games of 20 points or more…has tallied 478 career field goals, the 10th best mark in Miami history…was originally recruited by Head Coach Bill Foster at Clemson, but chose to attend Miami when Foster took the Hurricane job in March of 1984…is Miami's only player from New Jersey. 
As a Junior (1987-88): Hit on 50.8% of his field goal attempts, the seventh best mark in UM annals…tallied a team-leading 56 dunks and 203 field goals…enjoyed his best overall career game vs. Dayton (90-89 loss) scoring a career-high 31 points, grabbing nine rebounds and tallying eight assists, five dunks three steals and two blocked shots…led the 'Canes against Providence with 27 points, including a career-high 19 first half markers, and nine rebounds while holding the Friars' Delray Brooks to just six points for the night as Miami held on for an 83-77 upset at the Providence Civic Center…tied his career best for dunks with six vs. Alabama State while also matching his career best points with 29 (13 of 17 form the floor)…scored 24 points in the UM's 104-70 win over American…pumped in 14 points, five rebounds and two blocked shots in Miami's80-75 come-from-behind win over South Florida…tallied 24 points, six rebounds and two blocked shots in 38 minutes as the 'Canes defeated Virginia Commonwealth in the Richmond Coliseum…scored 27 points, block four shots and dished out a career-high nine assists in 40 minutes of action before a National TV audience (NBC) as Miami fell to DePaul (101-82)…in the last eight games of 1987-88, Burns averaged 21.5 points per game, recorded 18 blocked shots and 22 dunks. 
As a Sophomore (1986-87): Started seven of the 29 games he played in at guard post, while averaging 18 minutes per game…finished the season as Miami's fourth-leading scorer with 8.4 points per game…top outing came against the Tar Heels of North Carolina (21 points) where he hit on nine of 18 field goal attempts…hit for double figure scoring totals in 11 games, while leading the team in scoring on three occasions: North Carolina (21), Wisconsin (14) and Kansas (13)…tied his career high rebounding total of nine in Miami's convincing 97-47 win over Armstrong State at the Knight Center…finished the year ranked second on the squad in blocked shots with 18. 
As a Freshman (1985-86): Was the Hurricanes' top dunk specialist as a rookie, leading the team with 30 slams…opened the historic 1985-86 season in style with seven dunks vs. The Citadel…scored in double figures in 20 of 28 games, while compiling five games of 20 points or better…top outing came against the nation's No. 1 ranked Duke Blue Devils in Durham when he scored 29 points (14 of 23 from the field) and received a standing ovation from the vocal Duke crowd as he departed the game…other twenty-point games came against The Citadel (24), Rider (24), Dayton (23) and Notre Dame (22)…finished the season as Miami's most explosive scorer, averaging over 16 points per game in the last nine contest…outstanding leaping ability enabled him to rank second in blocked shots (27)…high rebounding output came in heartbreaking overtime lost to Arizona on CBS-TV, when he grabbed nine caroms…led the team in scoring on six separate occasions. 
As a Red Shirt (1984-85): Sat out entire year in a red shirt capacity while practicing with three other scholarship players and 11 walk-ons as Miami prepared for its first year of competition since 1970-71…worked primarily on making the transition from the inside to the perimeter in year away from competition. 
High School: All-time leading scorer at Edgewood Regional High School with 1,062 points…averaged 24.7 points per game as a senior while leading his team to a 15-8 record and a second place finish in the Olympic Conference…also averaged over 11 rebounds and four assists per game in final prep season…was selected to the All-South Jersey squad, as well as being named first-team all-conference…served as captain his senior year…coached by Felton Jones.
Personal: Full names is Dennis Angelo Burns…photo appeared twice in Sports Illustrated feature on Miami basketball (1/6/86)…majoring in business at Miami…born 1/14/66.
| | | | | | | | | | | | | | | | | |
| --- | --- | --- | --- | --- | --- | --- | --- | --- | --- | --- | --- | --- | --- | --- | --- | --- |
|   |   |   | 3-Point |   |   |   |   |   | Rebounds |   |   |   |   |   |   |   |
| Year | GP-GS | MIN-AVG | FGM-FGA | FG% | FGM-FGA | FG% | FTM-FTA | FT% | OFF-DEF | TOT-AVG | AST | STL | BLK | TO | PF-D | PTS-AVG |
| 85-86 | 28-20 | 825-29 | 172-361 | .476 | – | – | 35-60 | .583 | – | 97-3.5 | 55 | 18 | 27 | 49 | 33-0 | 379-13.5 |
| 86-87 | 29-7 | 536-18 | 103-236 | .436 | 1-10 | .100 | 36-61 | .590 | 36-55 | 91-3.1 | 37 | 29 | 18 | 58 | 34-1 | 243-8.4 |
| 97-88 | 31-28 | 909-29 | 203-400 | .508 | 5-29 | .172 | 67-106 | .632 | 54-81 | 135-4.4 | 74 | 48 | 42 | 64 | 76-0 | 478-15.4 |
| Totals | 88-55 | 2270-26 | 478-997 | .479 | 6-39 | .154 | 138-227 | .608 | 90-136 | 323-3.7 | 166 | 95 | 87 | 171 | 143-1 | 1100-12.5 |