University of Miami Athletics
David Simon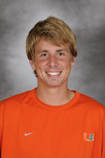 2009-10 (Senior): 
Fall: 7-4 singles, 8-3 doubles. Spring: 14-6 singles, 12-9 doubles. 
Finished with a team-best 7-4 singles record and 8-3 doubles mark during tournament competition… Opened the fall with three-straight singles victories at the Olympia Fields Fighting Illini Invitational, defeating Notre Dame's Michael Moore and Florida State's Connor Smith in straight sets, before battling back to knock off Notre Dame's Blas Moros, 6-4, 5-7, 6-1… Closed the fall on a three-match tear at the USF Fall Invitational… Also won his first five doubles matches of the fall, pairing with Hector Nieto, Carl Sundberg and Christian Blöcker… Won a team-high four doubles matches with Blöcker… The duo advanced to the Round of 16 at the ITA Southeast Regional Championships after defeating USF's Yannick Yoshizawa and Thomas Estrada, 8-6.
2008-09 (Junior): 
Fall: 3-4 singles, 4-4 doubles. Spring: 11-8 singles, 11-12 doubles. 
Closed his first year with the Hurricanes with a 14-12 singles record, including an 11-8 mark in dual matches and a 5-4 ACC finish… Defeated a pair of ranked opponents, knocking off No. 11 Florida's 64th-ranked Joey Burkhardt, 6-3, 4-6, 1-0 (10-6), and Michigan's No. 95 Andrew Mazlin, 6-1, 6-2… Played in the No. 2 through 6 positions, predominantly at No. 4… Won two of his last three matches in straight sets, cruising past Boston College's Alex Rastorgouev, 6-1, 6-0, and Maryland's Roshan Potarazu, 6-2, 6-3… Paired with Christian Blöcker to go 10-10 in doubles competition… The duo – that played predominantly at No. 3 – won more doubles matches than any other Hurricane tandem, including a team-best 7-3 ACC mark… Overall, went 15-16 in doubles competition… In the fall, compiled a 3-4 record in singles competition and a 4-4 mark in doubles play… Opened the fall with a No. 99singles ranking… Won all three singles matches in straight sets, including opening the season with back-to-back wins at the Wolverine Invitational, with a 7-6, 7-5 victory over Notre Dame's Stephen Havens and a straight-sets win over Mazlin… Went 3-3 in doubles play with David Rosenfeld, including a pair of wins in qualifying round of the All-American Championships to advance to the Round of 16… Also won their first match at the ITA Southeast Regional Championships, knocking off Vanderbilt's Charlie Jones and Bryant Salcedo, 9-7, before falling in the Round of 32… Went 1-1 with Ignacio Taboada at the Wolverine Invitational.
Prior to Miami: 
Competed for two seasons with Louisville… Selected to the 2008 All-BIG EAST Tournament singles team… Compiled a 20-13 singles record as a sophomore in 2007-08, including an 11-8 mark at the No. 2 position, and went 17-12 in doubles play, going 6-4 at No. 1 and 7-4 and No. 2… Has been ranked among the top 50 players on the ITF juniors circuit and wrapped up last season ranked 28th among collegians in the Midwest region… All-BIG EAST doubles team selection as a freshman in 2007… Posted a 16-22 overall record and an 8-15 mark in dual matches playing at Nos. 2, 3, 4 and 5… Teamed with six partners for a 10-22 overall doubles record.
Prep: 
Top-ranked player in Austria… Ranked in the top 15 in Europe… No. 91 in the world… U-16 Austrian champion in singles and doubles in 2004… Played in the junior Davis Cup for Austria (U-14 and U-16)… Won the Costa Rica Bowl… Played in the juniors tournaments of the U.S. Open, the Orange Bowl and the Canadian Open.
Personal: 
Son of Andrea Buberl-Simon… Has three sisters… Also enjoys soccer… Majoring in business management.