University of Miami Athletics
Danilo Jovanovich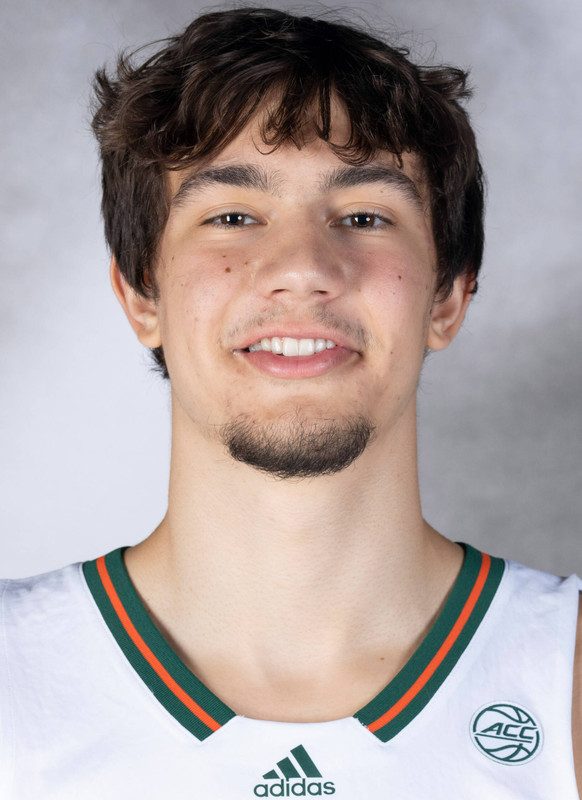 As a Freshman (2022-23): Played in one game … Made his Miami debut with two minutes of action against St. Francis Brooklyn (11/23).
High School: Graduated from Whitnall High School … Labeled a four-star recruit by ESPN and a three-star player by 247Sports and Rivals … Considered the third-best prospect in Wisconsin by 247Sports and fifth-best by ESPN … Placed No. 186 in the 247Sports Composite rankings, good for No. 43 among small forwards … Ranked No. 27 at the power forward position by ESPN … McDonald's All-American Game nominee … Two-time unanimous conference player of the year … Led his team to two conference titles and a regional crown … Named Associated Press First Team All-State as a senior after averaging 29.0 points and 11.0 rebounds per game … Helped his team to a 21-4 record, including a perfect 12-0 mark in league play … Tallied 23.0 points and 8.0 rebounds per game as a junior … First Team All-Conference pick as a sophomore, first of three such honors, after posting 21.0 points per game … Varsity letter winner as a freshman … Competing for Phenom University – Team Herro, averaged 15.5 points and 6.8 rebounds per game during the 2021 Nike EYBL slate … Miami Heat guard Tyler Herro and former Wisconsin quarterback Joel Stave also attended Whitnall.
Personal: Full name is Danilo Jovanovich … Name is pronounced DAHN-Ih-Low Yo-VAHN-Uh-Vich … Nickname is "DLo" … Born Oct. 9, 2003 … Parents are Milan and Bozana Jovanovich … Has an older sister, Marina Pavlik, and an older brother, Dimitrije Jovanovich … Majoring in business with an undeclared track… Favorite athlete is Dwyane Wade because of the inspiration provided by watching him play as a child … Best sports memory is winning the regional championship as a senior … Pregame superstition is a 30-minute nap followed by a cold shower … Committed to Miami over offers from DePaul, Illinois, UIC, Milwaukee, Penn State, USC and Wake Forest … Chose Miami because of the family environment, the quality of the program and the great coaching staff.