University of Miami Athletics
Dan Miller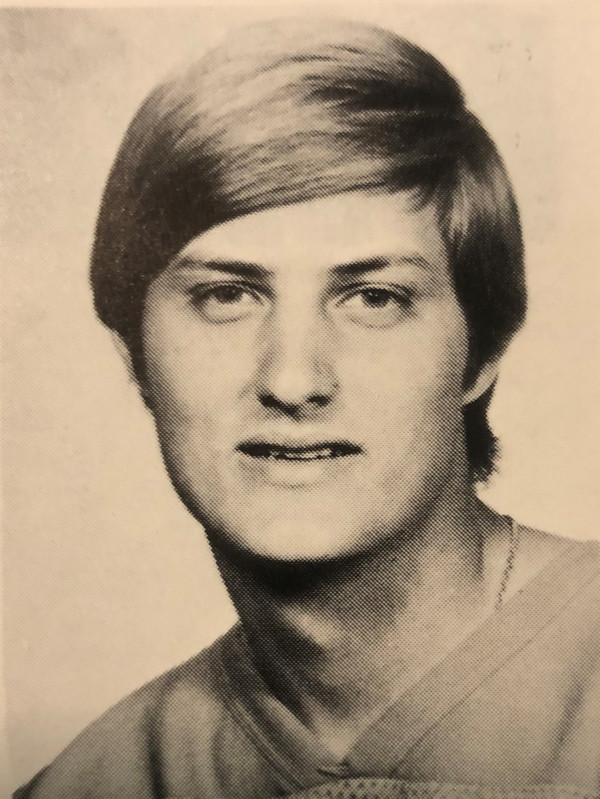 Senior (1981): Connected on 18 of 27 field goal attempts in final season and all 23 conversion attempts…Led Hurricanes with 77 points in final campaign…Selected first-team All-America by Football News and second-team All-America by UPI…Honorable Mention All-America nod from Associated Press and Sporting News…Named Sports Illustrated National Offensive Player of the Week after 55-yard last minute field goal to defeat Florida in season opener…Moved into first place as all-time scorer in UM history with 244 points…Hit school record 57-yard field goal against Florida State…Tied own school record with four field goals against Houston, accounting for all 12 of team's points in 12-7 win…Selected in 11th round (No. 281 overall) of 1982 NFL Draft by Washington Redskins.
Junior (1980): Side-winding Dan Miller has steered his kicks towards 14 diferent places through UM record book, including five No. 1 standards…Booted four field goals against North Texas State to establish new single game mark…Three times before (twice against Florida) he hit three field goals in one game…Hold seasonal marks for most points on kicking (64) and most field goals (155) and career standards for most points on kicking alone (167) and most field goals (38)…Scoring leader at Miami past two years (57 and 64 points)…Has kicked 53 out of 55 extra points in three years…Finished 12th in country in field goal kicking…He's a cinch to become Hurcs' all-time leading scorer in 1981 by surpassing the 184 scored by Harry Ghaul in the 1945-1948 era.
Sophomore (1979): Meet Danny Miller, UM's chairman of the board – the scoreboard, that is…"Big Foot" was far and away Miami's leading scorer on kicking alone with 57 points in 1979 (fifth-best one season total in Miami)…Danny is destined to become the most prolific kicker in Hurricane history…Ended season with .824 field goal percentage, second in nation in category…Teammates named him "Big Foot" after his field goal toppled Auburn ine one of the greatst college upses o the year in 1978…Rapidly scattering his name through Miami history pages, Danny Boy is already listed in seven different places in the UM grid record book (three places in career records)…His three boots in teh finale against Florida tied UM's all-time single game field goal record (his second time)…Also booted field goals in five other 1979 Hurricane battles, bringing his season total to 14 to tie him for No. 1 in single seaosn and placing him second in career stats…Connected on all but one of 16 conversion attempts (bad snap…Ranks No. 1 for season and second high in career kicking-points-only-scoring derby.
True Freshman (1978): Dan "Big Foot" Miller's freshman year heroics rate him one of the coolest customers ever to kick for UM… 'Cool Dan' already is listed in five different places in UM grid record book (two places in career records)…His 24-yard field goal with six seconds to play in 1978 upset 19th-ranked Auburn, 17-15, while his right leg also provided the margin of victory in another two-point win (San Diego State, 16-14) and a pair of one-point triumphs (Utah State, 17-16, and Florida, 22-21)…Against the Gators, Miller tied UM's all-time school record with three field goals in a single game…Booted field goals in six other batles, bringing his season total to nine (tied him for third-best UM mark in one season, and made him fourth top man in career stats)…Connected on all 19 conversion tries and overall had 46 points, second-best on team…In the record book, Miller is third high for a season and seventh high in the career kicking-points-only scoring derby.
High School/Prep: Looms heir apparent to place-kicking spot left vacant by graduation of Chris Dennis…Voted 1977 All-Southwest Florida Player of the Year…Made first team all-state place-kicker both in 1976 and 1977…Booted field goals of 51, 52 and 53 yards as prep senior and was nine for nine inside the 40-yard line…Sent pigskin out of the ball park on kickoffs…Also averaged 40 yards a punt and played wide receiver and defensive safety…Prep Athlete of the Week…Selected to the All-Southwest Florida Football Team three consecutive years…Earned 10 varsity leters at Clewiston High – football 3, track 4, baseball 2, golf 1.