University of Miami Athletics
Dan Martin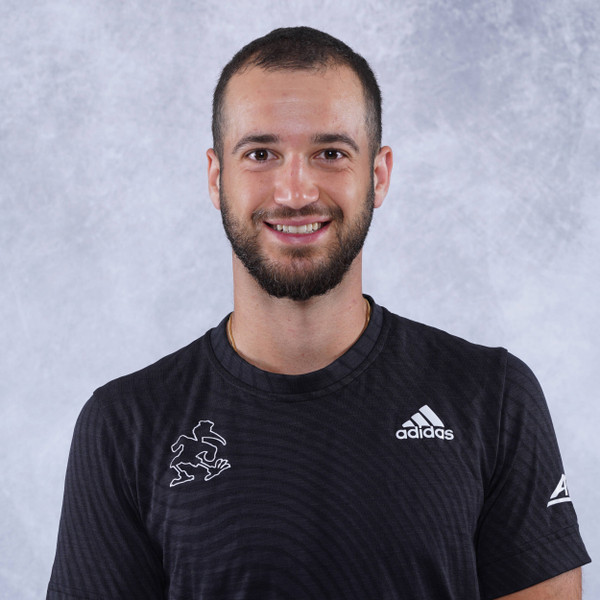 As a Senior at Dartmouth (2020-21): Did not play due to COVID-19 pandemic as the Ivy League did not conduct any intercollegiate competitions during the winter of 2020-21 nor any conference competitions during the spring of 2021.
As a Junior at Dartmouth (2019-20): Went 13-5 in singles (5-3 tournament, 8-2 dual) before the season was canceled due to COVID-19…Recorded a 9-4 mark in doubles play…Played the No. 1 or 2 position in singles…Started the spring on an eight-match winning streak (Jan. 24-Feb. 15)…Ended season on a high-note with doubles win over pair from No. 49 Indiana.
As a Sophomore at Dartmouth (2018-19): Named to the All-Ivy First Team for singles…Posted an 18-11 overall record in singles and a 21-13 mark in doubles…Switched between playing at the second and third position in singles…Went 5-5 on court two and 5-2 on court three…Earned a place on court one for the final two matches of the season…Recorded a 12-2 mark at the No. 3 spot in doubles play.
As a Freshman at Dartmouth (2017-18): Named to the All-Ivy Second Team for singles…Finished 16-11 in singles and 9-8 in dual matches as a freshman…Went 5-6 at the No. 2 and 4-2 at the No. 3 positions…Spent several weeks in the national rankings, starting at No. 101…Tallied a 10-match winning streak in singles (Jan. 20-Feb. 17)…Posted a 2-0 record in doubles play…Helped Dartmouth to its first Ivy League Championship in 21 years.
Before Miami/Dartmouth: Appeared in numerous ITF Grade 4 and 5 semi-finals and finals…Took home the Singles Championship at the 2016 ITF G5 Burlington All Canadian Junior Championship…Made it to the Finals of the U16 Canadian Championship in 2015…Placed third at the U18 Canadian Championship…Was the 2015 ITF G5 Bahamas Goombay Splash Bowl Doubles Champion.
Personal: Born on May 9, 1999…Favorite athlete is Roger Federer…Enjoys of traveling and hiking…Son of Dan and Alina Martin…Planning to major in sports administration.