Martin Tabbed to All-ACC First Team
CORAL GABLES, Fla. – University of Miami tennis player Dan Martin earned a spot on the All-Atlantic Coast Conference First Team for his performance this season, as announced by the league Thursday.
Martin is the second first-team selection since the ACC began delineating teams in 2014, joining 2021 honoree Adria Soriano Barrera. He is also the ninth All-ACC selection under head coach Aljosa Piric, who took over the program in June 2016.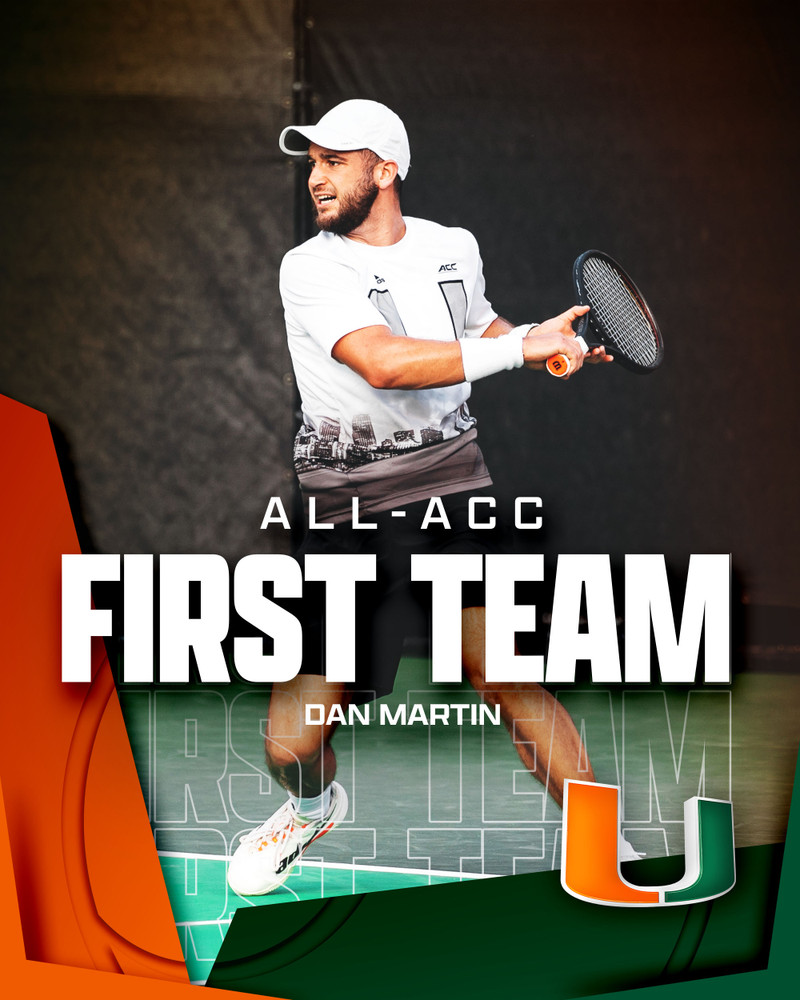 In his first season at Miami, Martin posted an impressive 25-7 record in singles action, including an 18-4 mark in spring competition. The Laval, Quebec, Canada, native recorded a 6-2 record against ranked opponents and placed No. 60 in the year-end ITA singles rankings.
Sixteen of Martin's 19 matches in the spring came at first singles, where he logged a 14-2 record. From Jan. 17 to March 9, the graduate student rattled off 11 straight victories to eclipse the 20-win mark on the season.
In doubles action, Martin recorded a 20-10 overall record and a 7-2 mark in ACC play. Upon teaming up with fifth-year senior Bojan Jankulovski at third doubles, Martin tallied seven straight doubles victories against ACC foes.
Martin earned back-to-back ACC Player of the Week honors in April after tallying a perfect 8-0 record over two weekends. He is the second Hurricane in program history to earn consecutive weekly honors, following in the footsteps of Luigi D'Agord in 2006.
With 25 and 20 victories in singles and doubles, respectively, Martin became just the 17th player in Miami program history to record 20-plus singles and doubles wins in the same season.
This is the third all-conference honor for Martin as he was selected to the All-Ivy First Team and All-Ivy Second Team in 2019 and 2018, respectively.