University of Miami Athletics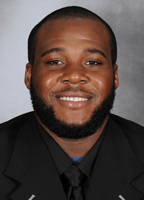 2013 (Senior): Played in all 13 games, making nine starts along defensive line … Finished with 25 tackles, 3.0 tackles for loss, one forced fumble and one fumble recovery … Recorded two tackles including TFL in upset win over No. 12/9 Florida … Also recovered career-first fumble vs. Gators … Had three tackles against both Georgia Tech and UNC … Posted season-high four tackles in road loss at Duke and home win over Virginia … Made two assisted tackles at Pitt … Added two tackles vs. Louisville in Russell Athletic Bowl … Earned letter.
2012 (Junior): Played in final four games of season, starting last two games vs. USF and at Duke … Gathered nine tackles and 2.5 tackles for loss … Had one tackle in season debut vs. Virginia Tech … Season-high four tackles at Virginia, including 1.5 tackles-for-loss … Added two tackles vs. USF and Duke … Had 1.0 TFL against USF … Earned letter … Graduated in December 2012.
2011 (Redshirt Sophomore): Hampered by injury suffered during training camp, but made appearances in final two games of season … Finished with 10 total tackles, including one tackle-for-loss … Had season-high seven tackles in season finale against Boston College … Earned letter.
2010 (Sophomore): Started against Ohio State, but did not play for remainder of season due to injury.
2009 (True Freshman): Played in eight of UM's final nine games at defensive tackle position … Recorded tackle against Wake Forest, Virginia, North Carolina and USF … Also had tackle-for-loss against Tar Heels … Earned letter.
High School: Finished senior season with 50 tackles and 10 sacks … Rated 54th-best defensive tackle by Rivals.com, 19th-best defensive tackle by ESPN.com and 61st-best tackle by Scout.com … Coached by Frank Crockett … Played offensive line before moving to defensive tackle as senior.
 PORTER CAREER STATISTICS
SEASON
G-GS
UT
AT
TT
TFL
YDS
SACK
YDS
FF
FR
PBU
INT
YDS
2009
8-0
2
2
4
1.0
4
0.0
0
0
0
0
0
0
2010
1-1
0
1
1
0.0
0
0.0
0
0
0
0
0
0
2011
2-0
5
5
10
1.0
3
0.0
0
0
0
0
0
0
2012
4-2
5
4
9
2.5
5
0.0
0
0
0
0
0
0
2013
13-9
12
13
25
3.0
10
0.0
0
1
1
0
0
0
CAREER
28-12
24
25
49
6.5
22
0.0
0
1
1
0
0
0