University of Miami Athletics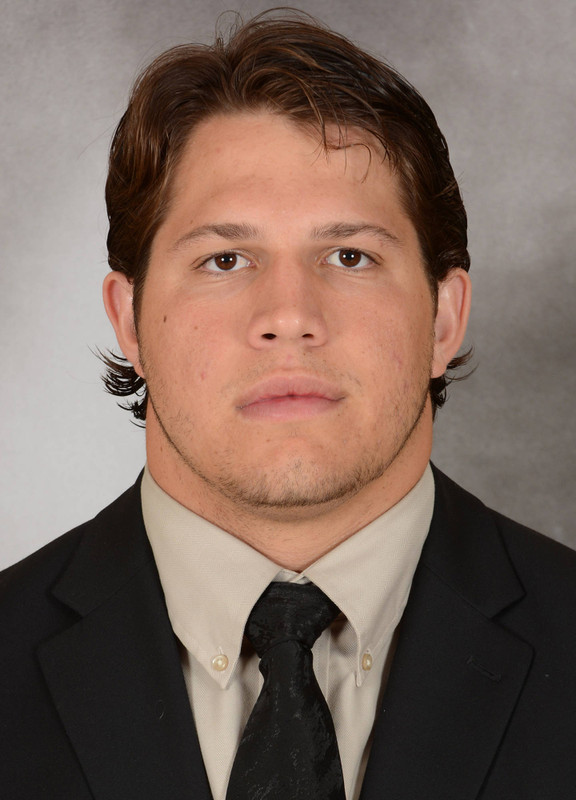 2014 (Senior): Started season opener at Louisville, recording six tackles (five solo)…Recorded first sack of season against Cardinals resulting in five-yard loss and forced second fumble of career…Recorded four tackles (two solo), one fumble recovery and one PBU in start against FAMU…Tied for second on team with seven tackles against Arkansas State…Started against Nebraska and recorded four tackles and one fumble recovery…Added one tackle in start against Duke…Had three tackles, including one TFL, in start against Georgia Tech…Had one tackle in start against Cincinnati…Added two tackles, including 13-yard sack, in start against Virginia Tech…Had one half-tackle for loss in start against North Carolina…Added one tackle in start against Florida State…Did not record any stats in start against Virginia…Led team with seven tackles in start against Pittsbugh…Totaled three tackles, including 13-yard sack, in final start of career in Duck Commander Independence Bowl against South Carolina.
2013 (Junior): Started all 13 games at defensive end … Has made 34 consecutive starts … Recorded 46 tackles, 7.5 tackles-for-loss, 3.5 sacks and seven QB hurries … Tallied five tackles and sack in both wins over FAU and No. 12/9 Florida … Added five tackles, 1.5 TFLs and two QB hurries in home win vs. Georgia Tech … Third sack of season came in comeback road win at UNC … Had season-high eight tackles along with 1.5 TFLs in home loss to Virginia Tech … Tallied six tackles at Duke … Had two QB hurries vs. Virginia … Recorded two tackles vs. Louisville in Russell Athletic Bowl … Earned letter.
2012 (Sophomore): Started all 12 games along defensive line … One of nine Canes to start every game and one of only three on defense … One of six Hurricanes to earn All-ACC honorable mention from league coaches … Ranked eighth on team with 45 tackles and third with 6.5 tackles-for-loss for team-high 31 yards lost … Also led team with 4.0 sacks for 24 yards lost … One of two Canes to record multiple fumble recoveries … Recovered fumble in season opener at Boston College … Second fumble recovery came in home win vs. Bethune-Cookman … Had seven tackles – all solo – and added season-high 3.0 TFL in OT road win at Georgia Tech … Chipped in six tackles, 2.0 TFL and 2.0 sacks in road loss at Virginia … Blocked FG in home win vs. USF … Added four tackles and 0.5 TFL in road win at Duke … Earned letter.
2011 (True Freshman): Saw action in all 12 games, including starts in final nine contests of season … Finished third in ACC Defensive Rookie of the Year Award voting … Ended season tied for team lead with five sacks … Had seventh-most tackles on team with 38 (15 solo, 23 assists) … Recorded career-first sack against then-No. 17 Ohio State … Finished with four tackles and 1.5 sacks against Bethune-Cookman … Registered season-high eight tackles against then-No. 21 Virginia Tech … Earned letter.
High School: Five-star prospect according to Rivals.com and ESPN … Ranked by Rivals.com and ESPN as third and fifth at position, respectively, and 44th and 24th overall nationally by Rivals.com and ESPN, respectively … Strong for size and powerful pass-rusher … Quick off ball with continuous motor … Runs 4.8 40-yard dash … MVP of 2011 Under Armour All-American game at Tropicana Field in Tampa Bay area … 140 tackles, 18 sacks and two interceptions as senior … Transferred to Alonso HS and played in only six games as junior due to injury, but finished with 80 tackles, 12.5 sacks, six PBUs, two forced fumbles and fumble recovery … Recorded 80 tackles and 9.5 sacks as sophomore at Tampa Gaither HS … Also considered Florida, Tennessee, Florida State, and North Carolina among others with more than 40 scholarship offers.
 CHICKILLO CAREER STATISTICS
SEASON
G-GS
UT
AT
TT
TFL
YDS
SACK
YDS
FF
FR
PBU
INT
YDS
2011
12-9
15
23
38
6.5
25
5.0
20
1
1
0
0
0
2012
12-12
29
16
45
6.5
31
4.0
24
0
2
1
0
0
2013
13-13
25
21
46
7.5
25
3.5
15
0
0
2
0
0
2014
13-13
20
21
41
4.5
37
3.0
31
1
2
2
0
0
CAREER
50-47
89
81
170
25.0
118
15.5
90
2
5
5
0
0