University of Miami Athletics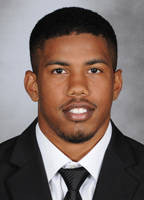 2013 HURRICANE MEDIA "GOOD GUY" AWARD
2013 (Senior): Played in all 13 games at safety, making four starts … Registered 23 tackles, one sack, one INT and three PBUs … Totaled two tackles, PBU and interception in win over Savannah State … Recorded two tackles against Florida, USF, North Carolina, Duke and Virginia … Racked up season-high four tackles and career-first sack in road loss at Florida State … Made one tackle vs. Louisville in Russell Athletic Bowl … Recipient of Hurricane Media "Good Guy" Award at end-of-season team awards show … Earned letter.
2012 (Junior): Played in all 12 games at safety and on special teams, making seven starts … Finished season with 32 tackles, one INT, one forced fumble and one fumble recovery … Made five straight starts at safety … Made career-first start at safety against Bethune-Cookman … Posted career-high eight tackles (five solo), recovered fumble and had interception in home win over NC State … Had five tackles and forced fumble in home loss to Florida State … Broke up two passes against Virginia Tech … Had four tackles in road loss at Virginia … Broke up pass against USF and Duke … Graduated in December 2012 … Earned letter.
2011 (Redshirt Sophomore): Made position switch from quarterback to defensive back for junior campaign and saw action in 11 games … Finished season with 12 tackles (eight solo, four assists) … Earned letter.
2010 (Sophomore): Played in two of first three games of season, completing 4-of-7 passes … Sat out remainder of year with injury.
2009 (True Freshman): True freshman quarterback, who played in three games … Completed 4-of-6 passes for 53 yards, including career-first touchdown to Kendal Thompkins from 15 yards out against Virginia … Completed 3-of-3 passes for 38 yards against Florida A&M … Earned letter.
High School: Rated No. 24-best quarterback by ESPN.com, No. 47-best quarterback by Scout.com and No. 87-best QB by Rivals.com … Father, Alonzo Highsmith, played at Miami from 1983-86 and in NFL for seven years … Full name is Alonzo Highsmith Jr. … As senior at Hightower, threw for 2,192 yards with 28 passing touchdowns with just four interceptions and ran for 360 yards and seven more touchdowns … Helped lead team to 13-1 record in 2008 and appearance in Class 5A Division I state championship game … As junior, threw for 2,400 yards with 22 touchdowns and 11 interceptions and ran for five touchdowns … Passed for 2,300 yards with 21 touchdowns and six interceptions as sophomore and added four rushing TDs … Finished career with 6,673 passing yards and 70 touchdowns … Houston Chronicle 2008 District MVP and second-team All-Texas as senior … Named to Houston Chronicle's 2006 and 2007 all-district first team as sophomore and junior … Named to 2008 All-Greater Houston Chronicle Team … Class 5A All-State Honorable Mention … Lettered four years in football and one year in track … Coached by Shane Hallmark.
 HIGHSMITH CAREER STATISTICS
SEASON
G-GS
UT
AT
TT
TFL
YDS
SACK
YDS
FF
FR
PBU
INT
YDS
2009
3-0
0
0
0
0.0
0
0.0
0
0
0
0
0
0
2010
2-0
0
0
0
0.0
0
0.0
0
0
0
0
0
0
2011
11-0
8
4
12
0.0
0
0.0
0
0
0
0
0
0
2012
12-7
18
14
32
0.0
0
0.0
0
1
1
4
1
0
2013
13-4
10
13
23
1.0
4
1.0
4
0
0
3
1
20
CAREER
41-11
36
31
67
1.0
4
1.0
4
1
1
7
2
20