University of Miami Athletics
Adria Soriano Barrera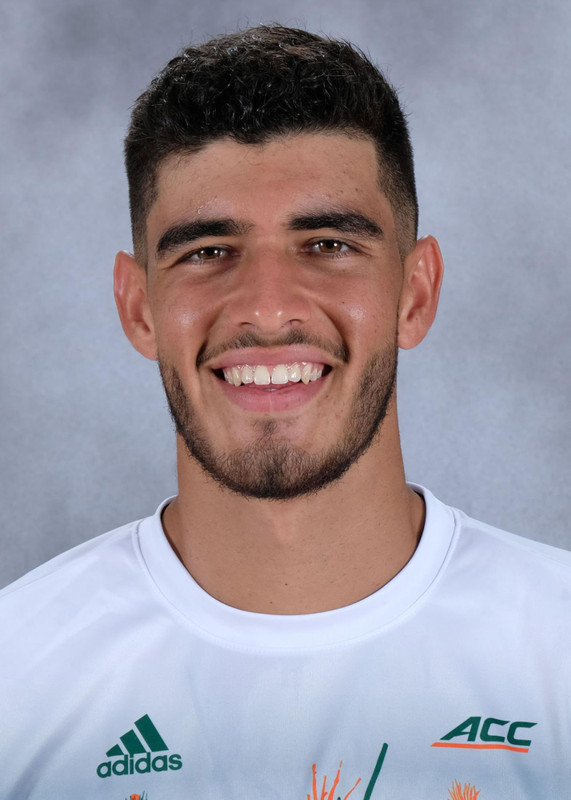 As a Freshman (2017-18)
2018 All-ACC Second Team
ACC Doubles Team of the Week – March 20, 2018 (w/ Christian Langmo)
Fall: 8-3 singles, 6-6 doubles … defeated Tulane's Tim Ruetzel 6-2, 4-6, 6-2 to win the Blue Draw singles title at Rice Invitational (Sept. 29-Oct. 1), his first intercollegiate event … reached the Doubles A final at the Bedford Cup (Oct. 5-8), where he was teamed up with fellow freshman Bojan Jankulovski. The young Canes fell to veteran teammates Christian Langmo and Dane Dunlap, 6-3 … advanced to the quarterfinals of the doubles competition at the ITA Southeast Championships (Oct. 12-16), where he was partnered by Jankulovski … justified his top seed in the White Singles Draw at the CCB Collegiate Invitational (Nov. 10-12), earning four straigth two-set victories for his second career title.
Spring: 13-7 singles, 10-13 doubles … grabbed a 7-6 (8-6), 6-1 win at the No. 3 position against No. 46 Luis Ernenbusch of Tulane in spring opener (Jan. 19) … won six out of first seven matches after being promoted to No. 2 (six straight), including one in ACC opener at Georgia Tech (March 2) … hasn't lost a set at home, including eight consecutive straight-set victories … earned back-to-back top-30 victories against No. 30 Skander Mansouri – 6-4, 7-6 (13-11) of top-ranked Wake Forest (March 23) and No. 24 Alexis Galarneau – 6-4, 6-2 – of No. 23 NC State (March 25) to improve to 3-1 against ranked opposition … in doubles, partnered Jankulovski to a bagel victory against New Orleans (Jan. 19) at No. 2 position … the duo debuted at No. 1 with their first ranked win – 6-1 against No. 49 Niclas Braun and Trevor Foshey of Mississippi State (Jan. 21) … paired with Jankulovski for one more win against Bucknell (Feb. 11) … paired up with Langmo at UCF (March 18), defeating No. 11 Eero Vasa and Korey Lovett to earn the No. 50 spot in the Oracle/ITA rankings … bested No. 23 NC State's brother duo of Igor and Ivan Saveljic (No. 25), 6-3, on Hurricanes' way to first ACC win of the season and first triumph over top-25 opposition since 2014 … picked up two top-20 victories in the span of five days, taking down No. 38 Louisville's 14th-ranked pair, 6-3, at home before going on to defeat No. 42 Virginia's 20th-ranked pair on the road in Miami's memorable road victory over the Cavaliers (April 6) … dominated BC's Derek Austin and Sean Mullins duo, 6-2, for his second ACC road triumph alongside Langmo (April 15) … Edged North Florida's top duo, 7-6, in his and Langmo's NCAA Championship debut (May 12) as the Canes swept UNF for first NCAA win since 2011 … partnered Langmo to a 7-5, 6-3 victory over Arkansas' Oscar Mesquida and Adam Sanrujo (May 24), for the program's first NCAA Doubles Championship victory since 2008.
Juniors
A native of Spain, Adria Soriano-Barrera is a right-hander who is currently ranked No. 1,761 by the ATP World Tour in singles. He is also ranked in the top-10 of Spain's 18 and under rankings. Soriano most notably finished as the runner-up at the Catalonian Junior Championship.