University of Miami Athletics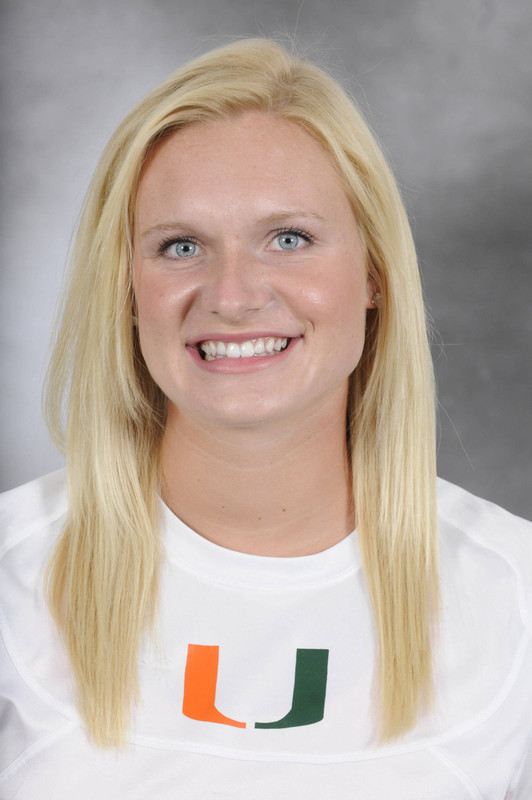 2012 (SOPHOMORE): Didnot see any game action.
2011 (FRESHMAN): Saw action in four contests, serving as the primary back-up to Vikki Alonzo…Allowed one goal in over 113 minutes of action, good for a 0.79 GAA…Made two stops on the year.
CLUB: Has played for Ohio Premier since 2007 under Chris King…Also played for Olentangy Classics from 2002-2007… In 2011 her team made it to the ECNL Nationals.
OLYMPIC DEVELOPMENT PROGRAM: Played for Ohio South State Team from 2004-2008 under Brett Thompson… Was on the England Tour in 2007 and her team won the Disney Tournament in 2005… Her team made the Regional A pool in 2005 and 2007.
HIGH SCHOOL: Went to Olentangy Liberty in Powell, Ohio… was a three-year letterwinner in soccer and a two-year letterwinner in basketball… Her team was district finalists in 2007 and 2010 along with conference champions in 2007 and 2009… She let up 0.58 goals per game and had an 89% save percentage… In 2010 she was the captain, team MVP, first team all-conference and district and second team all-state… In 2010, she was also named to the Central Ohio all-star team and the Super 12 team… In 2009, she was awarded the defensive MVP and was named to the first team all-conference as well as second team all-district.
PERSONAL: Chose Miami because is an opportunity to play in the ACC and an opportunity to attend a Top 50 academic university… Chose Miami over Pittsburgh, Louisville, Central Michigan, Georgetown, and Davidson… Plans on majoring in either Psychology or Biology.