Honoring No. 13: Torretta's Most Memorable Starts
In honor of the Hurricanes retiring Heisman Trophy winner Gino Torretta's No. 13 jersey this Saturday at Hard Rock Stadium we have compiled Torretta's 13 most memorable starts as Miami's quarterback.
October 14, 1989: No. 2 Miami 48, San Jose State 16
In only his second career start, Torretta throws for a then-school record 468 yards in the Canes' 48-16 rout of the Spartans. Torretta completed 32 of 49 passes on the day, including touchdown strikes to Lamar Thomas, Wesley Carroll and Randy Bethel. Both Carroll and Dale Dawkins topped 100 yards receiving in the game. Torretta raced past Bernie Kosar's previous school record of 447 yards before departing the game with more than nine minutes remaining.
September 12, 1991: No. 2 Miami 40, No. 10 Houston 10
Torretta and the Canes outdueled David Klingler and Houston's ballyhooed Run 'N Shoot offense in a 40-10 rout at the Orange Bowl. Torretta threw for 365 yards and four touchdowns, two each to Lamar Thomas and Kevin Williams, who averaged over 26 yards per catch between them. Three of Miami's five touchdown drives were just four plays as Torretta executed the Canes' quick-strike offense to perfection.
October 12, 1991: No. 2 Miami 26, No. 9 Penn State 20
Torretta connected with Horace Copeland on an 80-yard touchdown pass that broke open a 6-6 and tie and led the Canes to an eventual 26-20 victory over the Nittany Lions at the Orange Bowl. Torretta later hit Lamar Thomas on a 42-yard touchdown toss in the fourth quarter that put the game away. He finished with 260 passing yards, connecting with seven different receivers.
October 26, 1991: No. 2 Miami 36, Arizona 9
The Canes traveled west for their first-ever meeting with Arizona and Torretta lit up the Wildcats for 350 yards and two scores en route to a 36-9 win. Torretta threw a season-high 50 passes, connecting with Lamar Thomas on a 46-yard scoring strike to give Miami a 13-0 lead, and later hitting fullback Martin Patton on a 16-yard touchdown toss.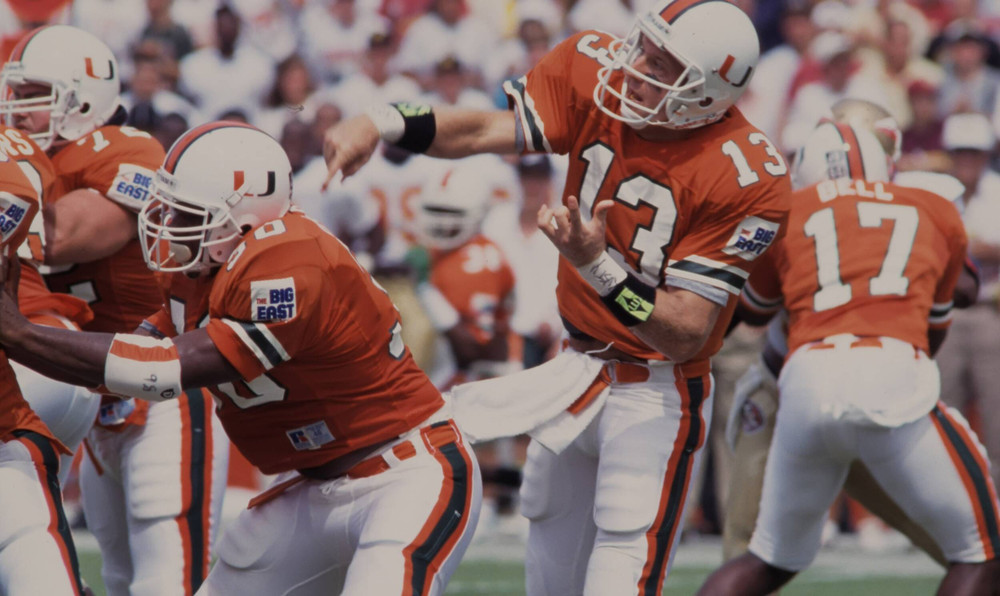 November 16, 1991: No. 2 Miami 17, No. 1 Florida State 16
The Canes rallied in the fourth quarter to defeat FSU 17-16 in a one-versus-two showdown before the largest crowd in Doak Campbell Stadium history. The Seminoles led 16-7 in the fourth quarter before Torretta engineered two scoring drives. The first ended with a Carlos Huerta field goal that cut the lead to six points. Then Miami drove 58 yards over 11 plays, including a crucial 4th and 6 pass from Torretta to Horace Copeland that set up first and goal. Larry Jones' one-yard run gave the Canes the lead and FSU's potential game-winning kick sailed wide right.
November 30, 1991: No. 1 Miami 39, San Diego State 12
Torretta broke his own single-game passing yards record, throwing for 485 yards and four touchdowns as the Canes capped a perfect regular season with a 39-12 rout of the Aztecs. Torretta threw two long scoring strikes to Horace Copeland and a 42-yard touchdown to Kevin Williams, helping Miami rack up a season-high 579 total yards.
January 1, 1992: No. 1 Miami 22, No. 11 Nebraska 0
The Canes completed a perfect season and earned their fourth national championship with a 22-0 win over Nebraska in the Orange Bowl. Torretta opened the scoring with an eight-yard touchdown pass to Kevin Williams, which was all Miami needed as the Canes held the Huskers to just 171 total yards. Torretta directed a balanced offensive attack that ran 85 plays and amassed 439 yards.
September 5, 1992: No. 1 Miami 24, No. 23 Iowa 7
Just 12 days after Hurricane Andrew devastated South Florida, the Canes opened defense of their national championship with an emotional 24-7 win at Iowa. Torretta threw for 433 yards and two touchdowns, directing an offense that racked up 530 yards. The Hawkeyes cut Miami's lead to 17-7 in the fourth quarter before Torretta connected with Darrly Spencer on a 17-yard touchdown toss to seal the victory.
October 3, 1992: No. 2 Miami 19, No. 3 Florida State 16
For the second straight year the Miami-Florida State game came down to a fourth quarter Torretta touchdown pass and a missed kick. Trailing 16-10 in the fourth quarter, Torretta led a 58-yard touchdown drive, capped by a 33-yard scoring strike to Lamar Thomas while absorbing a huge hit in the pocket. The Canes increased their lead to three points on a safety before FSU had a chance to tie – the kick sailed wide right. Torretta threw for 252 yards and two touchdowns in the victory.
October 17, 1992: No. 1 Miami 45, TCU 10
Torretta had a record-setting day at the Orange Bowl, becoming Miami's all-time leader in passing attempts, passing yards and total offense in the Canes' 45-10 win over TCU. Torretta threw for 350 yards and three touchdowns against the Horned Frogs, including a 68-yarder to Lamar Thomas that broke the total offense mark and a 46-yarder to Horace Copeland that eclipsed the passing yards record. Miami racked up 564 yards on the day.
October 24, 1992: No. 1 Miami 43, Virginia Tech 23
Miami jumped out to a 31-3 halftime lead in Blacksburg and cruised to a 20-point win over the Hokies. Torretta threw for 249 yards and three touchdowns, including two to Lamar Thomas. His longest completion of the day – a 33-yarder to Coleman Bell – converted a 3rd and 28 that eventually led to another touchdown. Torretta and the rest of the starters exited in the fourth quarter when the Canes had built a 33-point lead.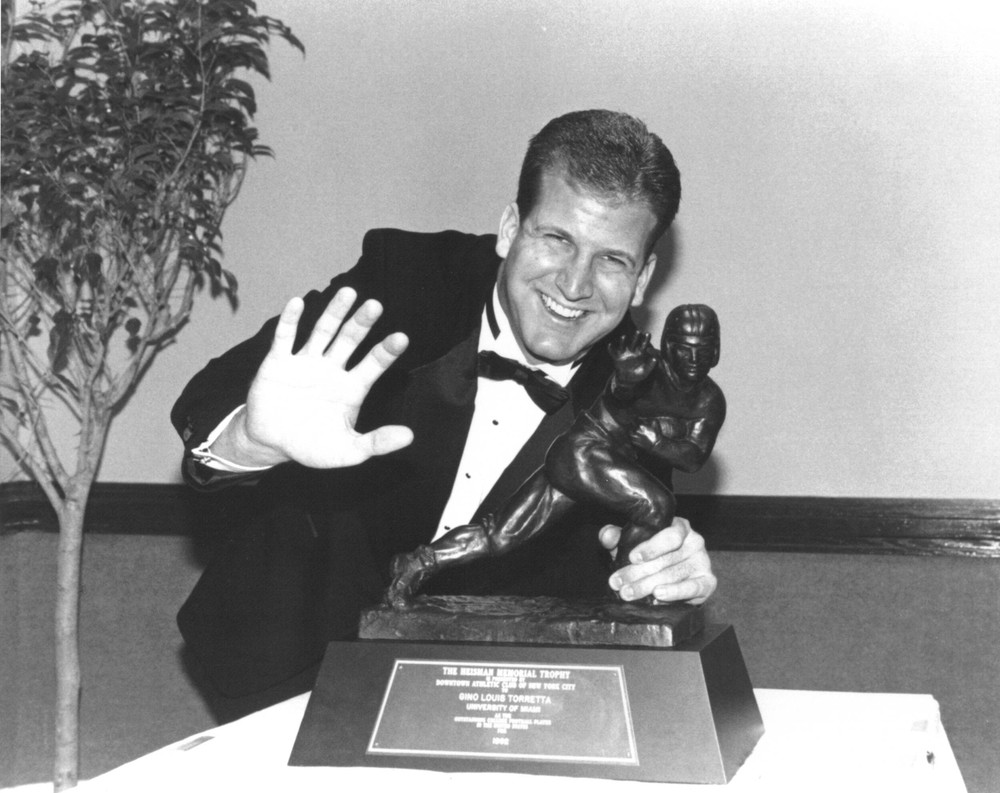 October 31, 1992: No. 1 Miami 35, West Virginia 23
Torretta threw for 363 yards and three touchdowns, helping the top-ranked Canes rout the Mountaineers for their 50th straight win at the Orange Bowl. Torretta spread the ball around to eight receivers, connecting eight times with Coleman Bell and throwing two scoring strikes to Lamar Thomas. His second touchdown pass to Thomas increased Miami's lead to 35-3 early in the fourth quarter.
November 28, 1992: No. 1 Miami 63, San Diego State 17
The Canes ventured west and rolled past San Diego State 63-17 to complete a second consecutive undefeated regular season campaign. Torretta threw for 310 yards and one touchdown, a 24-yarder to Lamar Thomas. Miami racked up a season-high 581 yards – the third-best total in school history – and also tied a school record with 35 points in the third quarter.