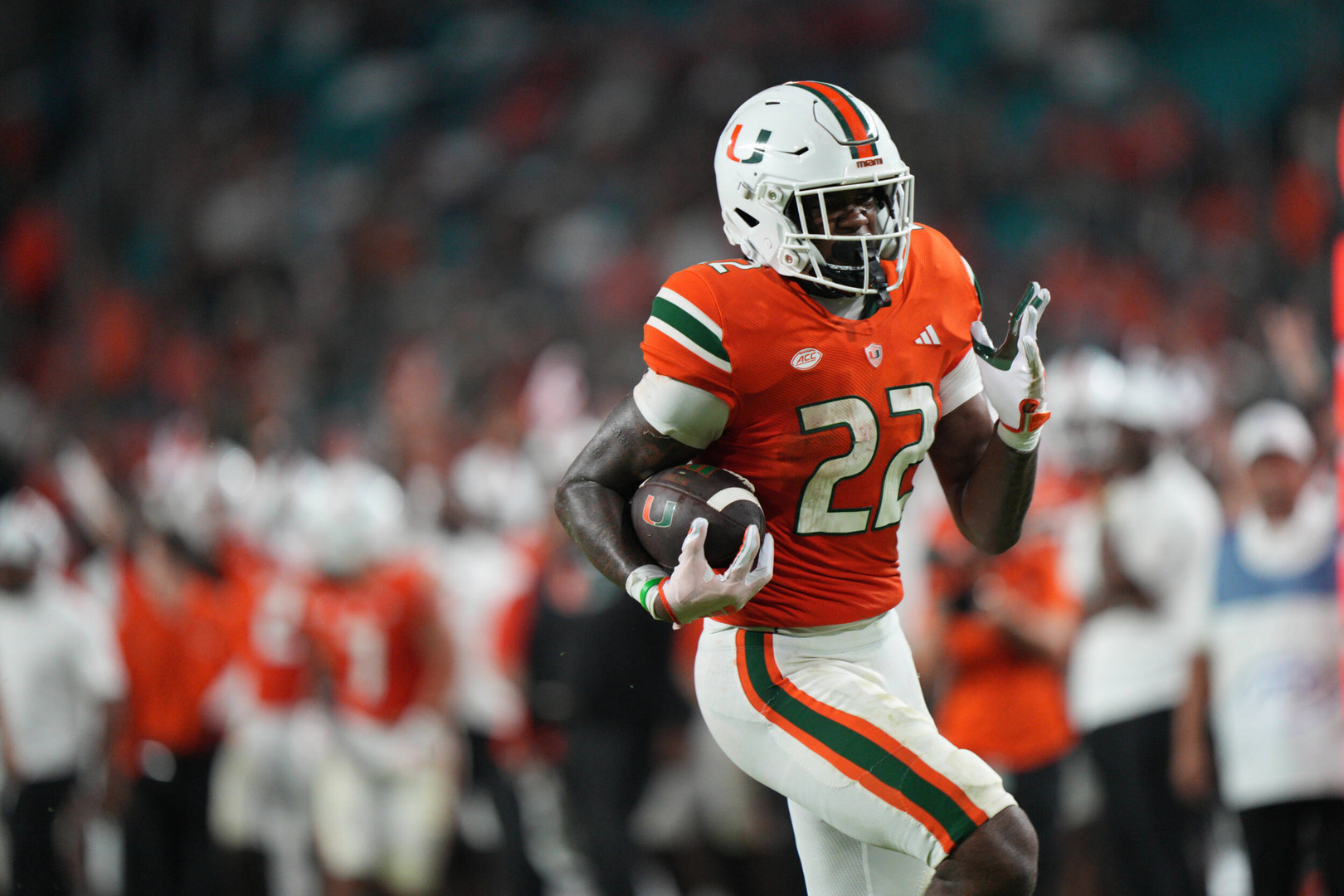 CORAL GABLES, Fla. – Mark Fletcher, Jr. arrived at Miami with a pretty impressive resume.
Then he wasted little time making a big impression on his new teammates and coaches.
The former four-star prospect and All-American who totaled nearly 2,000 rushing yards during his senior season at American Heritage in Plantation made his presence felt throughout training camp and dazzled a preseason crowd at Hard Rock Stadium during one of the Hurricanes' scrimmages.
Later, in Miami's season opener – his first game in orange and green – the running back again made a difference, scoring on a 26-yard run during the Hurricanes' 38-3 win over Miami (OH).
The potential for a breakout season was there. Then came trouble.
The freshman injured his foot and for weeks, there was little he could do but watch from the sideline as the Hurricanes pushed through the early part of their ACC schedule.
It was, he said, a frustrating stretch.
"It was tough, mentally. I just wanted to be out there. I wanted to play. I wanted to help my team," Fletcher said. "But I had great people around me. My coaches kept me involved. I had my family saying 'It's all right. You're young. You have time.' It was a mental challenge. But I had great people around me who made it okay and I just worked my butt off until I got back."
For Fletcher, part of that work included continuing to study the college game.
As he recovered, he kept a close eye on the defenses his fellow running backs were facing. He watched how his veteran teammates operated in pass protection. He continued learning.
And when he returned to action last month in Miami's 29-26 overtime win over Virginia, Fletcher picked up right where he left off before getting hurt, scoring the winning touchdown on an 11-yard scramble that gave the Hurricanes their second straight overtime win.
Last week, Fletcher made the first start of his college career and was a bright spot on a tough night in Raleigh, finishing with a career-high 115 yards during Miami's loss to NC State.
The performance earned him recognition as the ACC Rookie of the Week, but left Fletcher hungry for more, especially with the Hurricanes (6-3, 2-3) slated to face fourth-ranked Florida State (9-0, 7-0) on Saturday in Tallahassee.
It's an opportunity the freshman – who grew up in South Florida – is embracing to the fullest, especially given the tradition of running backs on both sides who have had an impact on the rivalry game in the past.
"It's a great feeling to be in this game, but I've just got to keep working," said Fletcher, who is averaging 5.1 yards per carry and has totaled 295 yards, despite missing three games. "Hopefully, I can do great things like they did when I was watching them as a kid, you know, for the kids watching me. It's a great feeling that I'm the next one up."
Part of what has made Fletcher so successful early in his career, teammates and coaches say, is his physicality.
More than once against the Wolfpack, it took multiple defenders to wrestle the 6-foot-2, 225-pound back to the ground.
That's a part of his game that makes Fletcher plenty proud.
"I run with bad intentions and I'm a very smart player," he said. "I pick things up. I can do a lot of things. I'm not just a one-trick pony. I can catch out of the backfield. I can pass-pro. I run hard. I take a lot of pride in that. I want you to know that I'm here. I want every single 11 players that I'm facing to know 'This kid is going to be hard to bring down for the whole game.'"
That same attitude is what's impressed many of his older teammates – particularly two of the veteran offensive linemen tasked with helping create space for Fletcher and the rest of Miami's running backs corps.
Transfers Matt Lee and Javion Cohen came to Miami earlier this year, just as Fletcher did, and both realized quickly that Miami's freshman back had the potential to make an impact quickly, even if he was just starting his college career.
And after seeing Fletcher more than hold his own against some tough ACC opponents and rebound from his injury, they say they believe Fletcher can get even better.
"Mark's a grown man. I think he's 18-years old, maybe 19. But obviously, he's a true freshman. He's really, really good," said Lee, a fifth-year redshirt junior. And when you see how Mark runs the football…he's a big dude already, but he's young and if you look at his stature and build, he has a lot of room to grow. He's not skinny by any means…and that's a good thing, because he's the type of guy that he'll meet the guy in the hole and people will bounce off of him."
Added Cohen, a fourth-year junior, "It's not easy being a downhill back. That's a lot of licks on your body and that's something you have to have a mentality for. No one expects that from a freshman, but no one thinks Mark is a freshman around here. He's already a third-year, fourth-year kind of player. Somebody with that kind of mentality just gives you a lot of confidence. It makes you want to call a run play every play. … I tell Mark every day, 'Man, I love you, bro. You're going to be special, and I hope you realize that and continue to keep working.' Hey, we all know Mark Fletcher. That's all we know."
For his part, Fletcher has every intention of continuing to improve.
And he knows he and his fellow Hurricanes face a tough task in Tallahassee this week. But he also recognizes Saturday's game is a chance to keep building on what he's learned and the success he's had.
That's not an opportunity he's taking for granted.
"They're a great team. They're 9-0 for a reason. A lot of veteran guys that know what they're doing, know the spots to be in on offense and defense," Fletcher said. "And you know, the environment, it's going to be a lot of noise out there. We're just going to have to be locked in. We're going to have to execute because we play hard. We practice hard and we prepare hard week by week. I don't have any doubt in that. But we're going to have to execute on every single play."