Miami Dominates TCNJ in Exhibition Contest
CORAL GABLES, Fla. – In its final test of the preseason, the University of Miami men's basketball team put on a dominant performance against The College of New Jersey, defeating the Lions, 111-54, Sunday afternoon at the Watsco Center.
Ten of the 12 Hurricanes who saw action in the game tallied a bucket and six different Hurricanes scored in double-figures. Fourth-year junior Norchad Omier paced Miami on both offense and defense, totaling 23 points and 12 rebounds for a double-double outing.
Freshman Michael Nwoko (16), fourth-year junior Nijel Pack (13), freshman Kyshawn George (12), junior Matthew Cleveland (11) and sophomore Christian Watson (10) all joined Omier in double-figures on the afternoon.
"I thought we played well from start to finish," head coach Jim Larrañaga said. "We shared the ball extremely well. We defended really well and our bench played really, really well."
As a team, Miami shot 56.9 percent from the field and 44.0 percent from 3-point range. The Hurricanes recorded an assist on 29 of 41 made field goals, led by junior Bensley Joseph at eight dimes in the game.
The Hurricanes jumped out to a commanding 21-4 lead, connecting on 9-of-12 shots in the first five minutes of play. Omier and Pack combined for 24 points in the first half and the Hurricanes outrebounded the Lions, 30-13, to take a 52-24 lead into the locker room.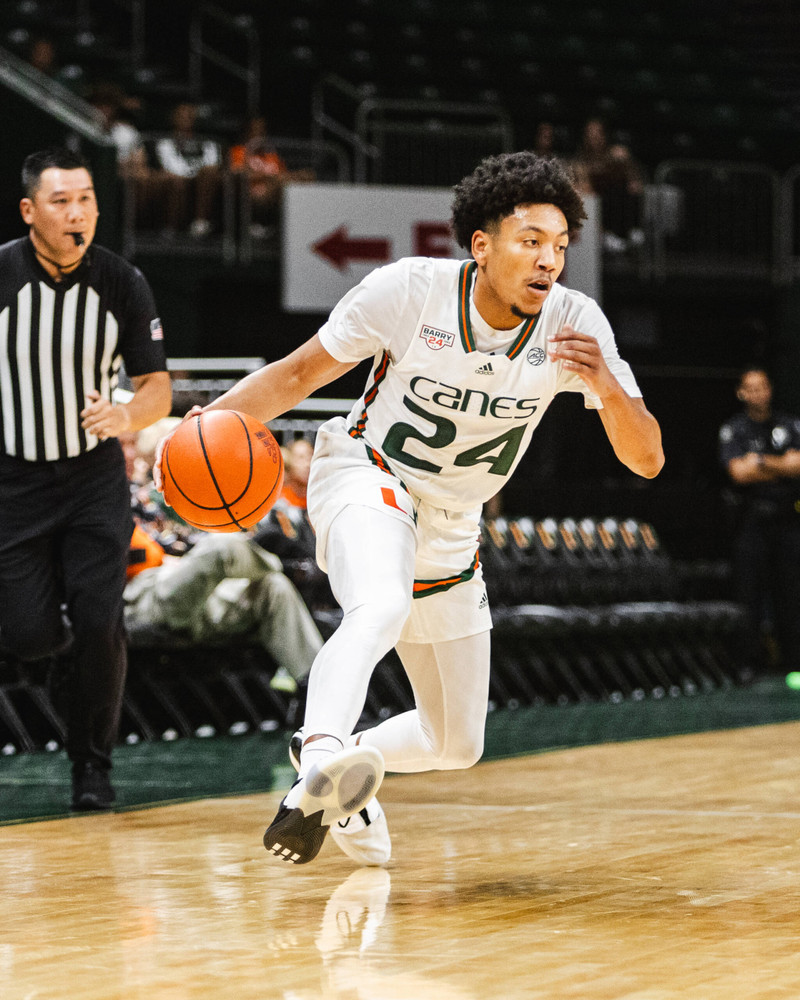 Nwoko and Watson came alive for the Hurricanes in the second half, totaling 11 and 10 points, respectively. Nwoko was a perfect 4-of-4 from the field in the final 20 minutes and finished the game with seven rebounds to go along with his 16 points.
In his first game as a Hurricane, Cleveland was a rebound shy of a double-double, tallying 11 points and nine rebounds in 19 minutes of action.
The Hurricanes open the 2023-24 campaign on Monday, Nov. 6 when they host NJIT at the Watsco Center. Tipoff is set for 7 p.m. and the game will air on ACC Network Extra.
To keep up with the University of Miami men's basketball team on social media, follow @CanesHoops on Twitter, Instagram and Facebook.