Miami Downs USA Junior Fed Cup Team in Exhibition
CORAL GABLES, Fla. – The University of Miami women's tennis team came out victorious, 4-2, in an exhibition match against the USA Junior Fed Cup team Thursday night.
Junior Alexa Noel and sophomore Xinyi Nong took the first doubles win on their home turf, taking down Monika Ekstrand and Anita Tu at the top court, 6-2. The senior doubles pair of Antonia Balzert and Isabella Pfennig followed right behind with a 6-4 court-two win over Valerie Glozman and Shannon Lam.
The USA juniors of Kristina Penickova and Annika Penickova claimed court three over Miami's Audrey Boch-Collins and Leonie Schuknecht, 7-6 (4).
Singles kicked off with a court-six win from Nong over A. Penickova, 6-1, 7-5. Noel then took the top court victory, 6-1, 6-3, against Glozman, making the score 3-1 in favor of the Canes.
The USA team tallied a point when Lam took the match over Balzert, 7-5, 1-6, 6-0 on court three.
Pfennig clinched the match with her win on court two, 0-6, 6-3, 7-5, against Ekstrand.
The match played on and the junior team added two more wins to their side. On court five, K. Penickova won 4-6, 6-3, 6-3 win over Boch-Collins and Tu defeated Schuknecht 6 (1)-7, 6-2, 7-6 (8) at the No. 4 spot.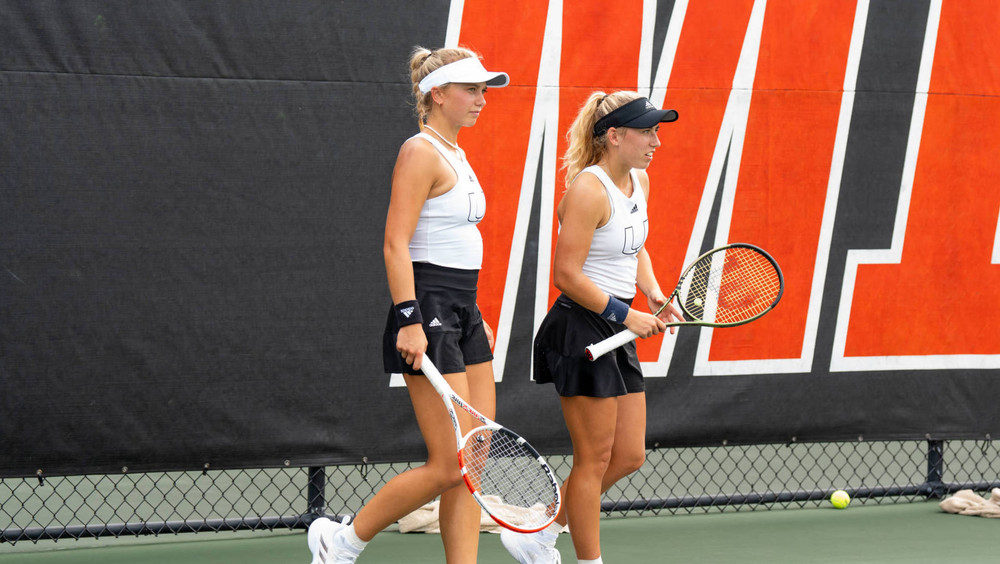 Miami continues its fall season at the ITA All-American Championships in Cary, N.C., running from Sept. 30-Oct. 8.
To keep up with the University of Miami women's tennis team on social media, follow @CanesWTennis on Twitter, Instagram and Facebook.
RESULTS
Doubles Competition
1. Alexa Noel/Xinyi Nong (UM) def. Monika Ekstrand/Anita Tu (USA), 6-2
2. Antonia Balzert/Isabella Pfennig (UM) def. Valerie Glozman/Shannon Lam (USA), 6-4
3. Kristina Penickova/Annika Penickova (USA) def. Audrey Boch-Collins/Leonie Schuknecht (UM), 7-6 (4)
Singles Competition
1. No. 3 Alexa Noel (UM) def. Valerie Glozman (USA), 6-1, 6-3
2. No. 53 Isabella Pfennig (UM) def. Monika Ekstrand (USA), 0-6, 6-3, 7-5
3. Shannon Lam (USA) def. Antonia Balzert (UM), 7-5, 1-6, 6-0
4. Anita Tu (USA) def. No. 96 Leonie Schuknecht (UM), 6(1),-7, 6-2, 7-6 (8)
5. Kristina Penickova (USA) def. Audrey Boch-Collins (UM), 4-6, 6-3, 6-3
6. Xinyi Nong (UM) def. Annika Penickova (UM), 6-1, 7-5