Hurricanes Squeeze Past Orange, 2-1
CORAL GABLES, Fla. — Gianna Angelillo threw up The U.
The freshman had accomplished a feat she had dreamed about since she committed to the University of Miami.
Angelillo's first career goal proved to be the difference, as the Hurricanes kicked off ACC play with a 2-1 win over Syracuse Friday evening at Cobb Stadium.
And even though her tally came in the 54th minute, Angelillo made her impact felt in the closing minutes of the first half.
The 5-foot-7 midfielder danced her way down the left sideline before playing a service toward goal.
Angelillo's cross ricocheted off of a Syracuse defender and trickled into the back of the net to put Miami (2-3-3, 1-0-0) in front at the 43:13 mark.
Just a little more than 10 minutes later, Angelillo doubled down.
With the Hurricanes earning a throw-in just in front of their bench, junior defender Adrianna Serna quickly found sophomore forward Tusca Mahmoudpour. Mahmoudpour flicked a no-look pass to Angelillo, who darted toward the Orange's 18-yard box.
Angelillo planted and fired a left-footed rocket over the outstretched arm of Syracuse goalkeeper Shea Vanderbosch.
"I was on top of the world," Angelillo said. "It felt great being around my teammates and feeling the love. I want to experience that as many times as I can."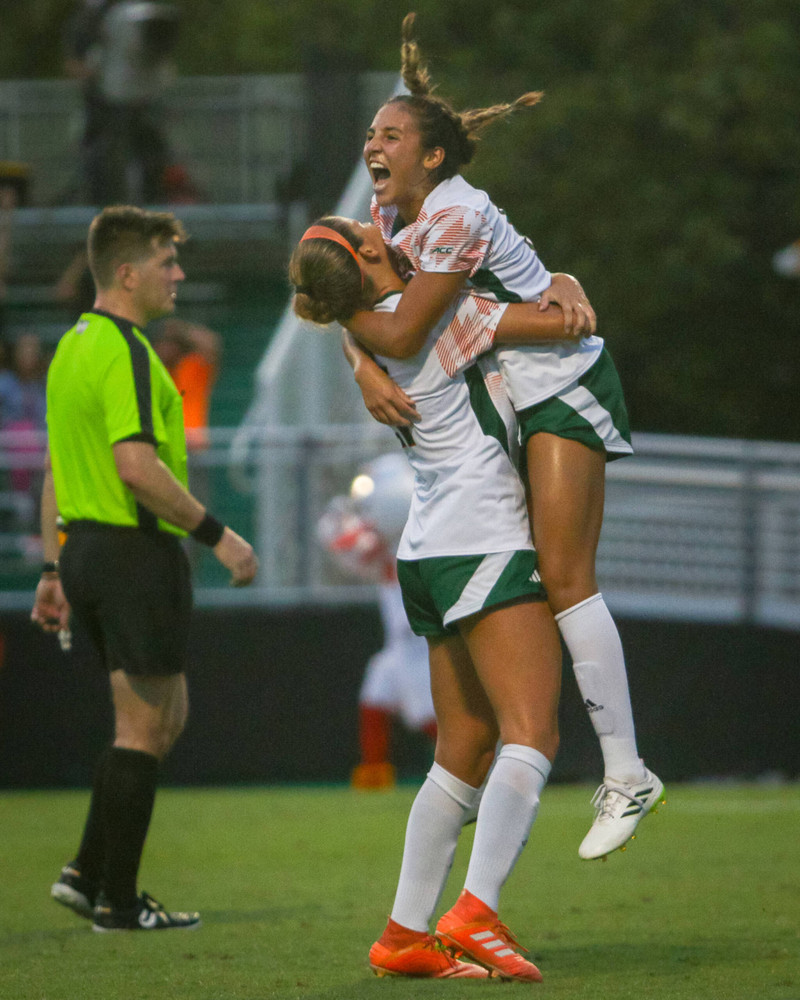 After a near-hour lightning delay, the Orange (2-6-1, 0-1-0 ACC) clawed their way back, chipping into the Hurricanes' cushion with a tally in the 89th minute.
But Miami closed out the match to seal its first ACC-opening win since 2011.
"We wanted to come into the ACC opener with a bang and let the whole league know we want to play and we want to win," Angelillo said.
Up next, the Hurricanes host No. 8 Clemson Thursday. Kickoff is set for 6 p.m.
"Our focus was very good this past week at training," Miami head coach Sarah Barnes said. We were locked in, working to make adjustments, and I thought we did a good job of applying them in many ways out on the field. We have to trust in our training and ability and continue to improve individual defending."
To keep up with the University of Miami soccer team on social media, follow @CanesFutbol on X, Instagram and Facebook..