MBB Reveals 2023-24 Non-Conference Schedule
CORAL GABLES, Fla. – University of Miami head men's basketball coach Jim Larrañaga announced Thursday the team's non-conference slate for the upcoming 2023-24 campaign.
After an exhibition contest, Miami will take the floor for 11 non-conference affairs between Nov. 6 and Dec. 29. Seven of those 11 outings will be in Coral Gables, with three of them against in-state opponents.
"We are very much looking forward to getting back on the court in front of our amazing fans who cheered us on to the most successful season in program history last year," Larrañaga said. "Our quality non-conference schedule, which includes five games against high-major teams, will make us better and help us prepare for ACC action. In addition to playing seven games right here at the Watsco Center, we are excited our players will have the chance to compete at Baha Mar, Rupp Arena and the Barclays Center."
Following a spectacular year that included a 29-7 (15-5 ACC) record, a regular season conference co-championship and a Final Four berth, Miami opens 2023-24 with an Oct. 29 exhibition matchup versus TCNJ at the Watsco Center. Eight days later, Nov. 6, the Hurricanes begin the regular season against another New Jersey school, NJIT.
Miami then plays back-to-back home games against in-state foes, first welcoming UCF, in its inaugural year as a Big 12 member, Nov. 10. Three days later, Nov. 13, it squares off with FIU in the first meeting of the two Miami-Dade County schools since Dec. 12, 2008.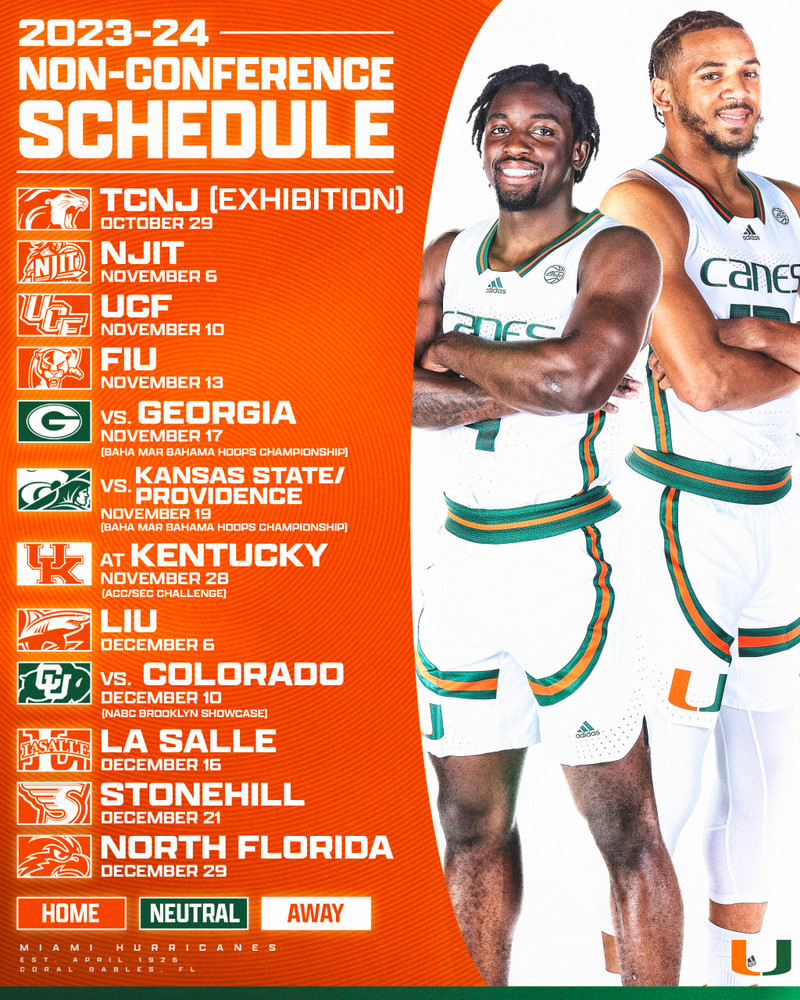 After the season-opening homestand, the Hurricanes play four of their next five games, including three in a row, away from Coral Gables. First, they travel to Nassau, Bahamas, where they will compete in the Baha Mar Baha Hoops Championship, slated for Nov. 17 and 19. Miami plays Georgia in the first round at 3:30 p.m. and then meets either Kansas State or Providence in the second round at either noon or 2:30 p.m.
Up next for the Hurricanes is a visit to Lexington, Ky., to take on eight-time NCAA champion Kentucky in the first-ever ACC/SEC Challenge, with action slated for Nov. 28 at 7:30 p.m.
Following a Dec. 6 home contest versus LIU, Miami travels north for a Dec. 10 outing against Colorado in the NABC Brooklyn Showcase, set for 2 p.m. at the Barclays Center in Brooklyn, N.Y.
Larrañaga's team concludes non-conference play with a trio of home games, with the first Dec. 16 against La Salle. Miami then plays Dec. 21 versus Stonehill and wraps up its non-conference slate Dec. 29 with an in-state matchup against North Florida.
The Hurricanes' complete non-conference schedule can be found HERE. A full list of game times and television assignments for Miami's 2023-24 slate will be released at a later date, as will its ACC schedule.
2023-24 NON-CONFERENCE SCHEDULE
Oct. 29: TCNJ (exhibition)
Nov. 6: NJIT
Nov. 10: UCF
Nov. 13: FIU
Nov. 17: vs. Georgia (Baha Mar Bahamas Hoops Championship – Nassau, Bahamas)
Nov. 19: vs. Kansas State/Providence (Baha Mar Bahamas Hoops Championship – Nassau, Bahamas)
Nov. 28: at Kentucky (ACC/SEC Challenge)
Dec. 6: LIU
Dec. 10: vs. Colorado (NABC Brooklyn Showcase – Brooklyn, N.Y.)
Dec. 16: La Salle
Dec. 21: Stonehill
Dec. 29: North Florida
To keep up with the University of Miami men's basketball team on social media, follow @CanesHoops on Twitter, Instagram and Facebook.