''I'm Proud to Say They're My School''
CORAL GABLES, Fla. – It was a scene Mark Richt knew well.
Midway through a practice on Greentree last week, the Hurricanes were on the move, headed out of the elements and into the safety of the Carol Soffer Indoor Practice Facility.
Once it became clear that move wasn't part of the Hurricanes' original schedule, but was happening because Miami's lighting prediction system indicated conditions were ripe for a strike, Richt couldn't help but feel a bit of pride.
The former Hurricanes quarterback and coach – now an analyst with the ACC Network, which was on Miami's campus Friday as part of its preseason coverage for the upcoming football season – had not only helped design the facility the Hurricanes were now using, but was an integral part of helping it get built.
To now see that facility being used – in real time, as intended – was special.
"I can't tell you how many times we had to go to the Wellness Center, put our tennis shoes on, start practicing in tennis shoes – which is no good – and then 15 minutes later, it would clear up and you could go outside, but it was too late. You've wasted time," said Richt, who coached at his alma mater from 2016 through 2018. "Now, they never miss a day of preparation. And also, the benefits of an indoor being right next to your grass fields is the ability to start practice here, maybe do some drill work that would normally tear up your grass but doesn't tear up your field turf. Then you can get outside, do your work, and come back and finish inside.
"And if lightning strikes, you take, what, a five-minute transition and then you're back up and running? … When you see it functioning as you hoped it would function, it's great."
The Hurricanes, who were in the midst of preparing for their Sept. 1 season opener against Miami of Ohio during Richt and the ACC Network's visit last week, opened the Carol Soffer Indoor Practice Facility in August 2018.
One of the big reasons they were able to do that? The efforts of Richt, who along with his wife Katharyn, donated $1 million toward the construction of the 90,000-square foot facility.
But the financial investment was far from Richt's only contribution.
The former coach spent countless hours helping design the facility, from researching the safety margins the building would need to allow the Hurricanes to practice at full speed to expanding the scope of the original project so that coaches' offices could be built into the facility, along with some expanded team meeting space.
And on Friday, during his visit to Coral Gables, Richt shared more than a few moments with Soffer, whose family donated the lead gift that helped make the facility a reality.
Those moments, too, were memorable.
"Every time we're in Miami, we always call Carol and try to set up a dinner, lunch or some time to spend with her because it became more than just a business relationship," he said. "It's a true friendship. We love Carol and we think she loves us, too."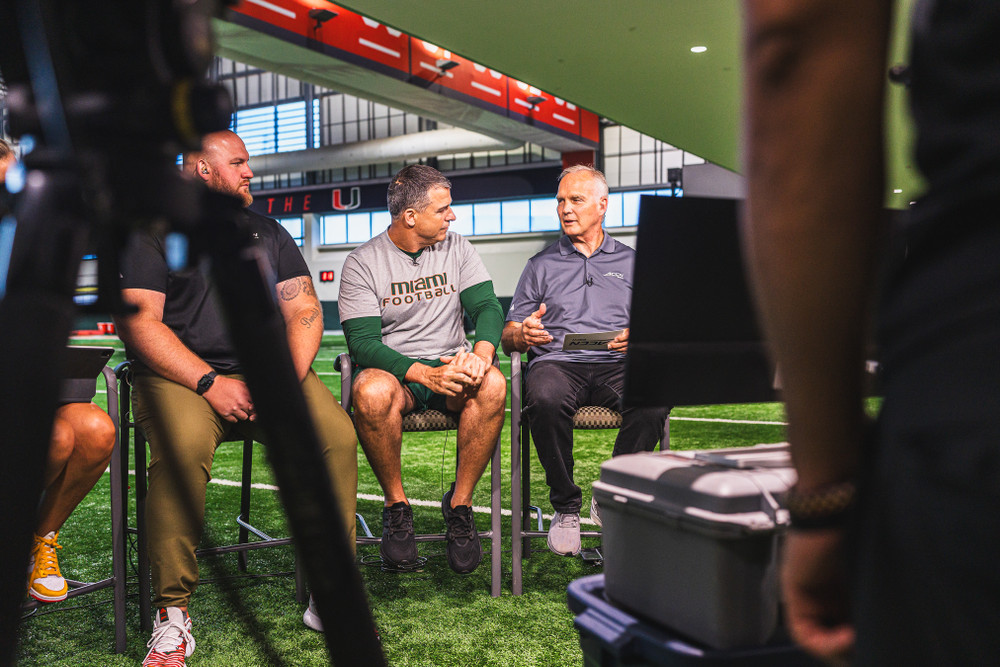 For Richt, connections like those are what make each return visit to Miami special.
As he made his way around the Hurricanes' facility on Friday, he exchanged countless handshakes and hugs with former teammates, longtime friends and the new generation of coaches and players now wearing the same orange and green that have always meant so much to him.
The former coach had a front-row seat to Friday's practice, and he took full advantage, soaking up the opportunity to see how the Hurricanes were faring in their preparations for the season ahead, and chatting extensively with Miami head coach Mario Cristobal.
"As an analyst, you don't just see Miami. You see 13 other schools and as good as these guys are practicing, as hard as they're working, I'm highly confident they're on the right track and great things are on the way," Richt said. "But there's other teams that are doing the same thing and you get to see that up close as an analyst. You know there's going to be some really good competition in this league. Miami's got a lot of the ingredients you need for success and I'm proud to say they're my school."
Said Cristobal of the opportunity to have Richt back on campus, "He's a legendary figure in college football. Actually, the first clinic I went to when I first started becoming a GA was his clinic, talking offensive football way back in '97, '98. It's an honor to have him here. His wisdom, the things that he sees in practice, the nuggets from a schematic standpoint, a culture standpoint, his insight, his natural feel for a team, things of that nature, that's priceless spending that time out there with him."
For Richt, the next four months will be an incredibly busy stretch.
The former coach will be a part of one of the ACC Network's weekly signature shows, ACC Huddle, along with host Kelsey Riggs and fellow analysts Eric Mac Clain, EJ Manuel, and Eddie Royal.
"It's teamwork, still. We need each other to have success," Richt said of his work as an analyst. "If you put your egos at the door and everybody does their part, and does their share, everybody benefits. I think we have a good show because we have a good camaraderie and I think everyone is really sharp and they know what they're talking about."
Once the regular season is done in December, Richt is set to be formally inducted into the College Football Hall of Fame, along with former Hurricanes offensive lineman Bryant McKinnie.
In between all of that, Richt said there will also be as much family time as he can muster, especially since his son Jon, his daughter-in-law Anna and their three children live just down the street from him and Katharyn.
"It's awesome. They live 10 houses down and we see them every day. They love us. They still think we're cool," Richt laughed. "We call it grandparent heaven."
As busy as his days may be, though, Richt will, no doubt, also continue to keep an eye on the Hurricanes, watching from afar as Miami navigates a new season and looks to make an impact in the ACC and beyond.
He's had the opportunity now to see the program as a player, as a coach and an analyst and in ways big and small, Miami has long been a part of his personal journey.
For all of that, the former coach said, he is grateful.
"I was, obviously, an alum of the school and a player at the school and that meant something to me," Richt said. "To come back as a coach and do something like [help build] this and have the success that we had…We had 15 wins in a row, the longest streak in America at the time. We didn't finish, but we got where we could see the top of the mountain and I felt good about that.
"It's just nice to know that you're welcome at a place like that and that we had something to do with that success for years to come."