Hall Earns First Team All-American as Hurricanes Wrap up Day Two of Nationals
AUSTIN, Tex. – The University of Miami track and field team completed day two of the NCAA outdoor championships in Austin Thursday evening.
Fifth-year senior Hannah Hall finished an incredible outdoor season in the women's shot put-throwing 17.94m, placing eighth in the nation and earning first-team all-American honors. Hall walks away from the 2023 season with an indoor and outdoor ACC title in the event and ranks No.2 all-time in program history for the event.
"She (Hannah) has really developed in her senior year here-she stepped up and was an all-American in indoor and outdoor. She's done a great job and she was very consistent from start to finish this year. It was really great to see her finish against tough competition and keep battling throughout the whole competition, and really her whole season. I am really proud of her," Head Coach Amy Deem said.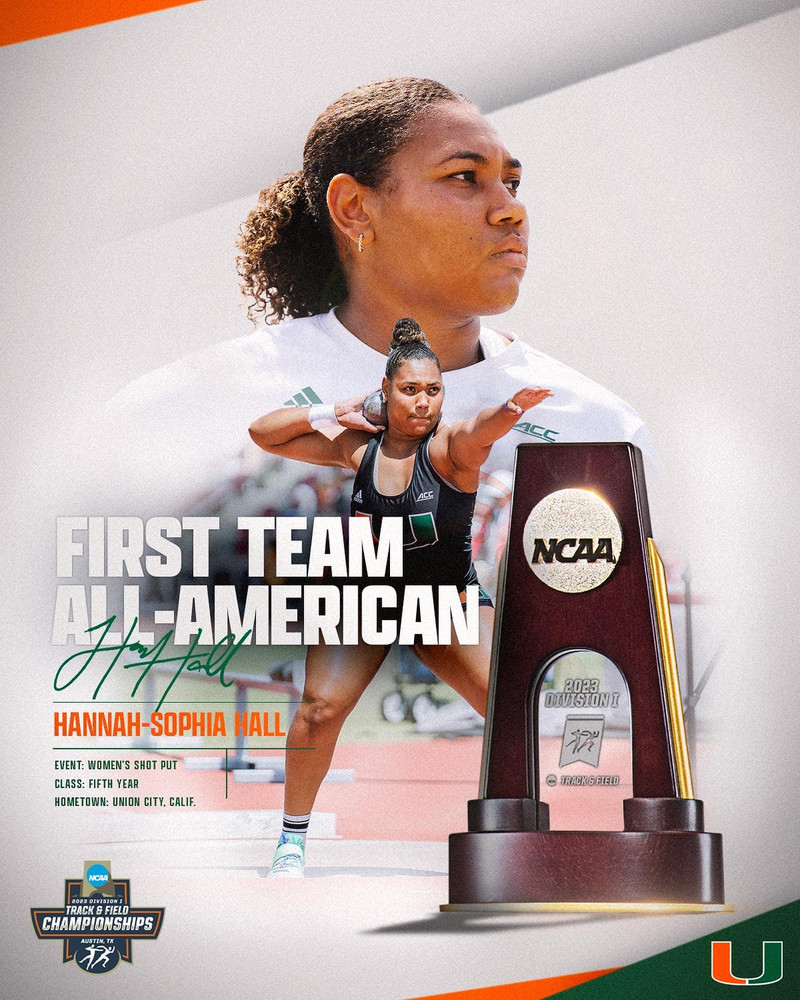 The women's 4×400 containing Kennedy Brace, Gabriella Grissom, Moriah Oliveira, and Sanaa Hebron ran 3:29.94, earning ninth place.
Up next for the Hurricanes, Russell Robinson will compete in his signature event, the men's triple jump, Friday at 8:10 p.m. CDT.
For staying up to date with the University of Miami track and field team, make sure to follow @canestrack on Instagram, Facebook, and Twitter.