Andrade Finishes Miami Career as an All-American as Day One of NCAA Championships Concludes
AUSTIN, Tex. – The University of Miami track and field team completed day one of the NCAA outdoor championships Wednesday evening in Austin, Texas.
Graduate student Décio Andrade capped off his final season and historic career at Miami by placing fourth in the men's hammer throw. With a final distance of 73.73m, Andrade earned first-team All-American honors in back-to-back seasons.
Andrade's two-season career at Miami was truly special, as the Camacha, Portugal native holds both program records in the men's weight throw (22.54m) and the men's hammer throw (73.77m).
Andrade was well-known throughout the conference during his time as a Hurricane, as well; the elite thrower is a two-time outdoor ACC champion and was crowned the indoor ACC champion in 2023.
"Decio has been a great competitor and has had a great head on his shoulders since the day he stepped on campus. He's been a great addition to our team and has set the bar high for our men's team. To have him come out and throw right under his lifetime best in a very tough competition, it speaks volumes of his dedication and work ethic," Head Coach Amy Deem said.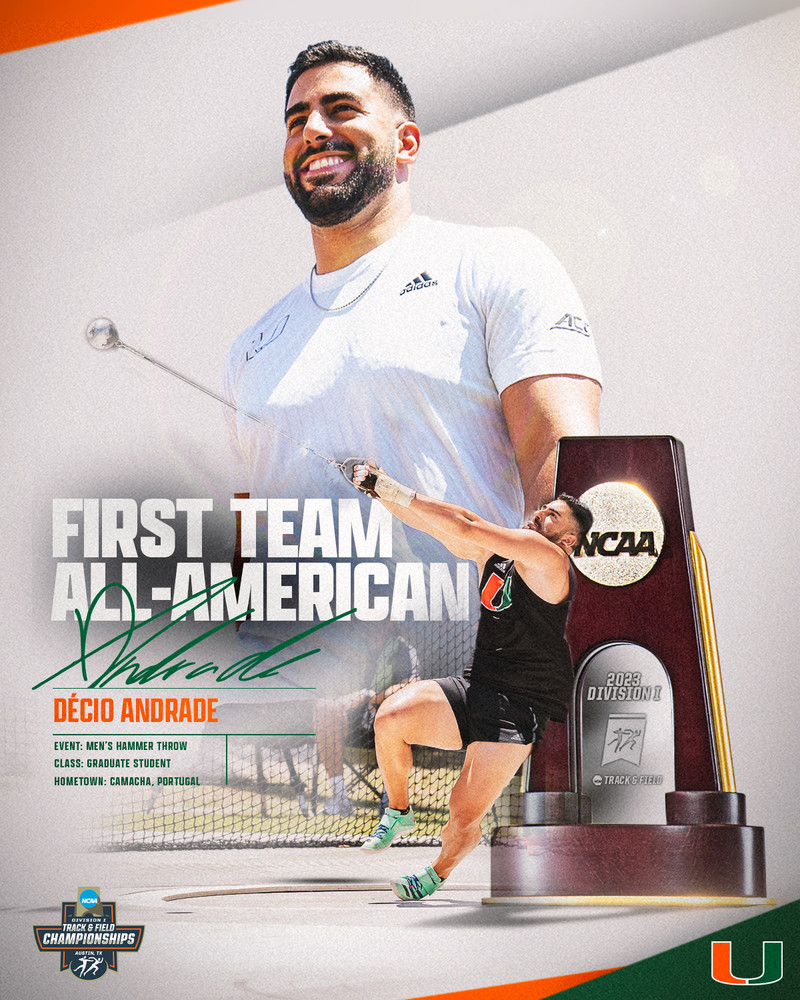 Russell Robinson earned second-team All-America honors in the men's long jump after placing 13th with a jump of 7.70m. Robinson will compete in the men's triple jump on Friday at 8:10 p.m. CT.
Sincere Rhea was listed as a DQ after pushing over a hurdle with his hand. However, the elite hurdlers' time at Miami is far from finished.
"I never fault an athlete for going out there, putting themselves in the race and competing. He's still growing in the sport and the event. He has a huge upside and was running with guys who were putting him on his lifetime best pace, but the hurdle just got a little too close to him at the end…Unfortunately, it didn't go his way tonight, but he'll grow from it and he's going to come back stronger," Head Coach Amy Deem said.
The women's team will begin competition on Thursday with Sanaa Hebron and Skyla Wilson in the 400m hurdles, Hannah Hall in the shot put, and Kennedy Brace, Blanca Hervas, Moriah Oliveira, and Sanaa Hebron in the 4×400 meter relay.
"The message is to go out and compete. The hard part is getting here. But just to go out and leave it all on the track, really anything can happen in these championships, it comes down to who wants it more," Head Coach Amy Deem said.
For staying up to date with the University of Miami track and field team, make sure to follow @canestrack on Instagram, Facebook, and Twitter.