W. Tennis Earns Seventh Straight Top-15 Ranking
CORAL GABLES, Fla. – The University of Miami women's tennis team is No. 14 in this week's ITA rankings, as announced Tuesday morning.
This is the 11th time in 15 releases this spring the Hurricanes have claimed a top-15 spot, including the seventh in a row. The team has peaked as high as No. 10 and has been ranked outside the top 20 just twice.
Miami is coming off a 1-1 showing at the ACC Championship, notching a 4-0 win Thursday over then-No. 42 Clemson and following it with a narrow 4-3 setback the following day against then-No. 10 Virginia in the quarterfinals.
The Hurricanes are one of 13 ACC teams in the ITA rankings—only one did not make the cut—including one of seven in the top 25 and one of five in the top 15. Miami is joined by top-ranked North Carolina, fourth-ranked NC State, sixth-ranked Duke, No. 11 Virginia, No. 17 Georgia Tech, No. 24 Florida State, No. 27 Notre Dame, No. 29 Wake Forest, No. 39 Clemson, No. 41 Syracuse, No. 53 Boston College and No. 67 Louisville on the list.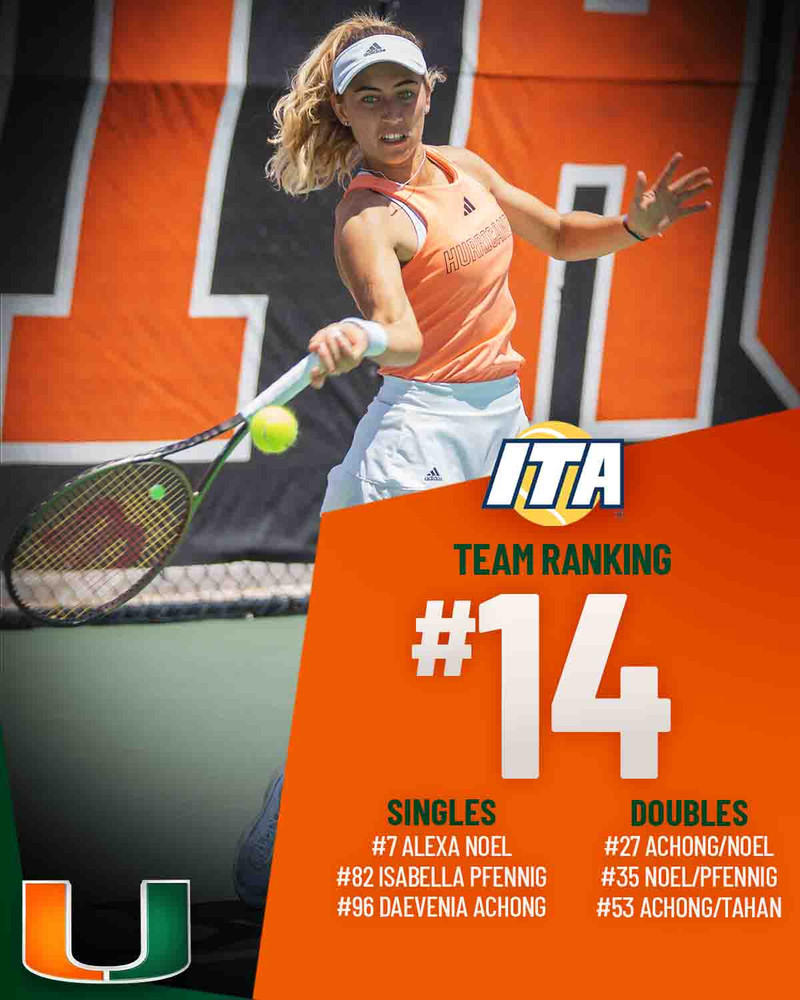 In singles, three Hurricanes once again garnered a spot in the rankings and, for the first time since the pre-fall rankings, all three are in the top 100. Redshirt sophomore Alexa Noel paces the group at seventh in the country, with junior Isabella Pfennig at No. 82 and fifth-year senior Daevenia Achong at No. 96.
Miami also has three ranked doubles tandems for the fourth consecutive week. Each of the top two pairs feature Noel, as she checks in at No. 27 with Achong and at No. 35 with Pfennig. Additionally, Achong and fourth-year junior Maya Tahan hold the No. 53 position.
Up next for the Hurricanes is the NCAA Team Championship, with the team set to earn its 27th straight spot in the field. Miami is currently in line to host the first two rounds, slated for May 5-6, at the Neil Schiff Tennis Center for the second consecutive season.
To keep up with the University of Miami women's tennis team on social media, follow @CanesWTennis on Twitter, Instagram and Facebook.