Miami Defeats Georgia Tech, Advances to Quarterfinals
CARY, N.C. – The University of Miami men's tennis team defeated the ninth-seeded Georgia Tech Yellow Jackets, 4-2, Thursday afternoon at Cary Tennis Park to advance to the ACC Tennis Championships quarterfinals for the first time since 2019.
This was a redemption match for the No. 45 Hurricanes (15-9, 5-7 ACC) as No. 65 Georgia Tech (13-14, 4-8 ACC) knocked them out in the second round of the ACC Championships each of the last two years.
Miami took command of the match early as the third doubles duo of sophomore Martin Katz and freshman Antonio Prat recorded a dominant 6-0 victory over Rohan Sachdev and Elias Shokry.
Georgia Tech tied the doubles portion at one-all with a 6-2 victory on court one, but fifth-year senior Franco Aubone and graduate student Dan Martin stayed strong on court two to clinch the doubles point with a 6-3 win.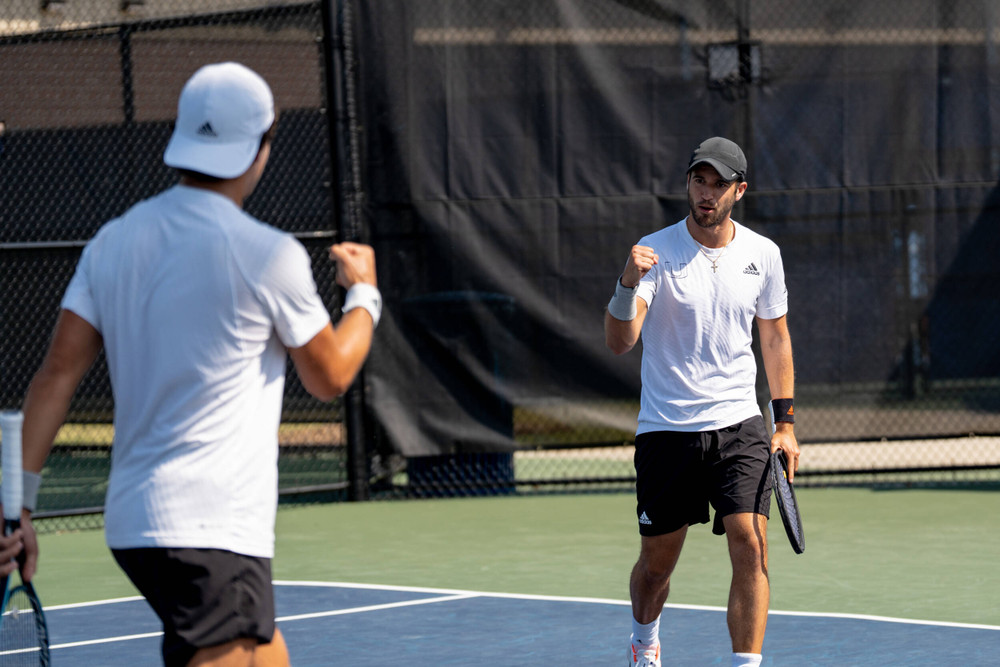 Graduate student Leo Bierbaum doubled Miami's lead in singles action, defeating Sachdev in straight sets, 7-5, 6-1, on court four. However, the Yellow Jackets responded with their own straight-set victory, as No. 78 Marcus McDaniel topped Prat, 7-5, 6-4, at second singles.
Aubone extended the Hurricanes' lead back to two shortly thereafter, besting Georgia Tech's Robert Bauer, 6-3, 6-4, on court six.
It was a top-25 battle on court one as No. 24 Dan Martin and No. 9 Andres Martin went head-to-head with the first singles point on the line. Dan Martin posted a 6-4 victory in set one, but Andres Martin responded with a resounding 6-0 second-set win.
Andres Martin kept the momentum going in the third set, recording a 6-3 victory, to pull the Yellow Jackets to within one, 3-2.
With victory in their sights, both Katz and freshman Nacho Serra Sanchez were in three-set battles on courts three and five, respectively.
Ultimately, Katz pulled off the comeback victory, beating No. 70 Keshav Chopra, 3-6, 6-1, 6-4, to clinch the match for Miami. Katz is now 4-2 against nationally-ranked opponents this season.
At the time of clinching, Serra Sanchez led on court five, 6-2, 4-6, 3-2.
The Hurricanes will meet the top-seeded Virginia Cavaliers in the quarterfinals on Friday. First serve at the Cary Tennis Park is set for 3:30 p.m. and the match will be streamed on TheACC.com.