MBB to Play in 2023 Baha Mar Bahama Hoops Championship
CORAL GABLES, Fla. – The University of Miami men's basketball team will compete in the 2023 Baha Mar Bahama Hoops Championship.
Held at Baha Mar Resort in Nassau, Bahamas, the four-school event features games on Nov. 17 and Nov. 19. Kansas State and Providence will both be in the field, while the fourth team will be named at a later point.
The Wildcats reached the Elite Eight last season, while the Friars, for whom Miami head coach Jim Larrañaga played in college, made the NCAA Tournament for the second consecutive season. The Hurricanes' opening opponent is yet to be determined.
Baha Mar Hoops is the largest regular-season event in the sport of college basketball. The 2022 edition featured 20 men's and women's teams competing in 24 games over 10 days during the Thanksgiving holiday.
The Bahamas Championship, which Miami will take part in, annually features four men's teams from power conferences, while the Nassau Championship includes eight mid-major men's programs. The Pink Flamingo Championship is a non-bracketed event featuring some of the top women's programs in the nation.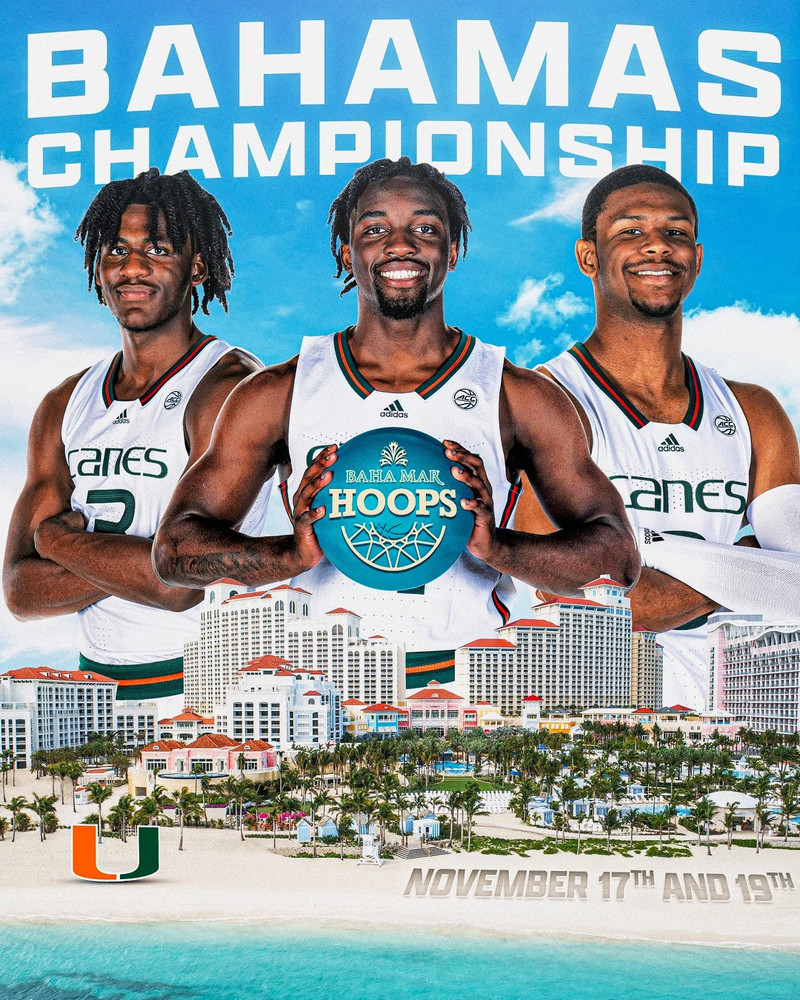 Additional ticket information for Baha Mar Hoops will be available in the coming weeks on BahaMarHoops.com, as will TV designations, bracket information and tip times.
To keep up with the University of Miami men's basketball team on social media, follow @CanesHoops on Twitter, Instagram and Facebook.
About Baha Mar Resort
A mere 55-minute flight from Florida, Baha Mar opened in 2017 and is home to three iconic brands: Grand Hyatt, SLS and Rosewood. Situated on 1,000 acres overlooking Nassau's famous turquoise ocean waters, the resort destination features more than 2,300 rooms and an abundance of dynamic programming, activities and amenities including the largest casino in the Caribbean, a state-of-the-art convention center, an 18-hole Jack Nicklaus Signature Golf Course, the Caribbean's first and only flagship ESPA spa, a collection of more than 45 restaurants and lounges and more. The $200 million luxury water park, Baha Bay, debuted in July 2021 as the latest addition to Baha Mar's portfolio of spectacular guest offerings. Set on 15 beachfront acres, Baha Bay has introduced an exciting array of aquatic activities and experiences, alfresco dining, a gaming pavilion, beach club and more.
Room Reservations & VIP Packages
To make reservations at the Grand Hyatt at Baha Mar click HERE. Interested in VIP packages that include suites, courtside tickets, gameday function, airport transfers and breakfast vouchers? Click HERE for more details.