Miami Ascends to No. 44 in ITA Rankings
CORAL GABLES, Fla. – The University of Miami men's tennis team maintained its position in the ITA top-50, checking in at No. 44 in this week's ITA rankings, as announced Tuesday morning.
Miami (13-6, 4-4 ACC) went 3-0 this week, defeating Drexel, No. 55 Clemson and No. 71 Georgia Tech. The Hurricanes swept both Drexel and Clemson, 4-0 and 7-0, respectively, and tallied a 5-2 victory over Georgia Tech.
Miami has appeared in the ITA top-60 for 10 straight weeks, ascending as high as No. 42 this season.
Graduate student Dan Martin fell one spot in the singles rankings after going 2-1 at the top position across three matches. His only loss of the week came against No. 34 Andres Martin of Georgia Tech (3-6, 4-6).
Sophomore Martin Katz rose to No. 95 in the singles rankings with a perfect 3-0 record on the week. The Belgium native tallied his third victory over a ranked opponent on Sunday, defeating Georgia Tech's No. 86 Keshav Chopra, 6-0, 5-7, 6-4.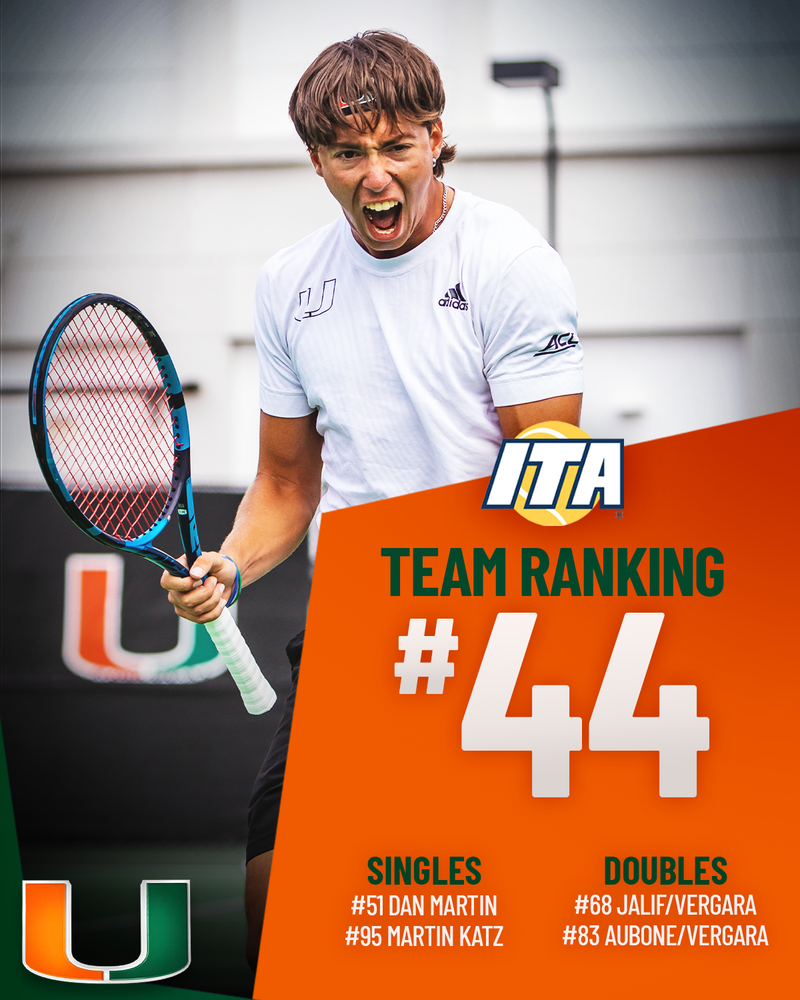 Two of Miami's doubles pairs appeared in the ITA doubles rankings this week – fifth-year senior Juan Martin Jalif and freshman Martin Vergara Del Puerto at No. 68 and fifth-year senior Franco Aubone and Vergara Del Puerto at No. 83.
The duo of Jalif and Vergara Del Puerto hold a 4-5 record at first doubles this spring, highlighted by their victory over the No. 20 duo of Andres Martin and Marcus McDaniel in Sunday's match against Georgia Tech.
Aubone and Vergara Del Puerto sit at 3-3 overall this spring, including a 2-1 record in the first doubles spot.
Eleven of the 12 ACC teams are ranked in the top 75, including seven in the top 40, six in the top 25 and two in the top 15. Miami is featured alongside eighth-ranked Virginia, No. 13 North Carolina, No. 16 Duke, No. 18 Florida State, No. 19 Wake Forest, No. 22 NC State, No. 40 Louisville, No. 54 Notre Dame and No. 58 Clemson.
The complete ITA team rankings list can be found HERE.
The Hurricanes hit the road on Wednesday for a mid-week ACC contest against No. 17 Florida State. First serve in Tallahassee, Fla., is set for 5:30 p.m. and the match will air on ACC Network Extra.