MBB Rallies to Beat Drake, 63-56, in NCAA Tournament Opener
ALBANY, N.Y. – Trailing by eight with under four-and-a-half minutes to go, the fifth-seeded University of Miami basketball team stormed back to defeat No. 12-seeded Drake, 63-56, Friday night at MVP Arena.
Third-year sophomore guard Nijel Pack paced all players with a game-high 21 points, including the game-winning jump-shot, for No. 16/15 Miami (26-7, 15-5 ACC) in the comeback victory.
The Hurricanes missed their first nine shots on the way to beginning 1-of-14 and 3-of-22 from the floor. Despite the slow start, Miami held a 19-18 lead with four-and-a-half minutes to go in the half.
After Drake (27-8, 15-5 MVC) went up by four, the Hurricanes evened the score at 25 with 2:26 on the clock. The Bulldogs then scored the final five points of the frame and took a 30-25 edge into the locker room. Despite shooting just 7-of-30 compared to Drake's 12-of-26 mark, Miami had a 6-0 edge on the offensive glass and went 5-of-9 on 3-pointers, including a 3-of-6 clip from sophomore guard Wooga Poplar.
The Hurricanes made three of their first six field goals and each of their first four free throws to begin the second half, taking a 36-34 lead with 16:05 left. Drake countered with a 10-1 surge to go up by seven, 44-37, with 12:27 to play.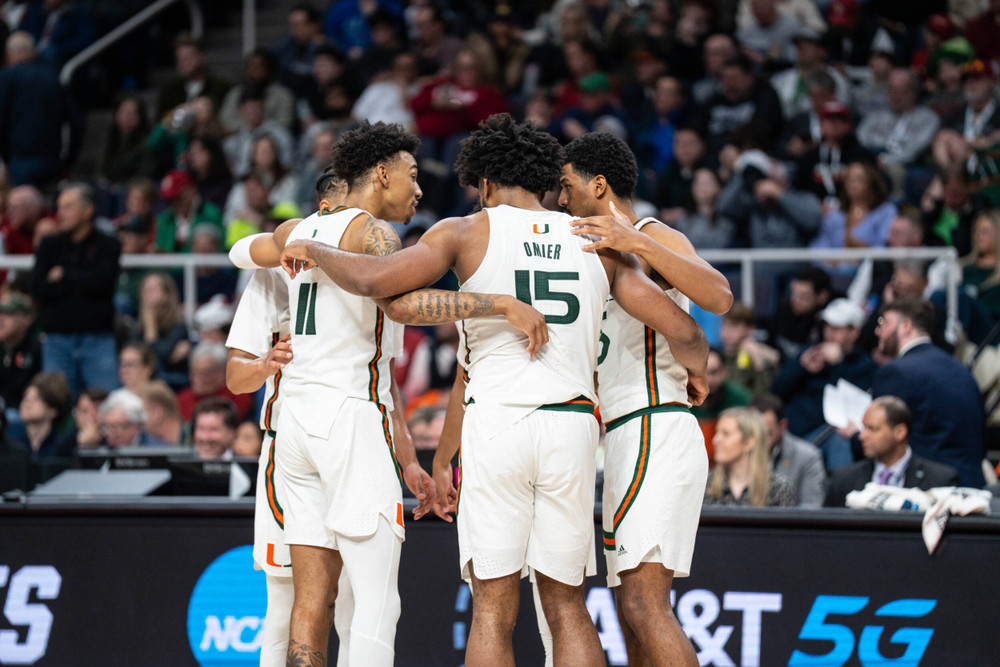 Miami responded with seven straight points in 80 seconds, part of a 10-2 burst that created a 47-46 advantage with 8:21 remaining. Drake then scored nine in a row in just 2:20, including six on back-to-back 3-pointers by senior guard/forward Sardaar Calhoun, to earn a game-best eight-point edge, 55-47, with 5:40 to go.
From that point on, the Hurricanes took full control. Miami went on a 16-1 run over the final four-and-a-half minutes, with Pack's go-ahead basket with 1:00 left giving the team a lead it would not relinquish.
The Hurricanes scored the final 10 points in the last two-and-a-half minutes and forced the Bulldogs into misses on their last seven field-goal attempts.
Despite shooting a season-low 30.4 percent (17-of-56) from the field, Miami won behind superb free-throw shooting and offensive rebounding. The Hurricanes registered a 79.3 percent (23-of-29) mark at the stripe and a 9-2 edge on the glass that led to a 9-2 margin in second-chance points. They also limited Drake to 34.5 percent (10-of-29) shooting in the second half.
Pack's 21-point performance came on 7-of-15 shooting, including a 3-of-7 ledger beyond the arc. He added four rebounds and two steals, while committing no turnovers.
Poplar totaled 15 points on 5-of-10 shooting to go along with two steals to match Pack and co-lead all players. Third-year sophomore forward Norchad Omier, who returned to action after suffering a right ankle injury in the ACC Tournament semifinals, recorded 12 points and a game-best 14 rebounds. His five offensive boards over doubled Drake's total as a team and he went 8-of-9 on free throws.
For Drake, senior forward Darnell Brodie amassed 20 points and nine boards, shooting 9-of-14 from the field. The rest of his team, though, went just 13-of-41 (31.7 percent), including sophomore guard/forward Tucker DeVries, the Missouri Valley Conference Player of the Year, finishing 1-of-13 overall and 1-of-11 from deep.
Calhoun scored 12 points on 4-of-5 long-range shooting, while graduate student guard Roman Penn, a Siena transfer playing in his former home arena, tallied 11 points, six rebounds and a game-best seven assists.
The Hurricanes, whose seven-point final margin was their largest of the night, will now make an NCAA Tournament Round of 32 appearance in back-to-back years for the second time in program history. They are set to face either fourth-seeded Indiana, ranked No. 21/19, or No. 13-seeded Kent State at a to-be-determined time Sunday at MVP Arena.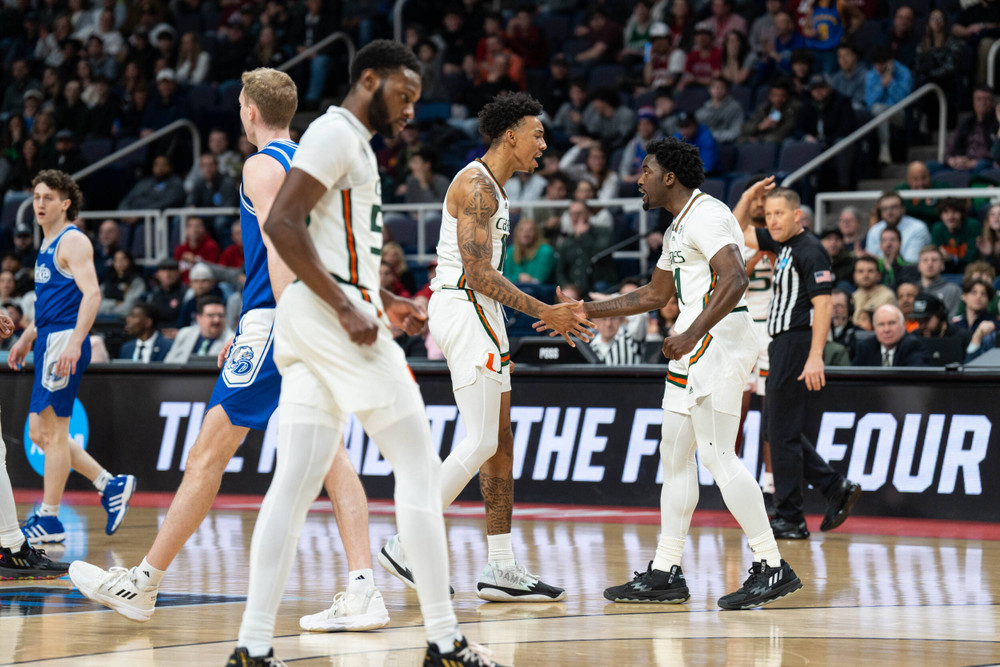 To keep up with the University of Miami men's basketball team on social media, follow @CanesHoops on Twitter, Instagram and Facebook.
MIAMI HURRICANES POSTGAME NOTES
– Miami missed its first nine shots from the field over nearly the first seven full minutes, scoring their first six points at the line and making their first field goal with 13:04 on the clock.
– The Hurricanes' first-half totals in points (25), made field goals (seven) and field-goal percentage (23.3) all set season lows in any frame.
– Only two Hurricanes, Pack and Poplar, scored in the final 13 minutes of the first half.
– Miami's prior season low in points was 66, which it recorded three times, most recently on 1/21/23 at Duke, a game in which it also notched its previous season low in field-goal percentage with a 34.9 (22-of-63) ledger.
– The Hurricanes' previous prior season low in made field goals was 21, which it totaled twice, most recently on 12/20/22 versus sixth-ranked Virginia.
– According to Tim Reynolds of the Associated Press, Miami's 30.4 field-goal percentage was its lowest in a win since a 45-42 victory over St. John's on 1/14/92 and snapped a 23-game skid when shooting that mark or below.
– Miami improved to 12-11 all-time in the NCAA Tournament, including 8-5 under head coach Jim Larrañaga, 9-6 as a higher seed, 1-1 as the fifth seed, 9-9 as a single-digit seed, 1-1 versus No. 12 seeds, 8-3 against double-digit seeds, 1-1 in 5-12 games, 1-0 in New York, 7-5 in the opening round and 2-1 against Missouri Valley teams.
– This is the second time in program history Miami has won an NCAA Tournament game in consecutive seasons, joining the 1998-99 and 1999-2000 seasons.
– Miami's 26 victories match the third-highest total in program history and give the team 26-plus wins in back-to-back seasons for the first time ever.
– The Hurricanes moved to 10-5 all-time against current Missouri Valley schools, while Larrañaga is now 5-4 versus such teams.
– The Hurricanes have now played nine consecutive games decided by single digits, tied with Winthrop for the longest active streak of any team in the country, per Stats Perform.
– Miami scored a season-low 63 points after, per Stats Perform, entering the night as one of three teams with 65-plus points in every game this season, alongside Furman and Marshall.
– The Hurricanes' 23 made free throws rank as their third-most ever in NCAA Tournament play.
– Omier's 14 rebounds broke Miami's NCAA Tournament single-game record of 13 set by Kamari Murphy on 3/17/16 versus Buffalo, exactly seven years prior.
– Brodie's nine made field goals are the second-most ever by a Miami opponent in NCAA Tournament play, behind only the 11 by JR Henderson of UCLA on 3/13/98.
– DeVries' 11 3-point attempts are the second-most by a Hurricane foe in the NCAA Tournament, trailing just the 14 by Patrick Mills of St. Mary's on 3/21/08.
– Calhoun's 80.0 percent clip from 3-point range is the second-best by a Miami opponent in NCAA Tournament action (min. four 3PM), behind only the 83.3 (5-of-6) ledger by Villanova's Kris Jenkins on 3/24/16.
– Fourth-year junior guard Isaiah Wong tied DJ Vasiljevic (2016-20) for eighth place on the Hurricanes' all-time games played list with 128.
– Wong matched Kevin Norris (1994-98) for fourth on the program's all-time games started leaderboard with 108.
– Fifth-year senior guard Jordan Miller finished with a season-low seven points, snapping a 26-game double-digit scoring streak that ranked, per Stats Perform, as the third-longest of any player who made the NCAA Tournament, behind only Purdue's Zach Edey (51) and Indiana's Trayce Jackson-Davis (43), both First Team All-Americans.
– Miller's 26-game streak was the longest by any Hurricane since Guillermo Diaz logged 32 such outings in a row from Nov. 2004 to Nov. 2005, per Stats Perform.
– Poplar made three-plus 3-pointers for the second time in his career, with both such outings in the last four contests, as he went 6-of-8 on 3/4/23 versus No. 25 Pittsburgh.
– Wong notched his first points of the game with 16:05 left in the second half, the latest he has entered the scorebook all season.