W. Tennis Inks Balzert for 2023-24 Season
CORAL GABLES, Fla. – University of Miami head women's tennis coach Paige Yaroshuk-Tews announced Thursday the signing of Antonia Balzert.
Currently a fourth-year junior at the University of Colorado, Balzert will join the Hurricanes for her final season of eligibility in 2023-24.
"Toni is a great competitor. She played at the top of a lineup and understands what is necessary to succeed," Yaroshuk-Tews said. "Her work ethic and discipline to her tennis will be very much aligned with our culture."
Balzert is a 5-foot-7 right-hander originally from Düsseldorf, Germany. She has been ranked among he top 60 players in her home nation.
A mainstay in Colorado's lineup since her freshman year in 2020, she has primarily played at either the No. 1 or No. 2 position in both singles and doubles. Thus far in 2023, Balzert has exclusively played in the top spot for the Buffaloes in singles and done so all but once in doubles, notching an 8-4 singles record and a 4-6 doubles mark.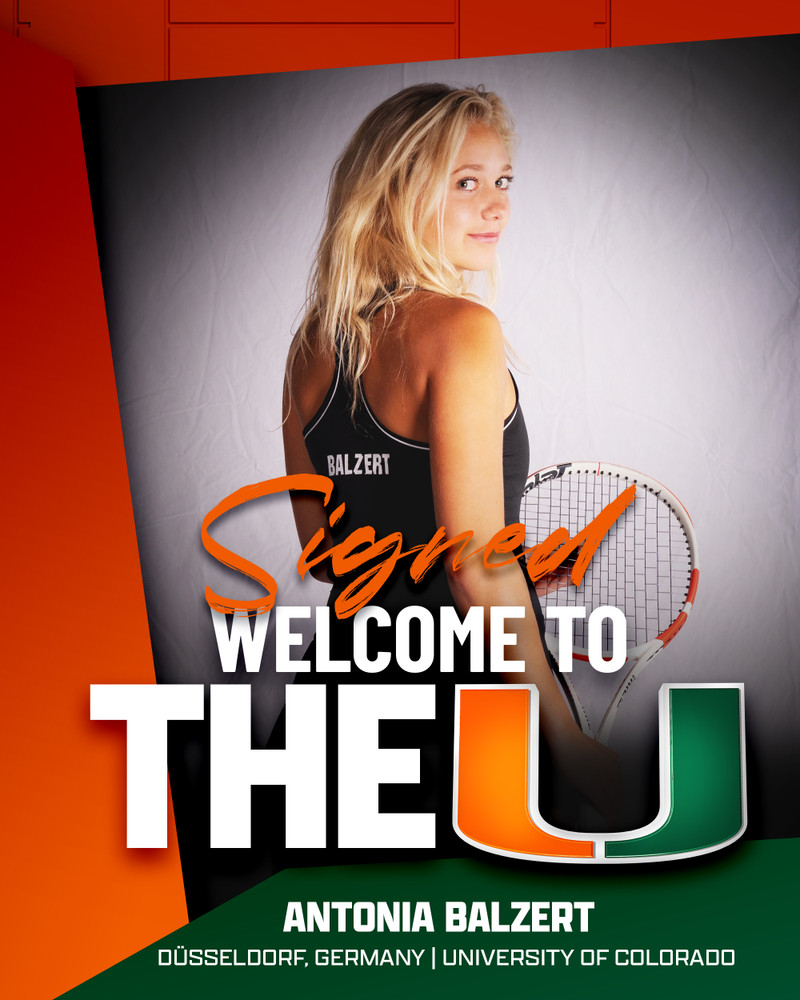 Last season, Blazert registered All-Pac 12 Honorable Mention, proving herself as one of the finest players in the strong conference. She claimed three ranked singles victories and two ranked doubles triumphs during the 2022 campaign.
Also an excellent student, Balzert has received both Pac-12 Honor Roll and ITA Scholar-Athlete plaudits during her time in Boulder, Colo.
Balzert is the third German to sign with the Hurricanes in the last four years, joining current junior Isabella Pfennig and current freshman Mia Mack, who hail from Gauting and Löchgau, respectively.
To keep up with the University of Miami women's tennis team on social media, follow @CanesWTennis on Twitter, Instagram and Facebook.