W. Tennis Jumps to No. 18 in ITA Rankings
CORAL GABLES, Fla. – The University of Miami women's tennis team ascended 12 places in the ITA national rankings, checking in at No. 18 overall, as announced Tuesday morning.
The jump for Miami (7-2, 2-1 ACC) comes after a pair of in-state road triumphs over the weekend. The Hurricanes picked up a 4-0 victory Saturday at then-No. 23 UCF before logging a 5-2 win the next day at then-No. 40 Florida State.
Thirteen of the 14 schools in the ACC are ranked in the top 60, including nine in the top 30, eight in the top 25, six in the top 20, three in the top 10 and two in the top five. Miami joins top-ranked North Carolina, fifth-ranked NC State, ninth-ranked Duke, No. 11 Virginia, No. 19 Wake Forest, No. 22 Syracuse, No. 23 Notre Dame, No. 26 Georgia Tech, No. 38 Clemson, No. 47 Boston College, No. 48 Florida State and No. 56 Virginia Tech on the list.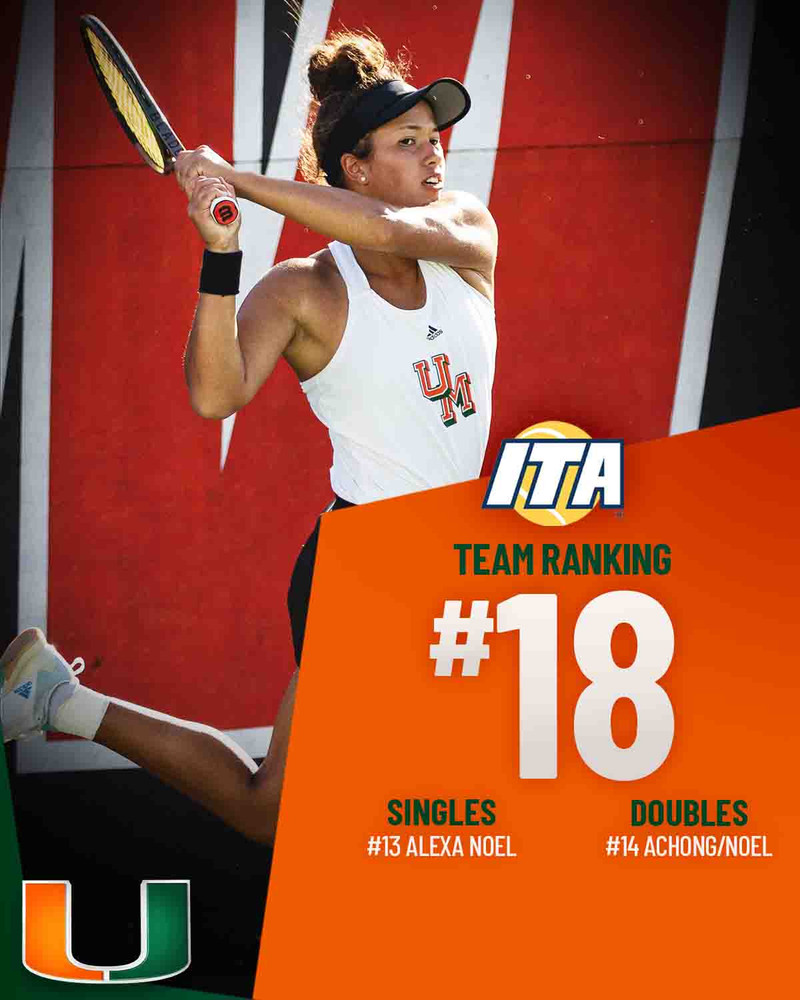 On the individual front, redshirt sophomore Alexa Noel checks in at No. 13 in singles and No. 14 in doubles, the latter alongside fifth-year senior Daevenia Achong.
Hailing from Summit, N.J., Noel is 20-6 in her inaugural campaign as a Hurricane, including 12-4 against ranked foes. She is 10-2 in dual match play this spring.
In doubles, Noel and Achong sport a 3-1 record as a pair, with all four contests against ranked opponents. They have played together just once this spring, but it was a victory over a then-top-15 duo.
The complete list of ITA team, singles and doubles rankings can be found HERE.
The Hurricanes open their ACC home slate Friday at noon when they square off with fifth-ranked NC State at the Neil Schiff Tennis Center.
To keep up with the University of Miami women's tennis team on social media, follow @CanesWTennis on Twitter, Instagram and Facebook.