Miami Tallies Fourth Straight Shutout Victory
CORAL GABLES, Fla. – The University of Miami men's tennis team recorded its fourth straight victory on Saturday, defeating the Florida Gulf Coast Eagles (6-2), 4-0, at the Neil Schiff Tennis Center.
All five of Miami's victories this season have been shutout wins and the Hurricanes are 4-0 in the month of February.
The Hurricanes (6-2) handily won the doubles point as the third doubles duo of sophomore Martin Katz and freshman Antonio Prat and the second doubles pair of Franco Aubone, won their matches, 6-1 and 6-0, respectively.
Freshman Nacho Serra Sanchez quickly doubled Miami's lead, defeating Juan Lopez, 6-1, 6-2, on court six for the Hurricanes' first singles win of the afternoon. On court four, freshman Martin Vergara Del Puerto walked away with a 6-4, 6-2 win over Max Damm to put Miami up 3-0.
Graduate student Leo Bierbaum clinched the match for the Miami at fifth singles, tallying a 6-4, 6-2 win to remain undefeated, 6-0, in dual match play this season.
Just prior to clinching, Martin rallied from down 2-3 on court one to force a tiebreak. The Laval, Quebec, native went point for point with Magnus Johnson in the tiebreak, but ultimately prevailed, 11-9, to win set one, 7-6 (9).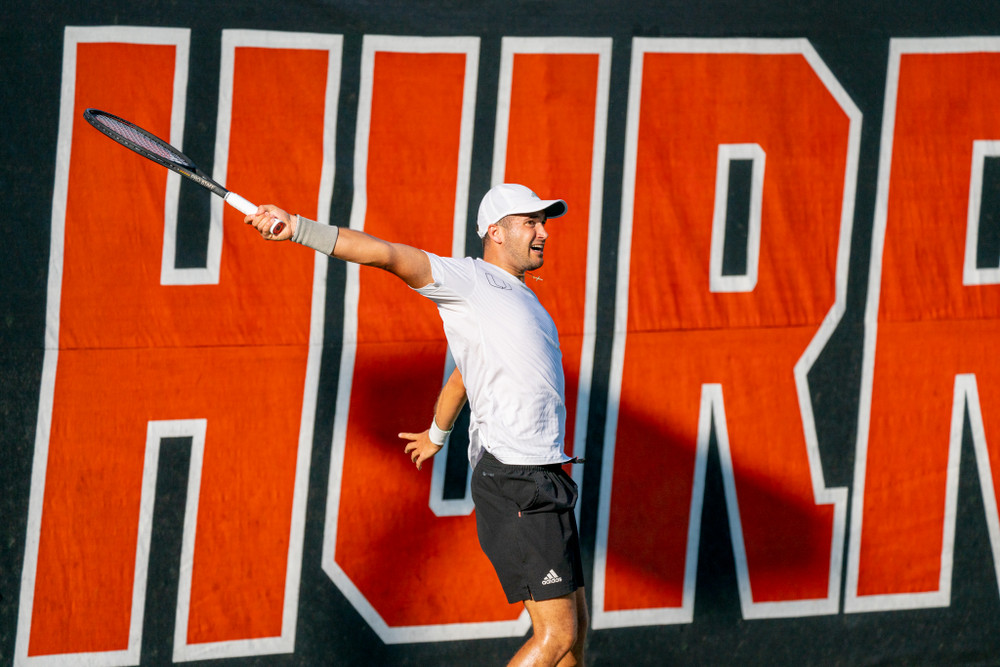 Both Katz's and Prat's matches on courts three and two, respectively, remained unfinished. Katz was en route to his third dual match win of the year at 6-3, 4-2, while Prat was in a three-set battle, 2-6, 6-0, 0-1, at second singles.
The Hurricanes open ACC play on Friday, March 3, traveling to Charlottesville, Va., to take on the Virginia Cavaliers. First serve is set for 5 p.m.