W. Tennis Places No. 15 in ITA Rankings
CORAL GABLES, Fla. – The University of Miami women's tennis team is No. 15 nationally in the newest ITA Top 25 Coaches Poll, as announced Wednesday morning.
Miami (4-1) claimed a pair of victories since the last rankings release two weeks ago. It posted a 7-0 sweep of FGCU and followed that with a 5-2 victory over then-No. 20 Cal, now No. 22, at the Neil Schiff Tennis Center. The latter win served as the 400th in the stellar 22-year career of head coach Paige Yaroshuk-Tews.
The triumphs pushed the Hurricanes up one spot in the ITA rankings. They have now earned a top-15 position in 16 of the past 17 poll releases, going back to Feb. 23, 2022.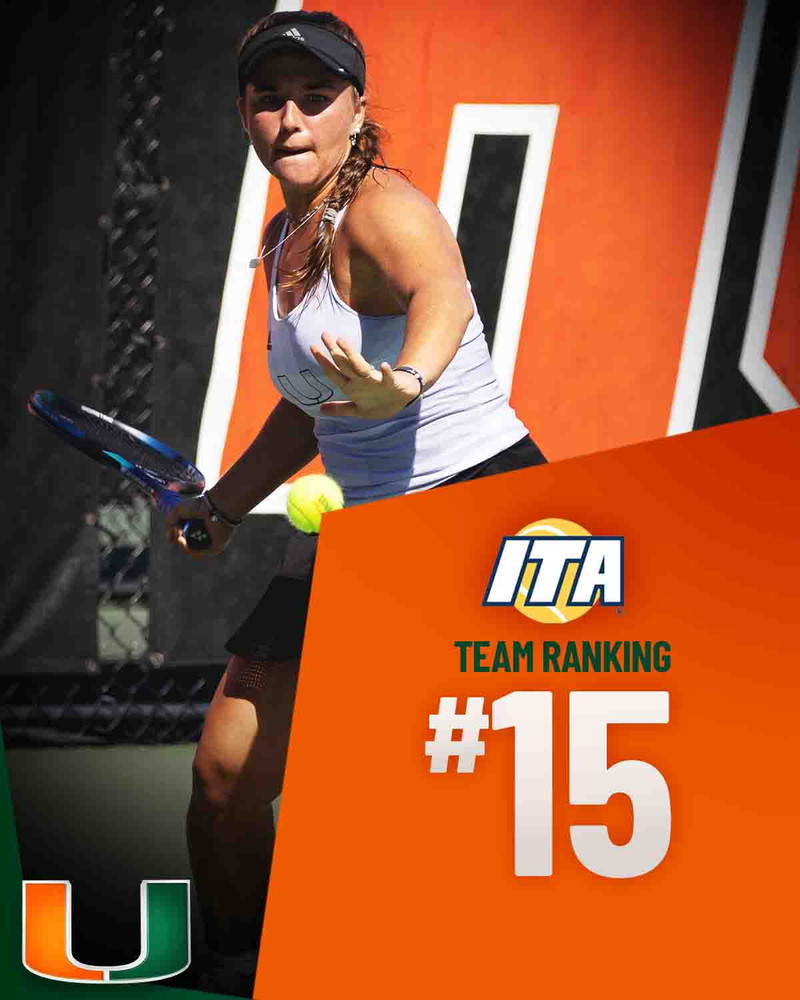 Miami is one of five ACC teams in the ITA top 20, joining top-ranked North Carolina, seventh-ranked Duke, ninth-ranked NC State and No. 13 Virginia. Additionally, Georgia Tech and Notre Dame are among the three schools in the "receiving votes" section, giving the ACC seven of the top 28 teams.
The complete ITA Top 25 Coaches Poll can be found HERE.
The Hurricanes are back in action Feb. 24 at 4 p.m. when they begin ACC competition against Boston College in Weymouth, Mass.
To keep up with the University of Miami women's tennis team on social media, follow @CanesWTennis on Twitter, Instagram and Facebook.