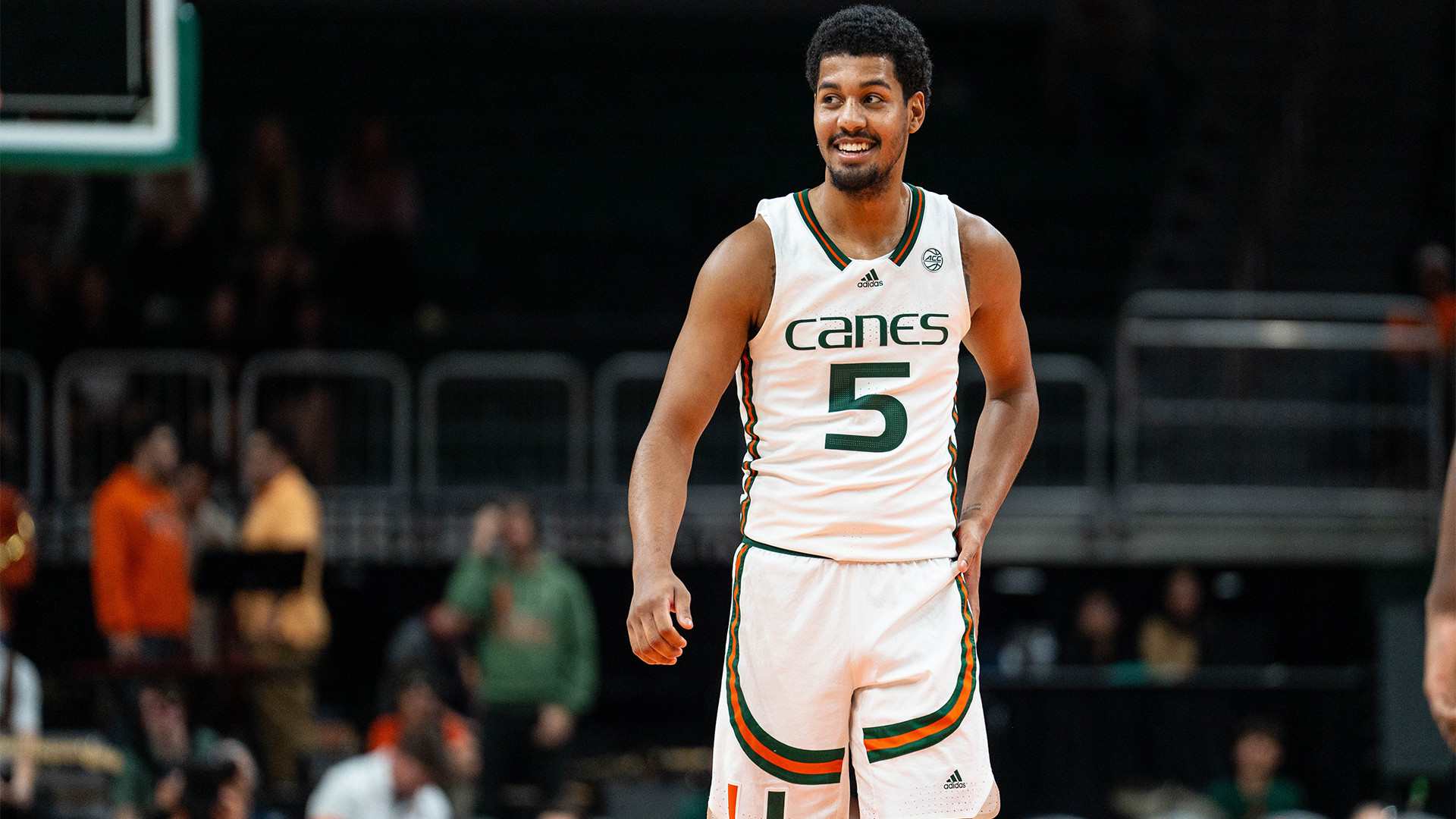 CORAL GABLES, Fla. – Harlond Beverly was going about his game-day routine, somewhat oblivious of the date and its significance.
He just knew the Hurricanes were facing Boston College that night and he had to be ready.
Then, he was reminded of the challenge he'd faced just 365 days earlier.
"My surgery was January 11th, the same day we played Boston College this year," Beverly said. "I kind of forgot it was that day until our trainer reminded me. It's pretty cool that I ended up playing well and got some good minutes."
Beverly did more than just play well against the Eagles.
He scored what – to that point – was a season-high 15 points, notched a season-high five assists, and did it all in a season-best 20 minutes in Miami's 88-72 win.
Given that a year earlier he'd been in a Dallas hospital with his parents, that performance wasn't anything the fourth-year junior took for granted.
Quite the opposite, actually.
"It's been great being back on the court. It's been pretty fulfilling," Beverly said. "Makes me feel happy that I can be back out there and competing with my teammates. And the fact that we're getting some quality wins, too…that makes it even better."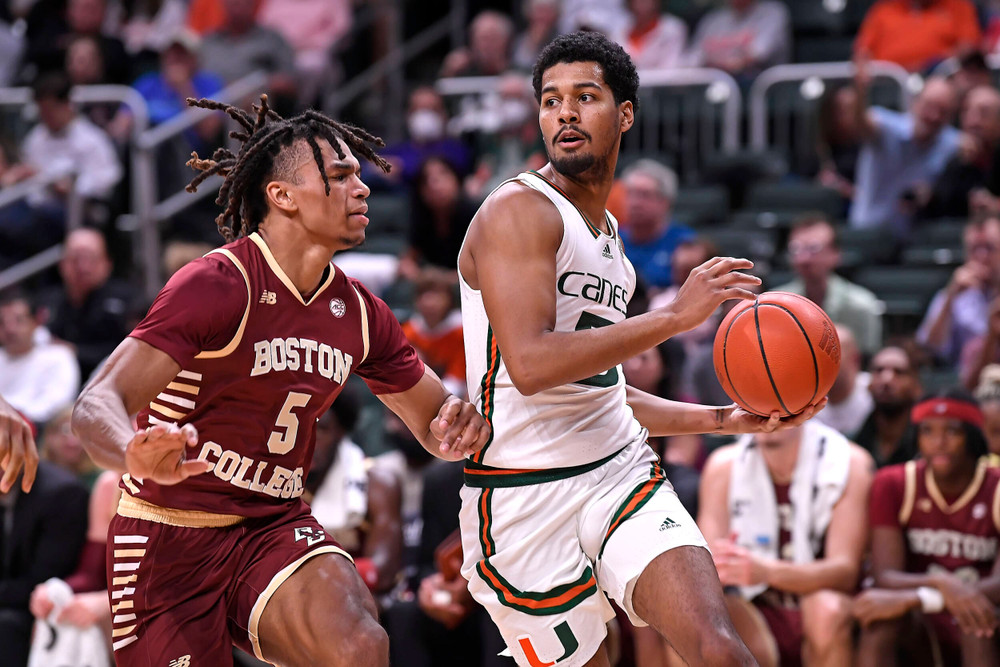 Since his 15-point showing against Boston College, Beverly went on to put together a 16-point effort in the Hurricanes' 82-78 win over Syracuse. He's seen double-digit minutes in every game since and has finally started to feel more like himself on the court.
His coaches and teammates – many of whom provided encouragement through Beverly's recovery and rehabilitation process – have taken note of his contributions.
"You could have asked me before the season…I thought Harlond was going to be a very big key to our success this year. Obviously, he was fresh off the back injury, so he had to work his way back into the swing of things, but Harlond brings experience," said fifth-year senior guard Jordan Miller. "He's played a lot of college basketball and experience is always the best teacher…Defensively, he's just been a monster. And offensively, you can see how he's getting into his rhythm. He can really play and he's showing it."
Said Hurricanes coach Jim Larrañaga, "Back surgery is often a career-ending surgery. Harlond was very, very conscientious in rehabbing and slowly, but surely, making his way back…He worked very, very hard and got himself in what he's in now – great shape."
For Beverly, the journey to feeling – and playing – better has been a process.
Throughout much of his sophomore year in 2021, the guard dealt with occasional numbness in his leg caused by a herniated disc. For roughly six months, he went through rehab and treatment in an effort to try and avoid surgery.
Eventually, though, doctors told him treatment wouldn't be enough.
He played in four games last season before being shut down in November. Surgery eventually followed and Beverly spent most of Miami's dream season and eventual Elite Eight run cheering his teammates on from the sideline – or, when he couldn't travel, from home.
All the while, he challenged himself in the recovery process to try and exceed the milestones doctors, physical therapists, and athletic trainers set for him.
"It was no bending, lifting, or twisting for six weeks to start off," Beverly recalled. "That's where a lot of weight came from, just lying in bed, not really being able to move. Then after that, it was starting to do simple movements again like jogging, running, doing my cuts, making sure my back was getting stronger. It was a long process, but it was really good. Our trainer helped me out a lot. He was amazing. He educated me and really made me feel good throughout the whole process.
"I didn't have any down moments. It was a very uplifting time, really. It was just so beautiful to see that progress every day. I was making progress every day, so I was very optimistic that I would be able to come back and really be at the top of my game. That was something I was waiting for and was excited to do."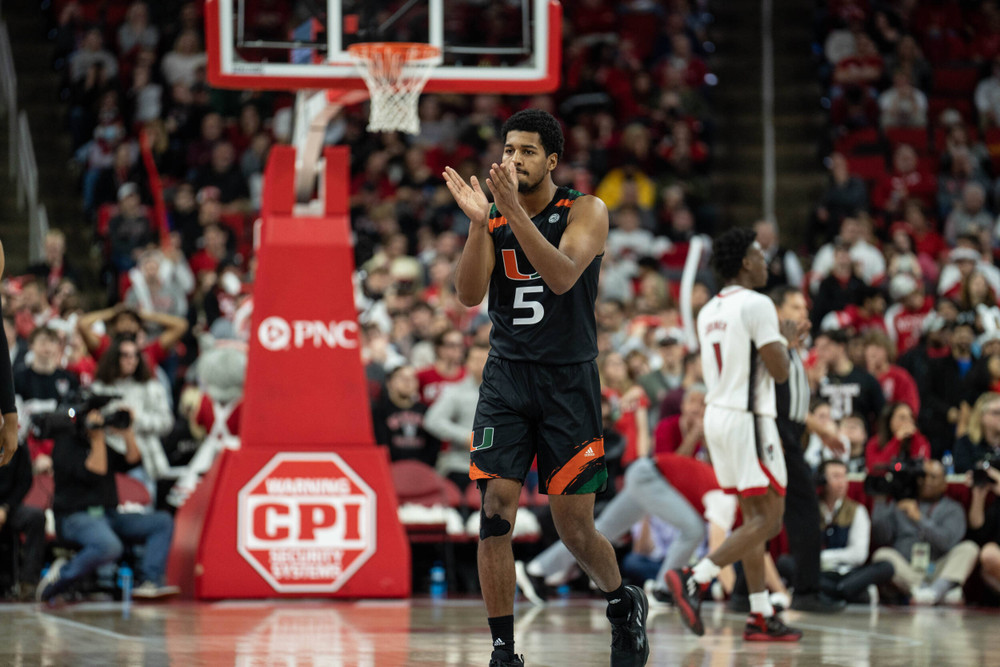 As the Hurricanes closed out the regular season and stormed through the NCAA Tournament, Beverly tried to soak up as much as he could by watching former Miami guards Charlie Moore and Kameron McGusty.
He celebrated his team's big win over then-No. 2 Duke at Cameron Indoor Arena and cheered Moore's half-court buzzer-beater at Virginia Tech.
Though he wanted to be on the court with the Hurricanes, he did his best to stay positive and focused on his recovery.
"I wasn't upset about not playing until we lost [in the NCAA Tournament] because being a part of the team, you want to be able to help in any way possible, especially when you fall short," Beverly said. "But besides that, I had a great time. I felt like I could kind of be a fan for a little bit…I really enjoyed the experience of being able to watch and learn and grow from what they were doing."
Now that he is back on the court, though, Beverly is determined to try and do all he can to help the Hurricanes put together another memorable March run.
He's working to be more consistent. And he's relying on all the lessons he learned – on and off the court – over the course of the last year.
"Whatever's thrown your way, there's a way you can get through it and I feel like it's a part of your mindset, how you're going to tackle whatever obstacle it is," Beverly said. "I feel like I knew that about me, that I would do well during that circumstance. But being able to put it into practice was really cool for me. Nobody really wants to go through any hard times, but the fact I got through it and did it with a positive mindset, I feel like that was really powerful to me."
The Detroit native then chuckled.
"And it's a lot easier when it's January and I get to have my toes out," he finished.