Noel and Mack Claim Opening ACC Weekly Honors
CORAL GABLES, Fla. – Two University of Miami women's tennis players received season-opening weekly honors from the ACC, as announced Tuesday afternoon by the league office.
Alexa Noel won ACC Player of the Week plaudits and Mia Mack earned ACC Co-Freshman of the Week status following strong performances in the Miami Spring Invite. This is the first time the Hurricanes took home both awards since March 30, 2021.
A redshirt sophomore in her first season at The U, Noel is ranked No. 14 nationally in both singles and doubles, the latter alongside fifth-year senior Daevenia Achong.
Noel went 3-0 in singles in the Miami Spring Invite, including earning a pair of top-35 triumphs. She defeated No. 33 Celia-Belle Mohr of No. 20 Vanderbilt, 7-6 (7-3), 6-4, Friday in her first spring match as a Hurricane. The next day, she edged No. 23 Amelija Racjecki of third-ranked NC State, 7-5, 5-7, 6-1. The Summit, N.J., native capped the weekend by downing Charlotte Chavatipon of top-ranked Texas, 6-1, 6-3.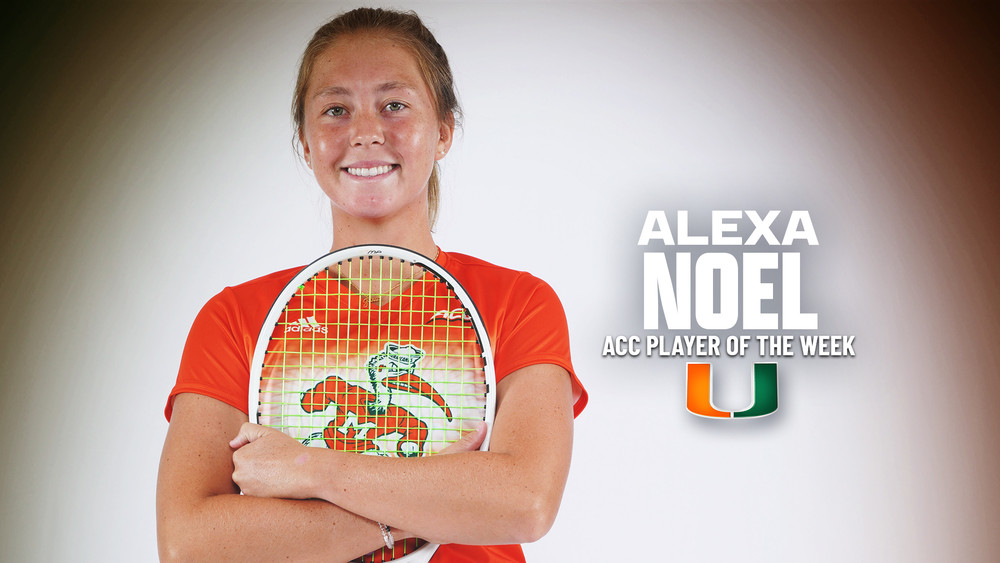 In addition, Noel and junior Audrey Boch-Collins earned a 6-4 doubles win over Vanderbilt's Dasha Kourkina and Bridget Stammel.
Noel is the 16th player—43rd total honor—to win ACC Player of the Week, including the first since Achong on March 29, 2022.
Mack, meanwhile, posted a 2-1 mark in singles in her first spring action as a collegian. She began her weekend by defeating Amy Stevens of No. 20 Vanderbilt in comeback fashion, 3-6, 6-3, 7-5. Mack then rolled past Chloe Henderson of third-ranked NC State the following day, 6-0, 6-2.
The freshman from Löchgau, Germany, also teamed with junior Isabella Pfennig to record a 6-3 doubles triumph over Gina Dittmann and Anna Zyryanova of NC State.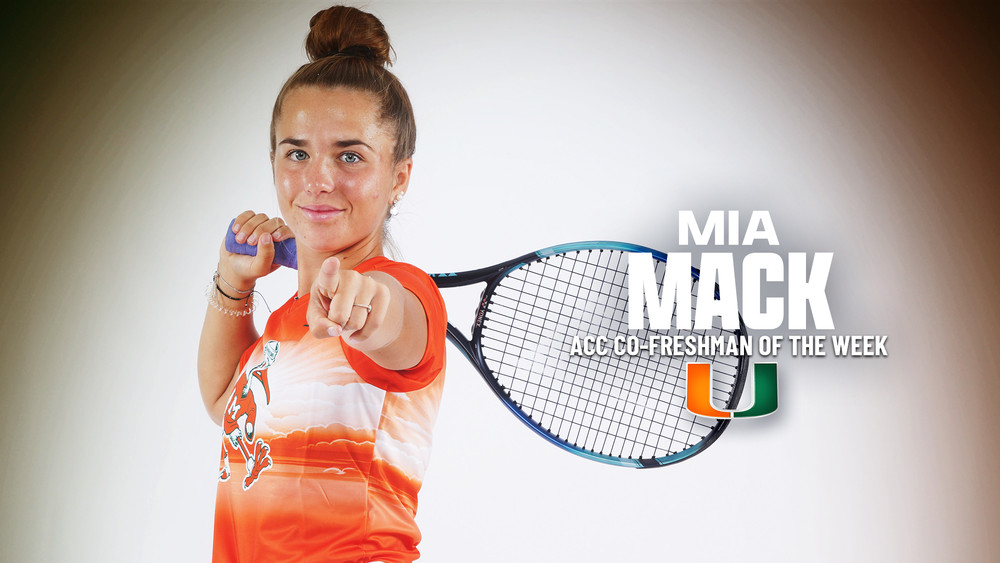 Mack is the sixth Hurricane—14th occurrence—to win ACC Freshman of the Week recognition since the award started in 2018, including the first Diana Khodan on April 6, 2021.
Noel, Mack and the Hurricanes begin the 2023 dual match slate Jan. 24 at 2 p.m. against Florida Atlantic at the Neil Schiff Tennis Center.
To keep up with the University of Miami women's tennis team on social media, follow @CanesWTennis on Twitter, Instagram and Facebook.