Miami Defeats Georgia Tech for Fourth Straight Win
ATLANTA – The University of Miami women's basketball team recorded its fourth straight victory on Thursday, defeating the Georgia Tech Yellow Jackets (9-8, 0-6 ACC), 69-60, at McCamish Pavilion.
"Georgia Tech is a fantastic defensive team. In the second quarter, I thought we looked like an Elite Eight team. We looked as good as we have all year," head coach Katie Meier said. "We came out of halftime expecting them to be hot again and they were. Georgia Tech is going to start getting some wins so this is a great win for us."
In her first game back from injury, graduate student Destiny Harden showed no rust, totaling 13 points for her 11th double-digit outing of the season. Seniors Haley Cavinder and Hanna Cavinder joined Harden in double-figures with 14 and 11 points, respectively.
Freshman Lazaria Spearman showed out in her hometown, posting eight points on 4-of-5 shooting.
As a team, Miami recorded 18 assists, marking the 10th time this season the Hurricanes have eclipsed the 15-assist mark. Miami is 8-2 when recording 15 or more assists in a game.
After missing their first four field goals of the game, the Hurricanes finished the first quarter shooting 70 percent (7-of-10) to take a 16-13 lead after one.
Harden came alive in the second quarter, tallying nine points on 3-of-5 shooting, including two buckets from 3-point range. Nine Hurricanes recorded a point in the first half and Miami shot 57.1 percent from the field to go into halftime up, 40-23.
"Destiny showed toughness and came through for her team," Meier said. "Her first half was incredible, so I was really proud of her. She hit some Destiny shots, shots that we dial up for her. The team was finding her and was excited to have her back."
The Hurricanes forced nine turnovers in the first half and scored off every single giveaway, totaling 17 points off turnovers.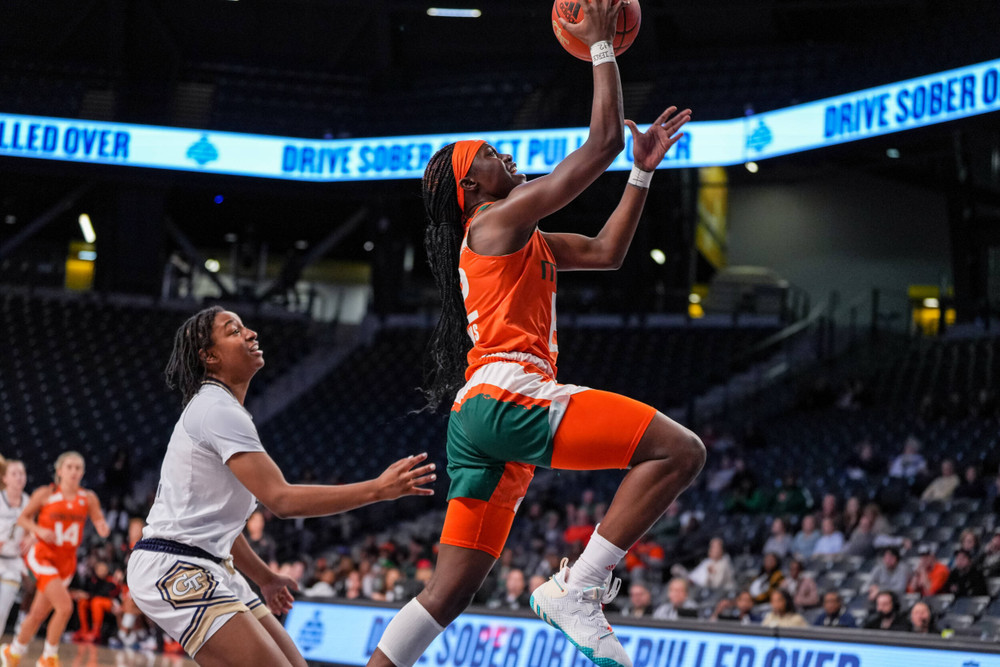 Both teams shot better than 45 percent in the third quarter, trading baskets throughout much of the frame. However, the Yellow Jackets closed the quarter on an 8-3 run to cut Miami's lead to 15, 55-40.
Georgia Tech opened the fourth quarter with a 3-pointer from Kara Dunn to spark a 10-2 run for the Yellow Jackets and pull them to within seven. Hanna Cavinder halted the Georgia Tech run with her third 3-pointer of the game at the 5:28 mark in the fourth.
The Yellow Jackets outscore the Hurricanes, 20-14, in the final 10 minutes, but Miami held on to win the game thanks to seven late-game free throws by Haley Cavinder.
The Hurricanes return to the Watsco Center on Sunday to host the Wake Forest Demon Deacons at 2 p.m. The game will air on ACC Network Extra.
Single-game tickets are available for purchase online or by calling the Miami Hurricanes ticket office at 1-800-GO-CANES. For more details, dial that number or email canestix@miami.edu.