Foreman Named to 2022 ACC Honors Class
CORAL GABLES, Fla. – Miami running back Chuck Foreman was among those school legends, conference record-holders and NFL standouts selected to the 2022 ACC Honors Class, the Atlantic Coast Conference announced Wednesday.
Foreman, a former first-team All-American by Sporting News, ranks fifth all-time on Miami charts with 3,365 all-purpose yards. He had five career 100-yard rushing performances, returned 42 kickoffs for 882 yards and accumulated 17 touchdowns over the course of his career.
Foreman ranks fourth and sixth all-time for all-purpose yards in a season (1,555 in 1972 and 1,467 in 1971) at Miami. He played cornerback, running back and wide receiver during his career as a Hurricane, and finished his UM career with 1,631 rushing yards and caught 56 passes for 732 yards.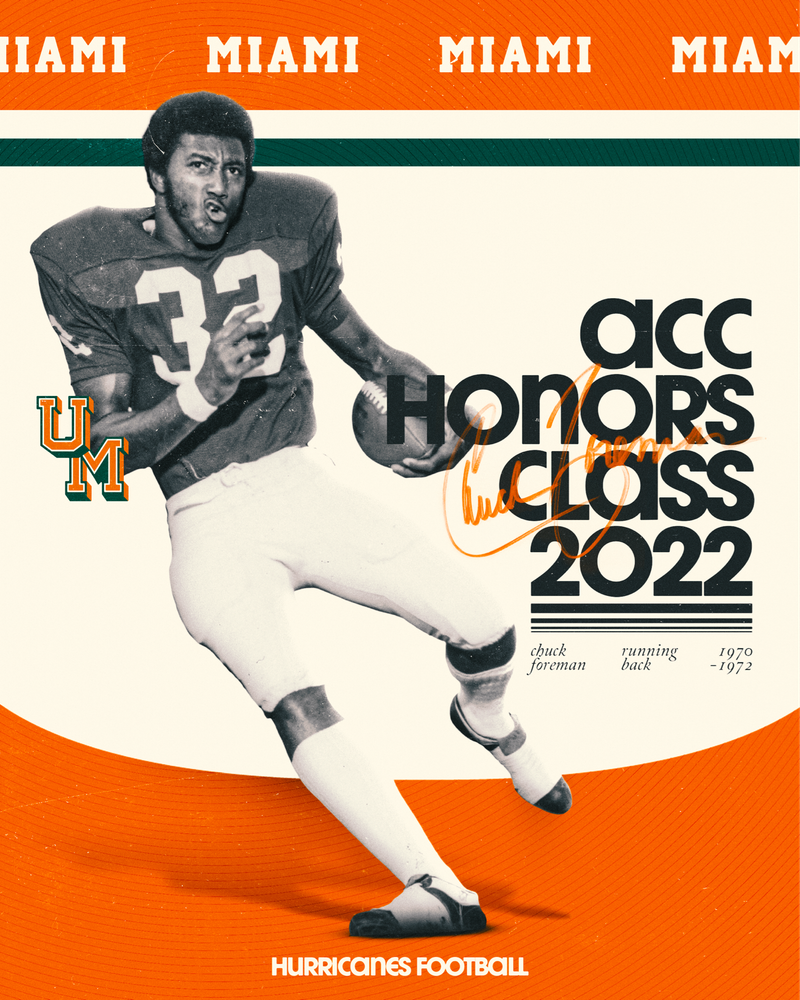 A first-round draftee of Minnesota Vikings, Foreman went on to earn NFL Rookie of the Year honors in 1973. An illustrious professional career saw him selected to the Pro Bowl five times. He led the NFL in receptions in 1975 (73), and was named the NFC's Offensive Player of the Year by UPI in 1976.
Foreman finished his NFL career with 5,950 rushing yards and 3,156 receiving yards while scoring 76 touchdowns. He was inducted into both the Miami Sports Hall of Fame and Minnesota Vikings Ring of Honor, and went on to be named one of the 50 Greatest Vikings during the team's 50th anniversary celebration in 2010.
This year's class will be celebrated during the ACC Football Honors program presented by the Charlotte Sports Foundation at the Charlotte Convention Center's Richardson Ballroom on the evening of Friday, Dec. 2, and during the on-field pregame festivities at the 18th annual Subway ACC Football Championship Game, set for 8 p.m. on Saturday, Dec. 3, at Charlotte's Bank of America Stadium. ACC Network will air (tape delay) the ACC Football Honors production on Dec. 9 at 7 p.m.