Hurricanes Knock Off No. 24 Hokies
CORAL GABLES, Fla. — The Miami Hurricanes were hungry.
With the Hurricanes craving their first ACC win, Miami feasted on an opportunity against a top-25 team.
The Canes carved up the 24th-ranked Virginia Tech Hokies, stuffing the stat sheet with a trio of goals en route to a 3-1 victory Thursday evening at Cobb Stadium.
"We were locked in," Miami head coach Sarah Barnes said. "We brought good pressure, created turnovers and made things difficult for Virginia Tech. In the end, we really set the tone and created opportunities for ourselves to have the ball a little bit more. The commitment to compete and be composed when we had time was really good. Our composure in the final third was the difference tonight."
Miami (4-5-2, 1-4 ACC) greeted the Hokies (9-3-1, 3-2 ACC) with an offensive parade.
In the 39th minute, the Hurricanes cooked up their first threat, earning a corner kick.
Redshirt freshman forward Megan Morgan served a cross towards the near post and sophomore defender Adrianna Serna battled for position in front of Virginia Tech goalkeeper Lauren Hargrove, gobbling up the loose ball to put Miami ahead, 1-0.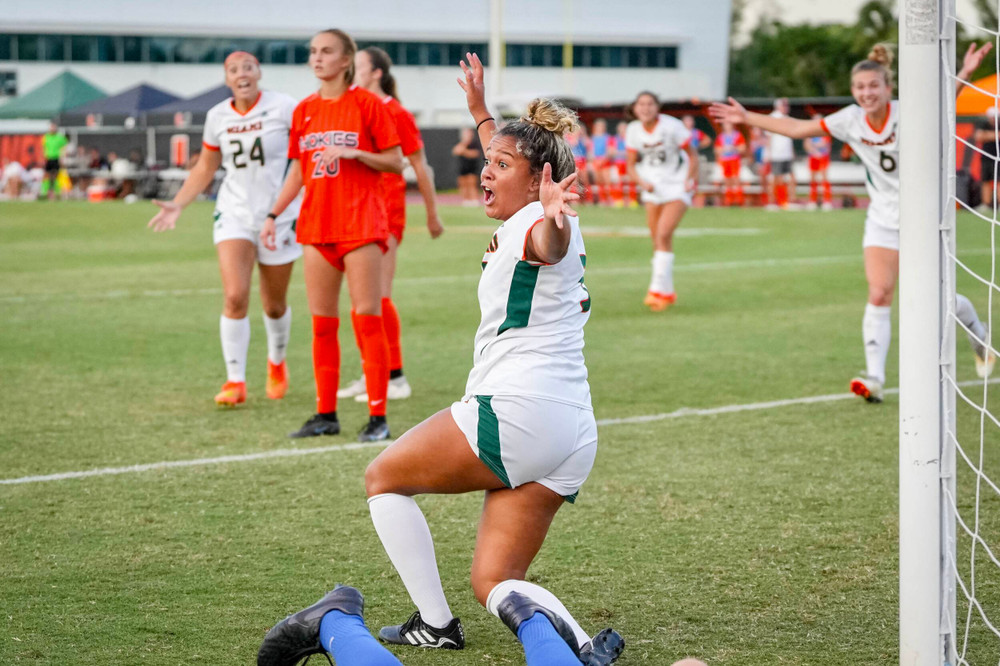 "I was trying to make it difficult for the goalie to see," said Serna. "I think that got us off to a great start. We were all fired up and we wanted to keep the energy up."
The Hurricanes trotted out of the intermission with an appetite for more.
Twenty minutes after Serna's first career goal, sophomore midfielder Lauren Meeks joined the party.
Meeks hunted a loose touch and ripped a right-footed strike into the back of the net, doubling Miami's cushion.
"When she took her first touch, I knew I could get there," Meeks said. "I stepped towards her and applied pressure and she fumbled it. I took one touch after that, looked up and placed it in the corner."
Five minutes later, the Hurricanes harvested a golden chance to pad their advantage.
Sophomore midfielder/forward Jordan Felton weaved her way through the Virginia Tech defense and dished a pass across the six-yard box to junior forward Katerina Molina. Molina wasted no time and rifled a shot past Hargrove, extending the Hurricanes' lead to three.
"The third goal was really big for us and put Virginia Tech in a tough situation," the Miami native said. "Everyone brought energy tonight, which made it really easy to settle into the game off the bench."
With their first victory versus the Hokies in six years, the Hurricanes gathered their first win over a top-25 team since Oct. 24, 2019, when Miami bested then-No. 15 Clemson, 3-2, in double overtime.
Up next, the Hurricanes head north to face the Wake Forest Demon Deacons Sunday. Kickoff is slated for 1 p.m. at Spry Stadium.
To keep up with the University of Miami soccer team on social media, follow @CanesFutbol on Twitter, Instagram and Facebook.