Aggies Hold Off Canes in College Station
COLLEGE STATION, Texas – For the first road trip of their young season the Miami Hurricanes marched tonight into the chaotic college football cauldron known as Kyle Field.
Texas A&M was eager to atone for an upset loss to Appalachian State the prior Saturday and Aggieland was at its full-throated finest. And they were treated to a 60-minute, down to the wire slugfest between two physical, punishing teams.
But it was the Aggies who found the end zone and forced the game's lone takeaway. It was the Canes who settled for five field goals attempts, converting three of them. And that was the difference in a 17-9 win for Texas A&M before a crowd of 107,245 – the third-largest gathering in Kyle Field history and the largest for a non-conference affair.
The 24th-ranked Aggies improved to 2-1 on the season while No. 13 Miami fell to 2-1.
"We've got to get better," head coach Mario Cristobal said. "I'm proud of the fact we showed we could compete in a difficult environment but competing in itself is just not enough. You've got to execute.
"We played hard, we played physical. We played with intensity. We competed like crazy. Against good opponents in tough environments you've got to avoid making the mistakes that we made."
The Canes outgained their hosts by 128 yards, racked up 175 rushing yards, had 27 first downs, engineered four drives of 12-plus plays and owned an 8:40 advantage in time of possession. But four red zone possessions yielded just three field goals. Meanwhile, the Aggies scored their first touchdown three plays after a muffed Miami punt, held firm in the red zone throughout the game and thwarted the Canes' last-gasp drive in the dying seconds.
Quarterback Tyler Van Dyke completed 21 of 41 passes for 217 yards, while running backs Henry Parrish, Jr. (85) and Jaylan Knighton (77) combined for 162 yards. Tight end Will Mallory paced the Canes with five catches for 56 yards. Andy Borregales connected on field goals of 28, 22 and 34; he also missed one from 49 yards and had a 36-yarder blocked.
Miami's defense amassed three sacks and six tackles for loss, consistently harassing Aggies quarterback Max Johnson and limiting him to just 10 of 20 passing for 141 yards and one touchdown. That score was a 29-yard toss to running back Devon Achane, who finished with 130 all-purpose yards.
"The front seven, particularly the front four, put a lot of pressure on them and made them uncomfortable," Cristobal said.
Defensive linemen Jahfari Harvey and Darrell Jackson, Jr., each had a sack, while safety James Williams and cornerback DJ Ivey each had two passes defensed.
Miami was still down just one score when the Canes took over on their own 43 with 1:16 remaining and no timeouts. Van Dyke hit wide receiver Brashard Smith for one first down but the Canes then faced a 4th and 4 from the A&M 40 with 30 seconds left. A pass to Smith fell incomplete and the Aggies ran out the clock.
"It's upsetting," Cristobal said. "It should burn. It needs to burn, it needs to feel in a way motivational knowing that we could be a good team but becoming a good team is not just going to happen. We've got to keep working."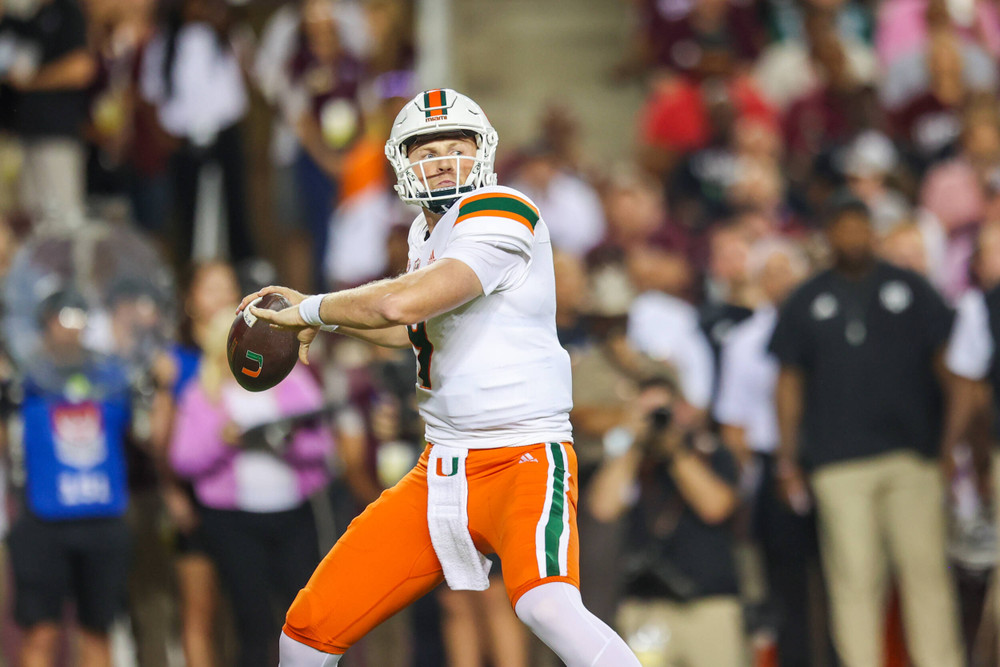 After taking a 10-3 halftime lead into the locker room, the Aggies increased the lead on their first drive of the second half, driving 76 yards in just four plays before Johnson found Achane for a 29-yard scamper to the end zone.
Van Dyke picked up a huge 3rd and 8 by finding wide receiver Jacolby George for 24 yards to the Aggies 10. But the Canes couldn't find the end zone and Borregales' 22-yard field goal cut the lead to 17-6.
Miami got the ball back and Van Dyke found tight end Will Mallory in the flat for a 21-yard gain to the A&M 44. Mallory had two more catches on the drive but the Aggies held at the 16-yard line and Borregales' third field goal made it a one-score game with 8:32 left in the game.
At the game's outset the Aggies flexed some offensive muscle marching 55 yards on their opening drive to the Miami 9 before defensive lineman Leonard Taylor pressured Johnson into an errant throw on third down. A&M settled for a 26-yard field goal by Randy Bond.
The Canes answered right back with a strong rushing drive as Knighton and Parrish combined for 46 yards on the ground. Miami also stalled inside the red zone but Borregales nailed a 28-yard field goal to tie the game at three.
The Canes forced a three-and-out but Tyrique Stevenson fumbled the ensuing punt, setting up the Aggies at the Miami 28. A&M needed just three plays to punch it into the end zone as running back L.J. Johnson leaped in from a yard out to give the Aggies a 10-3 lead.
On the next drive A&M defensive back Brian George was ejected for targeting. The 15-yard penalty moved the ball to the Miami 41 and Van Dyke went to work. He hit Michael Redding III for 10 yards and then found Key'Shawn Smith for 15. But the Canes stalled at the Aggies 31 and Borregales pushed a 49-yard field goal attempt wide left. Miami forced another three-and-out and A&M pinned the Canes back to their nine-yard line with 17 seconds left in the first quarter.
Van Dyke threw three straight incompletions but on the third one Demani Richardson became the second A&M defensive back to be ejected for targeting. Given new life Miami went back to the ground game with four straight runs to the A&M 41. Van Dyke then play faked and found tight end Elijah Arroyo wide open down the left sideline for 29 yards. But the Canes went backwards from there and Borregales' 36-yard field goal attempt was blocked.
The Canes return home next Saturday to host Middle Tennessee State at Hard Rock Stadium. Kickoff is 3:30 p.m. on ACC Network.