Making the Most of an Opportunity
TAMPA, Fla. — Mikayla Tupper couldn't help but cry.
The moment seemed like a routine accomplishment.
But for the Miami Hurricanes sophomore, it meant so much more.
"When I was home, I was scared of what was going to come this year," Tupper said. "Knowing how last year went, I didn't want it to be the same. I've always struggled with fitness, but I ran the fitness test at home and I passed. I broke down crying because I was so happy."
Her summer achievement was just a small step of what was to come this fall.
After not finding the back of the net in 12 matches a year ago, the 5-foot-8 forward scored in just her second appearance in 2022.
Against Oklahoma State Sunday, Tupper tapped home her first career goal, helping the Hurricanes remain unbeaten through their first five contests.
"How much I've gone through in the past year, it makes it so special," Tupper reflected. "I didn't even know I could get on the field. I thought that I may not see the field this season. I didn't know what this year was going to be like.
"My teammates have pushed me through everything. They're my biggest supporters. I had people the past week tell me, 'Tupps, you scoring that goal almost made me cry. I've never been so proud of someone.' Hearing that from teammates is insane. We're all competing for a spot, but them being proud of me is special."
Tupper has watched the play at least 20 times.
And each time she's seen the clip, she knows the long and winding road it took to get to that point.
"Last year was a hard year for me," Tupper said. "I'd get mad, that's what got me. I'd think, 'Why am I not playing?' Rather than think, 'Why is this happening?' I flipped a switch in practices and kept working my butt off. I stopped caring how much I played but focused on how hard I was working."
Tupper's new approach fueled her taste of success.
That goal isn't just a memory she'll never forget, but a moment her teammates will remember for a long, long time.
"It's one thing to see your teammate to succeed, but for her it's so different because she's been my best friend for years," said fellow sophomore Maya Rogers, who played alongside Tupper for the Vancouver Whitecaps FC Girls Elite REX program. "To see all of her work that she's put in payoff is really moving for everyone, especially for me. A lot of time last year she was doing things to prove to others she was good enough. This year, she knows she's good enough. Regardless of how much she plays or what time she gets, she's going to make the most out of her opportunity."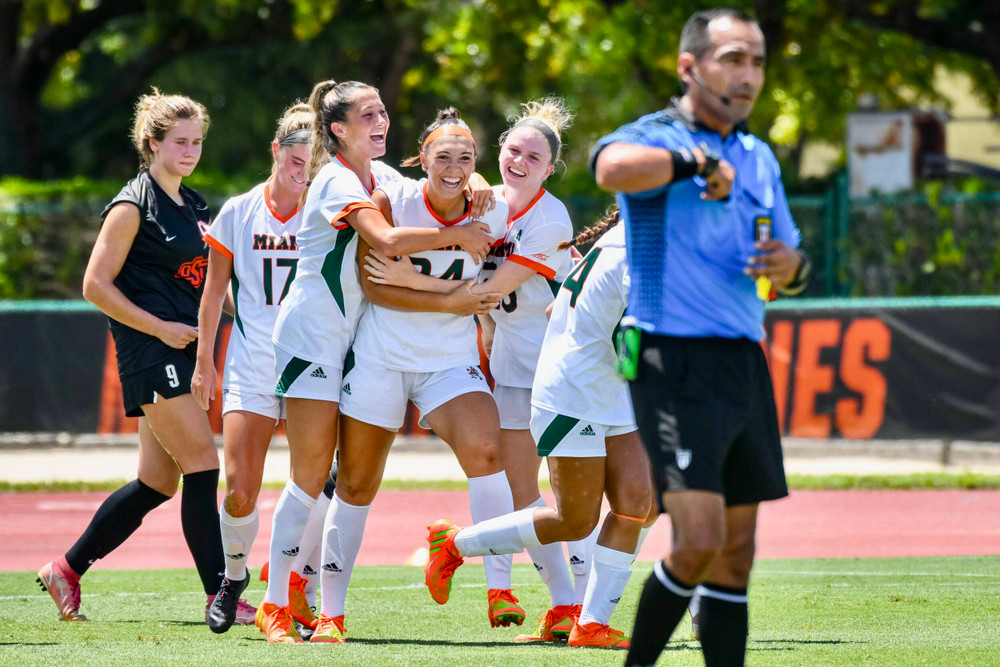 Tupper now knows what it'll take for her to keep seeing results.
As Miami prepares for its non-conference finale Thursday at USF, Tupper's work is just beginning.
"It's all starting to come together," Tupper said. "When you put into practice is what you're going to see in the game. If I keep working hard, doing film and receiving the coaches' feedback, I'll keep having more moments like that."
To keep up with the University of Miami soccer team on social media, follow @CanesFutbol on Twitter, Instagram and Facebook.