"A Great Message That Everybody Should Hear"
CORAL GABLES, Fla. – The Hurricanes are days away from opening preseason camp. Weeks away from their first game of the year.
That's why on Monday evening, before Miami's players and coaches truly begin taking their preparation for the new season to a whole other level, Hurricanes head coach Mario Cristobal wanted to make sure everyone understood the magnitude of the opportunity ahead of them.
The coach, a two-time national champion offensive lineman during his time at Miami, called on a friend – motivational speaker Inky Johnson – to help deliver that message.
It was one the Hurricanes heard loud and clear.
"It was a great opportunity, a great message that everybody should hear," offensive lineman Jalen Rivers said. "What he went through, he explained his story and how he handled his situation and not let it affect him, that really resonated with me…Don't get down, push through it, don't take this for granted."
Added receiver Xavier Restrepo, "He's amazing. Every word that he speaks from his mouth is truly heartfelt. A guy that goes through stuff like that and is able to share his words and his experiences with us, it was just a blessing to sit there, listen, take notes and hear what he had to say."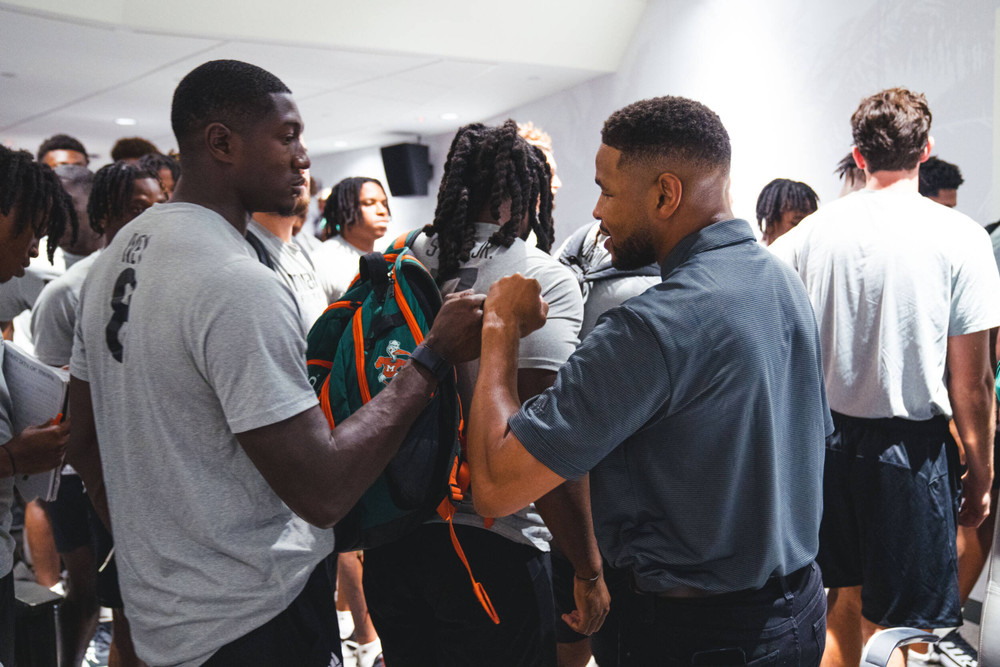 Johnson, a former standout cornerback at the University of Tennessee has inspired millions through his work, building a large social media audience and sharing his story with corporate leaders from some of the biggest businesses in the United States.
But it's his work with both professional athletes and student-athletes that often hits home the most, particularly given Johnson's background.
The Atlanta native was just eight games away from being a potential NFL Draft pick when, in an instant, his career came to a crashing halt and his life was forever changed.
On the night of Sept. 9, 2006, with the Volunteers hosting Air Force, Johnson suffered a devastating injury while trying to make a routine tackle.
He ruptured his subclavian artery, which supplies blood to the upper limbs, neck and head. He ruptured nerves in his spine. He needed life-saving surgery which required doctors remove an artery from his leg and place it in his chest. His right arm and hand were paralyzed.
While Johnson's teammates and roommates rallied around him – often helping him with basic daily tasks once he was released from the hospital – football, as he knew it, was over.
Some at Tennessee urged him to return home, to surround himself with family and friends as he went through his recovery. Johnson, who shared with the Hurricanes that he grew up in a two-bedroom home with 14 people and often watched some of his uncles move in and out of jail, opted to stay in Knoxville instead.
He went on to earn a degree in political science and three years after his injury, earned a master's in sports psychology. As he persevered through his studies and adjusted to his new reality, friends and teammates urged him to begin sharing his story with others.
Johnson, though, was initially hesitant. He'd always considered himself more of a quiet, lead-by-example type of player. Speaking publicly? He wasn't sure about that.
"I think I've always been driven to make an impact because of how I grew up and the people who helped me in my childhood, people who helped my family," Johnson said. "I grew up in inner-city Atlanta, two-bedroom house, 14 people. And a lot of people helped me, from paying for me to go play park ball, the whole deal. So I've always had this desire to just want to go out and be of service. But I never thought it would come in a manner, in a fashion of which it has come.
"I never thought speaking would be something that I would end up doing as a career. I would say other people probably discovered it before I did. A lot of people would come up to me and say, 'Hey, Ink, man, you probably need to speak.' And I was like 'Nah, I'm cool on that.'"
One of those people encouraging Johnson was a former Tennessee teammate, Jerod Mayo, who went on to become a first-round NFL draft pick, the 2008 NFL Defensive Rookie of the Year, a two-time Pro Bowler and a Super Bowl champion with the New England Patriots.
Eventually, Johnson relented and took advantage of the opportunity to speak at a youth retreat in Mississippi.
Immediately, he knew he'd found his calling.
"It was my first official engagement and I just felt it from the kids I met," Johnson said. "I drove back home – it was like a 15-hour round-trip from Atlanta to Mississippi to back home and I just felt it. It was all the confirmation I needed. I embraced it and I've been doing it ever since."
In the years since, Johnson has had countless speaking engagements. He's connected with more than a few athletes who've suffered career-ending injuries themselves, interactions he said are "humbling." And he's done his best to inspire, in any way he can.
At Miami, that's exactly what he did.
"His story is so inspiring. To hear it from him, himself, to tell us what he went through, things he's gone through, it was eye-opening. It was humbling," defensive end Chantz Williams said. "It made me realize that football could stop at any given moment. The chapter ends eventually for any and all of us…Every day I should come in and give my best. Give 100 percent effort. Treat it like it's my last day, like this is my last time on the field because you never know what's going to happen."
During his 35-minute talk with the Hurricanes, Johnson touched on a number of topics.
He invoked Miami great Ed Reed's famous 2001 "I'm hurt" halftime speech and reminded the Hurricanes that dominating opponents and not merely winning was their lineage. He referenced the summer blockbuster Top Gun: Maverick, shared anecdotes about meeting Tampa Bay quarterback and NFL legend Tom Brady and thanked Cristobal for the opportunity to be at Miami during such a pivotal week.
But most of all, he tried to drive home the point that the Hurricanes have the strength and ability to conquer any of the challenges they may face this season – and beyond.
And he especially wanted to make sure they understood and appreciated the opportunities they have every day, both on and off the field.
"Never take what you do for granted, because at any given moment, you can lose it, right? Oftentimes, when we do things, we do it with the perspective and the thought process that we'll always have it, we'll always be able to do it," Johnson said. "It's hard sometimes to look outside of things. Like people say all the time, sometimes it's hard to see the picture when you're in the frame…
"My hope is that when they walk out of this room, being able to give everything they've got to it, every single day, every aspect of it. And just enjoy the process of it, man. Enjoy it. I tell people all the time, if I could go back and change one thing about my collegiate career, I would have had more fun. I'm not talking about partying and this and that. I'm talking about actually enjoying every aspect of the process of what I was a part of. So, not taking it for granted would be the one thing I would hope they walk away with."